Year later, Kashmir status change not a talking point with West Asia: Former Ambassador Anil Trigunayat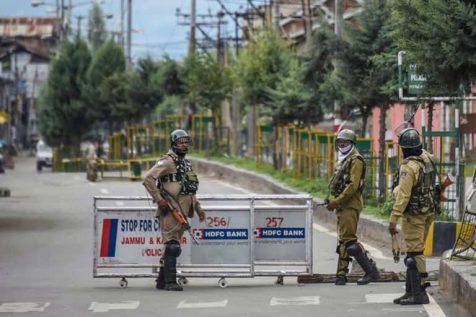 This story first appeared in ETV Bharat
The move of withdrawing the special status of Jammu and Kashmir on August 5, 2019, took the world by surprise, leaving a petulant Pakistan to try and get the international community to censure India. In an interview with senior journalist Nilova Choudhary over West Asia and Abrogation of article 370, Anil Trigunayat, India's Former Ambassador to Jordan, Libya, and Malta said India's relations with West Asia and North Africa have not been hit by the removal of Article 370.
Hyderabad: It has been a year since the Indian government withdrew the special status of Jammu and Kashmir and attempted to better integrate the border state with the rest of the Indian Union by abrogating Article 370 of the Indian Constitution. The move had, on August 5, 2019, taken the world quite by surprise, leaving a petulant Pakistan to try and get the international community to censure India.
Despite its best efforts, particularly at the United Nations in September, the censure never came and Pakistan got little support, except from Turkey and Malaysia, despite appeals to Saudi Arabia and Iran and other leading Islamic nations of West Asia and the Organisation of Islamic Cooperation (OIC).
And then the Covid-19 pandemic came along and Kashmir swept off the front pages, pushing Pakistan's primary backer, China, into the global spotlight, and even international criticism. Anil Trigunayat, India's Former Ambassador to Jordan, Libya, and Malta, knows West Asia, North Africa region very well feels India's relations with the area have not been hit by the removal of Article 370 from Jammu & Kashmir.
In an interview with ETV Bharat, Trigunayat said, the move has not hurt India, moreover, it is no more even a talking point and countries like the United Arab Emirates, and Saudi Arabia and Qatar have increased their investment footprint in India.
Excerpts from the interview:
Q.1 The West Asian region will always be central to India's foreign policy, being one of its largest markets, supplier of energy and source of remittances by a large Indian Diaspora. How has the ongoing Covid-19 pandemic affected India's relations with this region, particularly the Gulf? What kind of cooperation is ongoing at the moment in these very changed times for global diplomacy?
A. In my view, West Asia – which is our extended neighbourhood, is of strategic and crucial importance for us for the Indian diaspora welfare, trade and maritime lanes and security, energy and food security since we shall continue to depend on hydrocarbons in the medium term.
While a large number of Indian companies are working in the region, the Gulf Cooperation Countries especially Saudi Arabia, UAE and Qatar have expanded their investment footprint in India in terms of their own strategic stakes in Indian growth story and market. Saudi Arabia recently invested in Jio platforms and they are hoping to invest nearly $20bn in Reliance industries. UAE has committed $75 bn in investments across the spectrum. Even during the COVID-19 times, PM Narendra Modi and FM (Subrahmanyam) Jaishankar spoke to their counterparts in the region and provided medical assistance, including deployment of Rapid Response Teams.
Around 4 lakh Indians were brought back under the Vande Bharat Mission with the assistance of the GCC governments. More importantly, India's lead in digital diplomacy also bore fruits when PM Modi spoke to Crown Prince Mohammed bin Salman of Saudi Arabia to organise the Virtual G20 Summit to address global issues, especially creating a joint international effort to fight the pandemic and adverse effects of the Covid-19 on the world economy.
With Israel, we started closer cooperation in working for a Covid-19 vaccine as well as advanced testing kits and tracing technologies. Actually, if one were to do a SWOT analysis, I think that India's Act West Policy is the most productive foreign policy success of PM Modi in terms of actual output and strategic objectives including in defence and security areas.
Q.2 Kaushik Basu, former Chief Economic Advisor, recently said that "India is losing whatever it earned in 70 years due to religious fanaticism." The countries of West Asia are overwhelmingly Islamic. Would you say there is any substance to this kind of statement, particularly in the context of our relations with countries of this region today? This is particularly in the context of the first anniversary of the abrogation of Article 370 in Jammu & Kashmir, which evoked a considerable outcry in Muslim countries and even the Organisation of Islamic Countries?
A. India is the second-largest Muslim nation in the world and Islam reached here even before it reached many of the Arab countries. They are integral to India's growth story. In an officially secular India, they have reached the heights of immense success be they the Presidents, Vice Presidents, Chief Justices, scientists or military officers or top actors of Bollywood. They are Indian first.
In my view, while dealing with the Islamic world this should be our Talking Point. However, irresponsible and erratic statements by some people in a position create an avoidable social media storm and must be dealt with sternly as per law. We cannot afford to lose tremendous goodwill for the country.
Of course, with regard to Article 370, most of the leaders in West Asia, particularly bilaterally, showed much greater understanding for India's sovereign decisions. But OIC statements have no real substance, except the cacophony created by Pakistan.
Q.3 How badly has India been hit by the economic downturn visible in the region, as elsewhere?
A. Covid-19 has brought about unexpected disruption in the global scheme of things. Nearly all economies are under recession and will take a while before a revival is on the horizon. Oil-producing West Asian countries and India are no exception. West Asia has been more adversely impacted due to prolonged low oil prices and demand contraction. In fact for the first time in the history Oil hit sub-zero pricing. Most of the oil-producing countries have pegged their budgets on $70 per barrel but the prevailing prices are way below.
Hence many of the countries had to cancel major projects and public expenditure and resources were diverted to fight the pandemic. However, since the Indian workforce is generally liked and trusted by the locals, I believe that as soon as the situation in the GCC improves, they might be the first preference for reemployment.