Xi trying to reclaim authority at home through aggressive behaviour: China Expert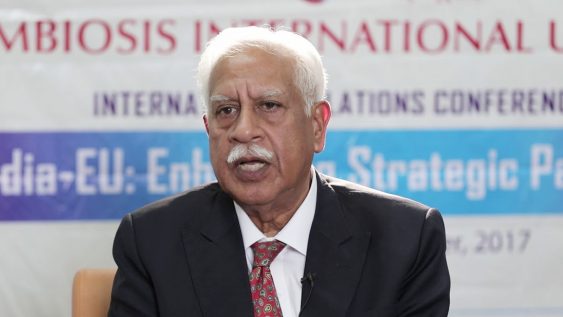 This story first appeared in ETV Bharat
In an exclusive conversation with senior journalist Smita Sharma, Intelligence official and expert on China Jayadeva Ranade said that the standoff by PLA troops along LAC has been approved of and cleared right from the top, with the Western Theatre Command of the Chinese Army involved in the decision making. He further argued that the standoff is a diversionary tactic for Xi Jinping to re-establish his authority back home despite the debates surrounding the coronavirus outbreak.
Amid the standoff at multiple sectors across the LAC between the Indian Army and PLA, some talks have started at two-three levels and there are signs of defusing tensions, says former career Intelligence official and expert on China Jayadeva Ranade.
In conversation with senior journalist Smita Sharma, Ranade stressed that the current transgressions by the PLA troops have been approved of and cleared right from the top with at least three military sub-districts in the Western Theater Command of the Chinese Army involved in the decision making. Ranade who retired as Additional Secretary in the Cabinet Secretariat in 2008 also serves as Member of the National Security Advisory Board. He argues that the LAC standoff is a diversionary tactic for Xi Jinping to re-establish his authority back home as well as signal out to the western world that he remains in command despite the debates surrounding the coronavirus outbreak.
He highlighted that in an unprecedented development in China for the first time people are publicly criticising Xi Jinping and the Communist Party by name and they see Xi failing in his dream of overtaking the USA by 2049. An author of several important books on China and Tibet, Ranade also advocated that India should increase its trading ties with Taiwan exponentially regardless of the New Delhi-Beijing dynamics. He also said that the LAC face-off is not disconnected from India reorganising the state of Jammu Kashmir and Ladakh into two Union Territories and Chinese Strategic investment in Pakistan Occupied Kashmir.
Intelligence official and expert on China Jayadeva Ranade in conversation with ETV Bharat
Here is the conversation:
Q. On Statements from Beijing -Is China Reconciliatory?
Ans. If Beijing was going to be conciliatory then the intrusions should not have happened. There are enough protocols in place to see no intrusions take place and yet they have. I have a distrust of what the Chinese say and what they do. Controllable means if things get out of hand we can control it. The word peaceful was not used. It is stable yes, no conflict has broken out. It is controllable because as we talk we are going to be able to control it. It is a first step towards defusing the situation.
Q. On Trump's offer to mediate or arbitrate
Ans. He has done a similar thing with Pakistan in the past. Here he has spoken about mediating between the two countries and being an arbitrator. This would have irked Beijing certainly and they would not be willing for any such arrangement neither would we. That dies a natural death.
Q. Does military escalation look a possibility given China is cornered by US, Europe on the pandemic outbreak?
Ans. If the Chinese do something then there will be retaliation and reaction from our forces. Otherwise, we are not spoiling for a fight. We would rather have diplomatic agreement to return to the status quo which means they go back to where they were and we come back to where we were. While there is a huge anti-China feeling globally today, their foreign intelligence bureau think tank came out with a report and briefed Xi Jinping and the Politburo. The report says how the feelings are very anti-China in the whole world. That US is leading and fanning anti-China sentiments. So they are worried. But India is also battling the pandemic, we do not know what the results are going to be. They hit us at a time when we are down. So what that does for public sentiment against them they will realise. It will not make any friends for them here. They are behaving similarly with other countries too. They feel there will be no ability to retaliate. They also spoke of the Indian Army being affected by COVID but that's far from reality.
Q. Is LAC stand-off diversionary tactic for Xi Jinping given internal and external challenges?
Ans. Internal dynamics for China are very important. Xi Jinping is under a lot of pressure. It is almost unprecedented in China for people to come out and criticise by name the Communist Party and Xi Jinping and demand that he steps down. An incumbent leader for him to face such criticism we have not seen in the last 20 years. Even during Tiananmen, Deng Xiaoping was not criticised by name, there were allegorical references. This is unusual and many of those criticising have used their social media accounts which means they were readily traced and they knew they would face punishment. Secondly, there is growing perception in China that the leadership has failed to deliver on not only on economic matters where unemployment has soared from 20 million to 70-80 million now but also per capita incomes have not risen, the cost of food is going up. And apart from that people feel that the promised China dream and ability to rival if not overtake the USA by 2049 are not materialising and the leadership has lost the script. Xi Jinping is trying to draw back his reputation, to re-establish because he put his personal prestige on the line when he spoke about the China Dream and 2049. He is now trying to show that he is very much in-charge, that this dream will be realised and the Chinese Communist Party will continue to lead from the front. So we are seeing a tougher stance on Hong Kong, a tougher attitude towards Taiwan and we are seeing this (LAC standoff). What we are seeing on our LAC is something that is planned and approved right by the very top. Without it being cleared from the top this could not have happened. There are at least three military sub-districts involved in the Western Theater Command.
Q. Will new mechanisms like informal summits be needed? Have existing border protocols stopped being useful?
Ans. We can have these mechanisms and many more. But if one party does not respect them then it does not matter. We still seem to be going in for protocols which in the absence of anything else is the best thing to have. It is a typical Chinese ploy to meet at the top and to try and talk softly but do something else. So as someone aptly put it is strategic stability but tactical turbulence. We are seeing here is turbulence and at highest levels, there will be benign smiles and that's it.
Q. Can Taiwan, Trade and Tibet be leveraged by India?
Ans. The BRI (Belt and Road Initiative) is already in trouble. Some of the people criticising Xi Jinping put out an open leader addressed to all 2000 plus delegates to the International Peoples' Congress that concluded today. Someone has questioned who authorized the expense of this project. China itself has contacts with and trading with Taiwan. It is an economic opportunity that we have failed to exploit or optimise. It is something we should do for our own benefit regardless of what our state of relations with China is. There Is a lot to be gained from there including a higher level of technology.
Q. How connected are the LoC, valley, and LAC situations, and how challenging for the Indian Army?
Ans. As a citizen it is naturally worrisome because it will it allow the state itself to become peaceful and stable, people there will be affected. We would not like a situation where China and India get together in an overtly hostile posture against us. But we are quite prepared for it. Our Service Chiefs have been talking about this situation for some time so obviously, they have made preparations. But ever since we have amended Article 370 and 35A and issued the new maps, basically portraying the correct boundaries of our countries, the Chinese have got more upset. Their and Pakistan's interests of-course converge but that convergence has become more boldly outlined. So China has taken up the matter of Kashmir in UNSC at least four times. There is a common factor there. Even the focus on Ladakh during these incursions tends to get linked up with these because with CPEC and all China has a lot of strategic and financial interest now in the areas of PoK, Gilgit-Baltistan which is our territory. They are concerned and want to secure the area including the Karakorams, the wider region so that they feel their interests are not going to be upset.