Where will Congress get the ₹3,54,000 crore budget for NYAY, asks Nitin Gadkari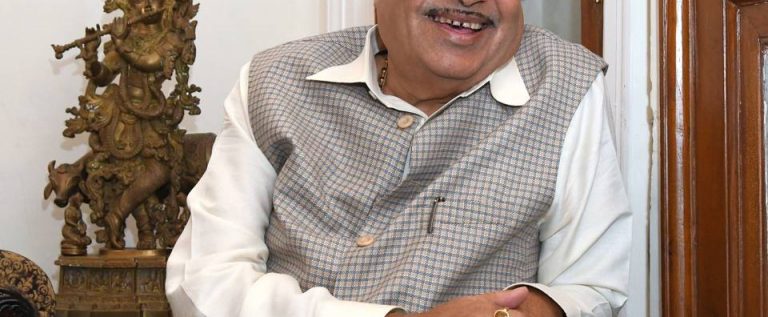 Congress is very confident on not winning this election, and hence will not be called to account for that promise, says the senior BJP leader
Union Minister and BJP candidate from RSS stronghold of Nagpur Nitin Gadkari said the BJP-led NDA government's programmes are solution-oriented while the Congress' record on poverty alleviation lacks credibility.
Excerpts:
How do you frame the current general elections?
Frankly speaking, the 2014 election was based on hope, there was a lot of disappointment with the UPA government and Modiji was voted in with hope for better times. These five years, the performance audit of our government will show that in the comparison between 50 years of Congress party and five years of our government, we will come up looking good and our contribution will be more than theirs. Twentieth century politics is about progress and development. People are looking for solutions to problems of poverty, unemployment, shelter. In all our policies from Pradhan Mantri Awaas Yojana to Mudra to Jan Dhan Yojana, Ayushman Bharat, they are all oriented to finding solutions. In road construction, we have taken tremendous strides, from 2 km per day in the last government, we are now at 29 km per day and by March-end we will be at 34-35 km per day. Under Namami Gangey we have improved the quality of water of aviral Ganga…
But studies do not reflect that improvement in Ganga water, they show that it has become more polluted.
You ask the one crore people who bathed in the Ganga at the Kumbh. Priyanka Gandhi Vadra also drank that water straight from the river, would she have done that if it was polluted?
At the beginning of the campaign your party tried to frame the contest as Modi vs All, but the NDA is an agglomeration of more allies than the Opposition, then how is it Modi vs All?
When one party becomes strong, other weak parties, with nothing in common have gotten together in an alliance. Only fear of Modi is driving them together.
There is said to be fair amount of resentment among your state units in Maharashtra and Bihar because of the central leadership's over generous attitude towards allies. Do you think you have been over generous, specifically in Maharashtra?
Alliances are an exercise of profit and loss, someone gets more, and some one has to sacrifice looking at the bigger picture of national interest. We will tell our workers that we have made these decisions in larger interest of the country and proceed from there. Lets see.
But allies, especially the Shiv Sena, do not shy away from trolling the BJP. Lately they carried a picture and laudatory article of the crowds drawn by Rahul Gandhi in Malda in their mouthpieceSaamna.
We have decided to fight the elections together and unitedly. The basic problem is that right now it is the time to face the electorate together. We were expecting a bit more positive attitude towards the alliance from the Saamna, but we are meeting and talking things over and I feel we should look ahead.
So you are not going to bother much about what Saamna says?
Yes.
This is also an election with a heavy national security narrative woven into it especially in the wake of the Pulwama attack and the Balakot air strikes. Do you think that it will prevail over other issues?
My personal opinion is that I'm extremely against the politicisation of national security or issues related to armed personnel. These are very sensitive subjects, and my feeling is that sometimes our Opposition behaves like Pakistan TV and newspapers. It is not appropriate and does not honour our brave soldiers and sometimes it is hurtful to the sentiments of the people as well.
But the Opposition says that it is the government that is using security operations as a campaign tool.
When the Opposition raises doubts on events, creating confusion, giving false statements. The best way is to not make comments on national security. My feeling is that one should not talk about this in the political domain at all, it is hurtful to people.
How do you look at the Congress' poll promise of a minimum income support programme — NYAY — announced recently?
You just see from 1947, Prime Minister Nehru ji assures to the country that poverty will be alleviated, then Indiriaji with 20-point programme, 10-point programme, five-point programme etc., followed by Rajiv ji with almost the same things. But as far as economic policies that could address poverty are concerned, the result for 'Garibi Hatao' is zero. There is no credibility with regard to the Congress on this issue.
Statistics however have shown that the 10-year period of the UPA saw the largest number of people being pulled out of absolute poverty. That could give validity to the NYAY programme. Do you believe in a minimum income programme?
I believe that wrong economic policies, corrupt governance and bad leadership is the reason why we are still a poor country. Just look around the world, the Congress chose the Russian model of socialist model of economy, now see what happened to Russia and the socialist model? Even in western European economies and the United States, under liberal economic principles, there is a sense of crisis. It is time we gave thought to what it is we should do to bring about socio-economic transformation and give relief to the people at large. The BJP has reflected on the issue, and with strong feeling of nationalism as our spirit, good governance and development as our mission, and Antyodaya of looking at the poorest of the poor as the central premise of policy making we have been formulating policies.
So how is Antyodaya so different from NYAY and other forms of UPA's welfarism?
I feel that NYAY is a political gimmick. Where will you get the ₹3,54,000 crore budget for that? That too over and above all the welfare schemes that the NDA government introduced. And by distributing this, where will you get the money to spend on roads, irrigation, schools and other infrastructure. I feel the Congress party is very confident on not winning this election, and hence not be called to account for that promise.
Even PM-Kisan income support is like a version of NYAY?
That is ₹6000 of cash income support, but in addition there are other things like increase in Minimum Support Price (MSP), we are bringing 1.88 lakh hectares of land under irrigation under the Pradhan Mantri Seenchai Yojana, some of these projects have been stalled after 50% of the works being done because of lack of support from state governments. We are also giving a fillip to an ethanol economy which will change the total prospects of farming as a profession.
Modi government has often been accused of increasing the communal temperature across the country. Especially around the issues of cow protection. How would you react to this?
This is totally 100% wrong. The habit of the media is that it puts everything down on our name, our reaction is like the rest of the country, that we will not tolerate any communal hatred being sought to be raised.
The Congress government in Madhya Pradesh had imposed the National Security Act (NSA) on a case of cow protection, do you agree with that?
Actually, we are in favour of cow protection, no question. Scientifically, gau mutraor cow urine is important, we are making many medicines out of it. Cow milk is also very important, it has certain nutrients which are important for health reasons. So we want to protect the cow, yes, but we will not tolerate violence in the name of it.
source: The Hindu