What message has Rozina's imprisonment sent us?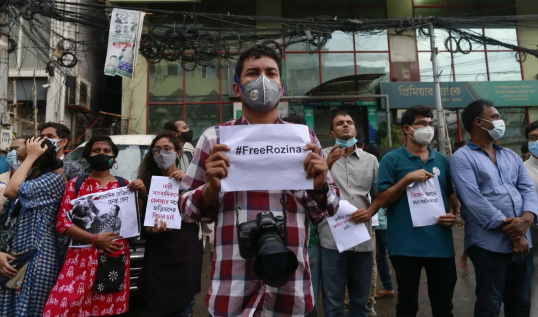 This story first appeared in Prothom Alo
By Rounaq Jahan
When I read the report 'Take Tk 10 million now, will pay more later,' published in Prothom Alo on 12 April 2021, the first thought that came to my mind was that I hadn't read such an excellent investigative report in a long time. I thought if we had a sort of Pulitzer Prize here like in the US, surely this report deserved it. I decided to draw the attention of my colleagues in Colombia University's department of journalism to this report so that they could see the quality of our investigative journalists too.
Rozina Islam's report drew my attention because of her professionalism. In the report, filled with information and evidence, she included the statements of both those who had brought about the allegations of corruption as well as those being accused of corruption. The report did not generate any overall negative impression in my mind against the government or the health ministry. What struck me was that while there was corruption in the health ministry, there were still honest officials there who had rejected the lure of bribes and took the courage to seek action against the corrupt. The corrupt persons were transferred. The report gave me a sense of relief that despite there being corrupt persons around, there are still many honest officials too. Perhaps it is because of them that the country is moving ahead.
Then on 20 April and on 30 April I read two more of Rozina Islam's reports. These too dealt with the discrepancies and irregularities in the health ministry. Her sources were officials within the ministry who had helped her out with information and documents. Rozina Islam and her sources, officials in the ministry, were working in public interest, not in their own interests or in the interests of a handful of people. I was reassured that the problems that Rozina Islam had so painstakingly exposed, would soon be addressed.
When a journalist who has long been investigating the corruption of various ministries is harassed and imprisoned for carrying out her professional duties, this is contrary to the government's stand of zero tolerance against corruption
Two weeks later on the night of 17 May I saw on the TV news that Rozina Islam, the journalist who I felt deserved a Pulitzer Prize, had been harassed for five or six hours in the health ministry, spent the whole night in the police station and a case had been filed against her. She was taken to the court on the next day and then sent to jail. The next day she was not granted bail at the court hearing, The Detective Branch (DB) of police began investigations against her. I was stunned. I could not make out what was going on in the country. Why was the journalist, who had dug out information on corruption, not being rewarded by the state, but being sent to jail instead?
I have never met Rozina Islam. I checked information about her and found she had published several reports in the past on corruption in various ministries. Each and every report reflected her professionalism. She has received several awards, local and international.
I read those reports and understood she had collected the information from within the ministries. The difficulties faced in collecting such information, particularly for a woman journalist, was evident in a write-up of 14 November 2014 about investigations. It pointed to the difficulties in unearthing two sensational incidents in the ministry of liberation war affairs. It indicated how painstaking it was to dig out such news and how minutely the editors have to scrutinise these reports before publication.
We have a limited number of investigative journalists in our country. And there are even a fewer number of newspapers that continuously publish such investigative reports over the years. Prothom Alo for many years has been publishing high quality investigative reports. Perhaps that is why it is the country's most popular newspaper.
The case has been filed against Rozina for 'stealing' official documents. Any journalist or researcher knows that their main task is to collect information. I remember back in 1968 when I came to Dhaka to collect information for my PhD thesis, I interviewed many government officials. Several bold government officials at the time gave me confidential documents on the disparities between East and West Pakistan at the time. I managed to write my thesis based on those documents. I could highlight the disparities within the state of Pakistan. I never felt I was stealing any secret state papers. In my experience I have seen many official documents marked with the words 'SECRET', simply to highlight the importance of these papers. Sharing the information of those documents with journalists or researchers does not go against the interests of the country. There are many instances where government officials have differences of opinion among themselves as to what can be shared with journalists and researchers and what cannot.
When I was researching the elections in 1970, a certain official told me that a long list of complaints against me by the police had been sent to him. He dismissed this as insignificant and hadn't even felt the need to apprise me about the matter. When I sought information about the recent election, I had a mixed experience. One commissioner gave me information, though another commissioner refused to provide me with information. This harmed my research. Yet another researcher managed to get information from a different source. Actually government officials decide themselves what they consider can be shared or what should not be shared.
It was a relief to learn on 23 May that Rozina Islam had been granted bail. I hope the case against her is speedily withdrawn so that it does not hang above her head. Many editors and journalists have such cases hanging above their heads.
The court stated that newspapers played a supportive role for other institutions to perform in a proper manner. I take this comment positively. However, the five or six hours of harassment in the health ministry and later Rozina Islam's incarceration sends out a different message. She was not depicted in a supportive role. The people feel that she must have unearthed further information of corruption and irregularities in the ministry.
When a journalist who has long been investigating the corruption of various ministries is harassed and imprisoned for carrying out her professional duties, this is contrary to the government's stand of zero tolerance against corruption.
All officials of the government must understand that if the zero tolerance policy is to be implemented, then there is need for investigative journalists. They will not get information of corruption from government channels alone, because government officials have long been keeping such information secret. The more transparent and open the free flow of information is, the better it will be for establishing good governance and preventing corruption.
I hope that the government and the leaders of the journalist organisations can sit together so that the laws and clauses in various laws that hamper press freedom and freedom of expression are repealed.
Covid-19 has created a sense of uncertainty among us all. We hope that in these times the government takes initiatives to ensure the fundamental rights of all citizens.
* Rounaq Jahan is a political scientist and distinguished fellow, Centre for policy Dialogue (CPD).
* This column appeared in the print and online edition of Prothom Alo and has been rewritten for the English edition by Ayesha Kabir