What ails India's premier liberal arts university?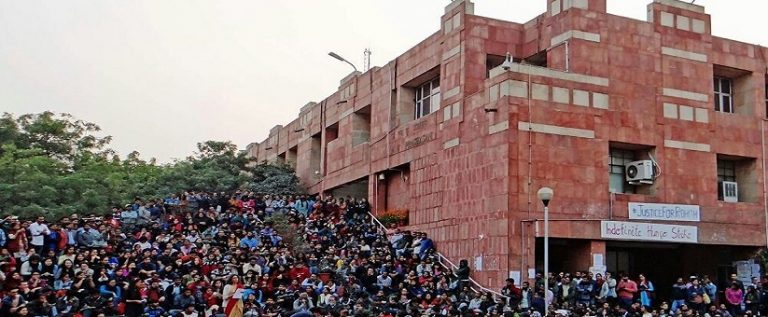 This story first appeared in South Asia Monitor
Senior Journalist and SAWM member Nilova Roy Chaudhury brings up some of the most important questions in today's India – can India afford to alienate a major part of its students' community from subsidised education and name the universities as 'anti national' in right wing circles?
For the current governing dispensation in New Delhi, Jawaharlal Nehru University (JNU), arguably India's most well known liberal arts university, epitomises everything that is wrong with the education system set on course by India's first prime minister, after whom the university is named, and the liberal, left-wing thinking that the Congress party encouraged. Since the BJP-led government of Prime Minister Narendra Modi assumed office first in May 2014, JNU, which is a Central University, directly under the ambit of the Union Human Resource Development Ministry, has been in its sights and in the news, mostly for all the wrong reasons. As the alma mater of India's latest Nobel Laureate Abhijit Banerjee and the Modi government's foreign and finance ministers,  S Jaishankar and Nirmala Sitharaman, the government – and even media scrutiny – of JNU has been very critical and intense, even antagonistic.
Government-appointed M Jagadeesh Kumar, a professor of Electrical Engineering at IIT Delhi, and known to be a right-wing, Hindutva sympathiser, to become the JNU vice-chancellor in January 2016. His tenure has been marred by a continuing set of controversies, beginning with charges of sedition being foisted on some protesting students to a student disappearing from campus, to multiple 'gheraos' or lockdowns of his office and residence to suggestions that a battle tank be stationed on campus premises, to instil nationalism among students and, most recently, to a large hike in fees. Uniformly, almost all the controversies have been confrontational, with the student community being viewed as antagonists. That rebellious and questioning voices abound on campuses is an aspect the authorities at JNU appear to have forgotten, preferring to use a very heavy hand to quell the dissent voiced by students.
Kumar's first brush with controversy happened right after he assumed office as VC when students sought to hold a meeting on the hanging of Parliament attack convict Afzal Guru, permission for which was denied. The students went ahead and held a debate on February 9, 2016, during which anti-national slogans were allegedly raised, leading to the infamous sedition charge, a relic from the British colonial era, being levied on some students, including then JNU students' union president Kanhaiya Kumar and his arrest. This resulted in huge protests and subsequent police high handedness to quell those protests.
Some months later, a student – Najeeb Ahmad – went missing from the university campus after a brawl with members of RSS-affiliated ABVP, which resulted in another flurry of increasingly strident protests on-and off campus. Najeeb has not been found since then, despite the Supreme Court's intervention. VC In 2017, Kumar passed an order prohibiting demonstrations and protests in the vicinity of the "administration block", which houses the offices of the university's top officials, triggering more protests by the students.
A recent controversy saw not students, but senior, Emeritus professors, being targeted by the JNU administration. In July, 2019, JNU authorities wrote to 12 Emeritus professors who were over 75 years old, seeking to 'review' their position. The letters created a huge furore as they sought the CVs of internationally eminent professors, among them renowned liberal historian Romila Thapar and professors H S Gill, C K Varshney, S D Muni, Ashok Sanjay Guha, Asis Datta, R Rajaraman, Yogendra Singh, D Banerji, TK Oommen, Amit Bhaduri and Sheila Bhalla. Earlier this month, the Human Resource Development Ministry asked JNU to reconsider the decision to ask emeritus professors to submit their resumes for a review, reminding the JNU authorities that the Emeritus status was a title and not a post.
Since the beginning of November, JNU students have been protesting against a draft hostel manual, which has provisions for a hostel fee hike, dress code and curfew timings in a university that has always been known for its left-wing politics and anti-establishment ethos. . The administration says the fee hike is essential because the fee structure has not been revised for 19 years. The JNU Students' Union (JNUSU) has demanded a complete rollback of the hostel manual, citing the university's annual reports stating that more than 40% of the students come from lower-income groups – and from far corners of the country – and cannot afford the hike and would therefore be deprived of an education. The new hostel charges require students to pay a service charge of Rs. 1,700 per month which did not exist earlier. Charges for a single room has been increased from Rs. 20 per month to Rs. 600 per month. Rent for a double-sharing room has increased from Rs. 10 per month to Rs. 300 per month.
JNU was established in 1969 by an act of Parliament with the objective, among others, of promoting values and ideals dear to Nehru, including promoting national integration, the country's composite culture, democracy, international understanding, scientific way of life and learning and giving pedagogic access and facilities to students from all over India, especially from the marginalised and deprived sections of society.
While there has been a partial rollback of the proposed increase in hostel fees, the students are continuing their protests and even attempted to march to the Parliament on November 18 on the first day of parliament's Winter Session was being held. They were not allowed to go near Parliament and police ended up assaulting some protesting students and the JNU authorities moving charges in the Delhi High Court against the students for holding peaceful and democratic protests near the university's administrative block.
A group of protesting students met a specially set up panel from the HRD Ministry to seek a complete withdrawal of all proposed hikes and said the protests would continue until their demands are met. JNUSU president Aishe Ghosh said the ongoing protests against increased hostel fees were for a just cause, and demanded that all notices and FIRs served to students, on and off campus, be withdrawn immediately. Raising the issue of the JNU students' protest in Parliament BSP member Danish Ali demanded that the government should ensure that poor students were not denied the facility of higher education for an affordable fee. The new fees are making JNU by far the most expensive of central universities.
There are several issues that this protest has raised, not least among them whether public funding of a premier university should be reduced and charges raised to a level to recover costs, leading to gradual corporatisation and privatisation of education. There have been complaints that some students have taken advantage of the available low fees and costs structure to continue to dawdle and stay on for years, thereby misusing the facilities and depriving other deserving students. But taken as a whole, the percentage of such students is negligible out of a total student strength of about 5,500 and JNU continues to retain its top position among Indian universities in terms of research output and papers published.
In a country where the right to education has been included as a fundamental right, can India afford to alienate its students from the right to subsidised education and the fundamental right of free speech by suppressing dissent expressed on campus as "seditious", to the extent the university has got demonised as a "communist bastion" and an "anti-national hub"? After all, many of JNU's distinguished alumni, including India's latest Nobel Laureate and some distinguished ministers, diplomats and administrators, have participated in campus protests and even been jailed. Did that tarnish the reputation of JNU as a centre of higher learning or mar the careers of those students? Or is JNU – which has ten schools and four special centres – yet one more bastion of left-liberal learning that the government is trying to bring down and even intellectually take over to further its larger ideological goals? If that is so – as has been alleged about many other reputed Indian institutions since this government came to power in 2014 – it bodes ill for India's intellectual pluralism and the founding ideals of this  premier institution of higher learning.