This fire will not remain confined to Afghanistan, it will spread through the region. India is not doing enough: Akrami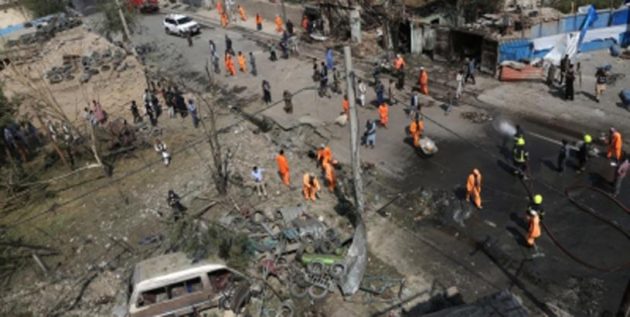 This story first appeared in India News Stream
With the situation in Afghanistan rapidly descending into a bloody chaos, as one provincial city after another falls into the clutches of the incredibly barbaric Taliban militias, the nightmare for the ordinary people of that war-ravaged country appears unending and unbelievably traumatic.
After struggling throughout the day to rescue, evacuate and relocate particularly women and children from areas that have been over-run by the militias, Mary Akrami, Director of the Afghan Women's Skill Development Centre and the Afghan Women's Network, in Kabul, outlined the horror that is unfolding in Afghanistan in an anguished, very late night conversation over the telephone with Nilova Roy Chaudhury.
Bitterly disappointed at how the international community has just abandoned the people of Afghanistan, she repeatedly asked why the people responsible for the suffering of Afghanistan were not being punished.
"I could not even dream that this would happen. We never dreamt that such a situation can arise again," said Akrami, who has been part of the official Afghan delegation which has, over the past few years, negotiated for a peaceful, political settlement to the years of strife in Afghanistan ahead of the US and NATO troops departing.
"America made this game. They made an agreement with the barbarians and we have paid such a price and we are continuing to pay. I am even more disappointed with the Americans – why are they playing this game with our lives? For one (Osama) bin Laden and al-Qaeda, America and troops from 45 countries fought together and took them on. Now their work is done, they just made an agreement and have gone."
Despite the Taliban (along with the al-Qaeda) being designated in 1999 by the as one of two primary non-State groups which are "terrorist" organizations, the United States gave them official sanction by negotiating and even signing a 'peace' agreement with them. As Washington rushes to take their boys home, after achieving very objectives over two decades, US and NATO forces are leaving Afghanistan on the brink of civil war. Right on cue, the Taliban has reneged on every part of the agreement and has unleashed a campaign of horrific violence to tame Afghanistan into submission and throw the entire region into a turmoil.
Asked whether the government forces would defeat Taliban, she said, "The Government is trying but they are not able to fight with so many terrorist groups – they are fighting terrorist groups and bad neighbours. Afghanistan is burning in this war imposed on us, but there is no help coming from anyone. Why is everyone so silent??"
"The international community has abandoned Afghanistan. Helmand, Kandahar, Nimruz all are falling. There is so much death and destruction. We are fed up of these bloody games of jehad. I don't know what is happening. What sort of bloody game is this being played?" Akrami asked in anger. "Taliban has not come down from the sky. Why are they and their sponsors not being punished? The Taliban has support of our bad neighbour," Akrami said, clearly referring to Pakistan which neighbours Afghanistan and India.
"We had hoped for some sanctions on Pakistan and on Taliban from this UNSC, but nothing is happening," she said, referring to the emergency meeting on Afghanistan called by the United Nations Security Council on August 6.
India, which is chairing the UN Security Council through August, convened a special meeting of the Council to focus on the deteriorating security situation in Afghanistan. However, other than the usual expressions of concern, little of substance emerged from the meeting, as China would not allow any formal censure of Pakistan.
As it becomes increasingly clear that the elected Afghan government is losing control in large parts of the country, commensurate with their territorial gains, the inhumanity of the Taliban in attacking its own citizens is coming to the fore.
"These (Taliban) are not human beings, these are the worst barbarian terrorists," said Akrami, a resident of Kabul who, along with the Afghan Women's Network which she heads, has been at the forefront of trying to relocate hundreds of those fleeing the Taliban brutality. "We had never dreamed that this would happen again," she said. "Daily, on social media, they show sexual abuse of women and children by Taliban. We really don't know how they can call themselves Muslim."
An anguished Akrami has nearly lost faith. "There is no Allah, because Allah would not abandon his people like this and allow these bloody games in his name. If there was a God, he would not allow this horror in his name. Even some months ago, we didn't even dream about such a situation."
Exhausted after a very long, nearly hopeless day, a resigned Akrami said, "No magic will happen, we have realised. But we are still trying to evacuate women. We are on the ground, working day and night. The most vulnerable are the women and children. We are trying to provide some security for those who have been afflicted. I am just so exhausted and frustrated and trying to lobby with the international community to help at this most critical hour. "What will we do? To whom can we turn? I don't know anything anymore. We have suffered for 40 years, but we will not give up."
"Afghanistan is now burning in this war which was imposed on us. But it will not end here. This fire will spread to others. This fire will not remain confined to Afghanistan, it will spread through the region. All SAARC countries, including India, Bangladesh and Sri Lanka will be affected. Because these are terrorists. And they are being sponsored in a bloody game of jehad," Akrami warned.
Asked what India could do, she said, "India is not doing enough. Sending troops is not the answer. There should be strong support against these terrorists." Security and military sources in India's establishment are deeply concerned that the recent Taliban successes could adversely impact the Kashmiri situation over the coming months. Strategic analysts have warned of the arrival of battle-hardened Taliban fighters to Kashmir in what could be a reprise of horrific violence which battered the state from mid-1990 onwards.