Student visa changes part of Trump's racist immigration policy: Expert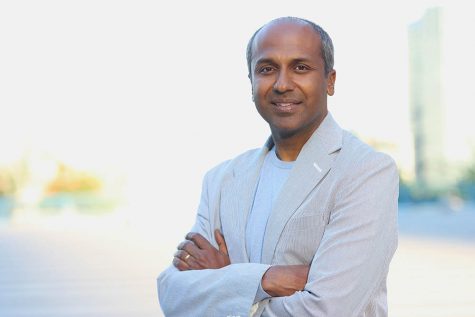 This story first appeared in ETV Bharat
Speaking to Senior Journalist Smita Sharma, Professor Sree Sreenivasan, Marshall Loeb Professor of Digital Innovation at Stony Brook School of Journalism, underlined that the immigration changes have been a wake-up call for the Indo-American community which is not a homogenous vote bank, but several considered Trump as a harmless candidate.
New Delhi: There is massive chaos among international students in the United States following the latest Trump administration announcement on Monday.
The Student and Exchange Visitor Program (SEVP) announced temporary modifications on Monday for F-1 nonimmigrant students pursuing academic coursework and M-1 nonimmigrant students pursuing vocational coursework while studying in the United States. This is expected to adversely impact majority Chinese and some 200,000 Indian students as they are expected to leave the US if their universities do not offer campus courses in the fall semester.
While detailed guidelines are yet awaited for clarity, Professor Sree Sreenivasan, Marshall Loeb Professor of Digital Innovation at Stony Brook School of Journalism, feels this chaos is deliberate and part of the racist immigration policies adopted under Donald Trump's leadership. A well known Indo- American voice, Sree Sreenivasan was formerly the Chief Digital Officer at the Metropolitan Museum of Art, Columbia University and the City of New York.
He argues that through disastrous changes to Student Visas and H1B and L1 Visas Trump is pandering to his 'conservative and xenophobic constituency'.
Speaking to Senior Journalist Smita Sharma from New York, Sreenivasan underlined that the immigration changes have been a wake-up call for the Indo-American community which is not a homogenous vote bank, but several considered Trump as a harmless candidate. Smita Sharma spoke to Professor Sreenivasan on the US internal political dynamics playing out in an election year and where does the Global Order stand with the US pulling out of several major world pacts and bodies including now the World Health Organisation amid a pandemic.
Professor Sree Sreenivasan in conversation with ETV Bharat
Q: Can you breakdown the F1 visa modification for us. Does it mean such active students have to depart the US if their campus is fully online for the fall semester?
A: This is a moment of great chaos. This is what the Trump administration does. Chaos is their main feature. As a result of all that chaos, misinformation, disinformation, actively trying to implement their racist and other policies all at the same time, we have seen America fail on the health front and on the economic as well as racial injustice front.
Everybody should understand that immigration is still a work in progress and comes as a part of a series of things that President Trump and his administration have done that should worry everybody. We are hopeful that there will be some more clarification around all this.
But students will have an option of either leaving or trying to transfer to another school that has more in-person classes. The good news is that many schools are moving to in-person classes. The bad news is that it is probably a bad idea for this fall semester which starts early here for many people. But because there is so much of confusion maybe there will be some pullback on this. But none of this is a surprise.
This higher administration is anti-immigration. People who have come and succeeded here have done so because of the immigration policy as well as the ability of students to come here, study here, stay here and have an impact here. That is not in President Trump's interest. He does not want IIT people. So IIT engineers and similar Indians think they are exempt from all the racist immigration policies that Trump has created.
They think that Trump wants them here. He does not. He would rather have Norwegian fishermen than Indian IIT engineers.
Q: How much of anxiety and confusion do you believe now prevails among the international students community-majority of them being Chinese and Indians?
A: There is great panic. There is confusion about what will happen for students already here. For students coming as it is there is a great degree of confusion to get a visa if you got admission because Visa Offices have not been opened. So this is already chaotic and we do not know. What I have been telling students contacting me is try to remain calm, see what the actual guidelines are and then see what happens. Trump does float trail balloons just to see what happens to cause chaos. It could become policy and then we could be in major trouble.
Not just for Indians but this could become great trouble and disaster for America.
Q: Several colleges have already completed admissions for the fall semester, so how can students seek transfer? And countries are in lockdown mode, we do not know when international scheduled flights will commence for India. So how will students depart the US?
A: Absolutely. There is no clarity in where we are going with this. But this is not an accident. This is on purpose. Who else would pull out of WHO in the middle of a pandemic than this administration?
Q: The Trump administration earlier suspended H1B, L1 visas till the year-end and fate of Green Card applicants also now is unknown. Is there a domestic constituency that is being catered to in this election year?
A: 100 per cent. The constituency, his base is 90 per cent with him, which is around 40 per cent of the country. This base is xenophobic, racist, worried about its jobs. Trump has made the minority people in this country and immigrants an enemy. Once you do that all you do is constantly stoke the fears of that group giving it misinformation, disinformation to Television channels that lie on his behalf every single day.
The combination of media and social media that supports him, lies for him, is the chaos he thrives on. What he did with the immigration policy on H1, L1 visa is a disaster. There is an opposite constituency, people who are against it and understand the value of immigrants.
The tech industry is against this because they need those workers. Unemployment levels are still low in the tech business and those tech jobs are going to go overseas. Tech companies are saying by blocking the H1Bs you are not giving jobs to Americans necessarily.
Q: We have seen Trump's presidential challenger Joe Biden make positive noise on H1B visas if elected to power. How is the Indo- American community watching the developments in the backdrop of all the chemistry between Trump and Modi that played out in events in Houston to Gujarat?
A: There is no one Indian community. It is splintered into so many ways. There are people who loved Trump. Who are excited by him because he says things that they want to hear because they believe his tax cuts will be good for them. Who believe that they have gotten a chance to come here and succeed and stay. The next generation should not come.
There are also strong progressive people who are opposed to him. Who is fighting all of these regulations? Some of the biggest activists here are of Indian origin. There isn't one community. And there is a large community of Indian origin people that is detached, unconnected, is not necessarily following the US news or registered or voting. But this has been a wake-up call to many of the people that I have spoken to who thought that Mr Trump was harmless as a candidate.
But what is happening with immigration no, if this is not a wake-up call, I do not know what is. Including many of the people who love Trump, who benefitted by coming here on a student or H1B visa, being able to stay, for them to continue to support him after all of this, his malfeasance as direct causes of people dying is a much greater moral problem.
Candidate Trump said I can shoot a person on Fifth Avenue and I won't lose anybody. Imagine any other leader saying that. Look at South Korea and America. They got their first confirmed COVID 19 case the same day. And by the time Korea had 200 deaths, America was approaching 50000 deaths. And Korea is 15 times denser than America. This is the tragedy that is unfolding before our eyes.
Q: Yesterday we saw President Trump lash out at Harvard University and also argue that schools and classes should open up, keeping them closed is lazy. Is the F1 visa modification a pressure tactic for institutes to open up their campuses? Is the COVID situation good enough for physical classrooms to start?
A: I do not think they have connected those necessarily. But he is not just forcing colleges but also schools to open. He has said he will put pressure on Governors to open. The country is in the middle of a full-blown pandemic. We were trying to flatten the curve. Instead, we are in the middle of the first wave. No other country has seen such massive spikes so fast at. We did not do anything. It was as if lessons of pain suffered by everyone who went through the lockdown was wasted completely. Everything has become political
Q: US has formally announced its withdrawal from WHO even as the world continues to face a pandemic. Congressmen Ami Bera posted a series of tweets criticising the move.US has now pulled out of at least major world bodies and treaties including JCPOA, Paris Climate Act..Where does the concept of Global Order stand today?
A: It is tragic at every level. For a while, I and so many others treated the candidate as a joke. And many others thought that maybe Trump will come around after he becomes President. But he has shown his exact plan from day one and we are here. Nothing he has done is shocking because he told us he would do it.