SAWM INDIA – UNICEF INDIA Media Initiative 2018 Gender & Sanitation Brief Report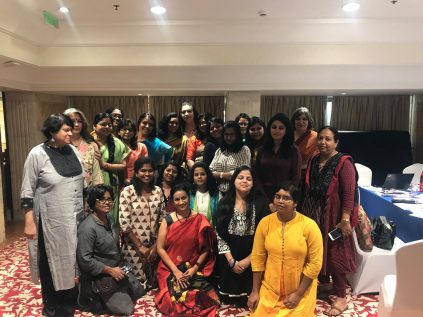 The South Asian Women in Media (SAWM), in collaboration with the Water, Sanitation & Hygiene Initiative (WASH) by the United Nations International Children's Emergency Fund (UNICEF), organized a conference on the theme of 'Gender & Sanitation' on October 31, 2018, at Hotel Royal Plaza in New Delhi. The conference was part of the second edition of the media initiative undertaken annually by SAWM, and saw participation by 14 women journalists, hailing from different regions and states across India. The conference provided the participants with a platform to voice their opinions on issues related to the confluence of gender and sanitation in India, interact with governmental and non-governmental experts working in the field of sanitation and general healthcare, and most importantly, share distinctive perspectives on the state of sanitation and related issues, as experienced differently across the country. The vital role played by UNICEF India in facilitating the participation of all the delegates present was appreciatively acknowledged at the very beginning, by Ms. Jyoti Malhotra, President, SAWM India.
The conference began with Mr. Nicolas Osbert, Chief of WASH, UNICEF India, making an instructive yet interactive presentation on understanding the correlation between sanitation related issues, and the impact they seem to have on the general wellbeing of children and women. Broadly, the four parameters highlighted in the presentation, to showcase the potential of sanitation as a tool of empowerment, were Health & Nutrition, Education, Socio-Economic Development, and Menstrual Hygiene Management (MHM). One of the gravest concerns emanating from the persistent lack of sanitation in any social milieu, is that of stunting, or a decelerated physiological growth of a child. Repeated transmission of infections by fecal contamination pathways that begin with eating infested food items, or eating without having properly washed one's hands, damages the gut at an early age itself, causing eventual stunting.
One gram of human faeces may contain up to 10 million viruses, 1 million bacteria, 1,000 parasite cysts and 100 parasite eggs. Once the infection has taken root in the system therefore, nutritional food notwithstanding, the overall growth in height, weight and other physical features becomes severely delayed, leading to negative consequences for mental faculties as well. Presently, a glaring 38% of children in India are experiencing stunted growth, due to lack of sanitation, and fecally transmitted infections during early childhood. At the same time, there is strong evidence supporting the claim that in India, proper sanitation can massively reduce the burden of fecally transmitted infections, diarrheal disease and stunting. Furthermore, in rural India, access to toilet facility is associated with a 16-39% reduced odds of stunting among children aged 0-23 months. The issue of open defecation or OD, therefore, provides another linkage between the lack of proper sanitation and deteriorating public health. As per official statistics, a glaring difference can be found in the number of open defecation cases in India until 2014, and after the Indian government under the leadership of Prime Minister Modi launched the Swachh Bharat Abhiyan. Open defecation explains 54% of international variation in child height, while the GDP of a country may only be responsible for 29%.
In the presentation, Mr. Osbert cited recently published reports that claimed that 22% of the schools in India did not have appropriately segregated toilets for girls. Additionally, it was also believed to be the case that 58 % of preschools in India had no toilets at all, while 56 % of the preschools had no water on the premises. Understandably, the lack of basic toilet amenities in many such schools, coupled with a general lack of sanitation has had a troubling impact on the education outcomes in India, especially for girl children. Due to the unavailability of toilet facilities on school premises, a disturbingly high number of girls, especially in rural areas, have been found to miss school regularly. Moreover, in the case of a general lack of sanitation, stunting caused due to fecally transmitted infections such as diarrhea and worm infections, has majorly affected cognitive development and content retention abilities among children. Having said that, improvement in the supply of water, and toilet facilities, and other sanitation related issues at the age of 1, has been found to be associated with significantly higher language scores at age 5, serving as an important example of how proper sanitation can bring drastic change on the literacy front.
A study conducted by the World Bank in 2006 states that approximately 53.8 billion dollars are lost in India every year due to the negative impact of inadequate sanitation, on the socio-economic development of the population as a whole. In 2017, UNICEF too conducted a comprehensive study on the request of the Ministry of Drinking Water & Sanitation Government of India, which found out that a household functioning in an open defecation free environment could save up to 50,000 rupees per year, due to medical costs averted for gastrointestinal diseases and the like. In other words, adequate sanitation can be understood as being directly proportional to the socio-economic wellbeing of a society, as money saved on the medical front means more to expend on improving the quality of life, and increasing individual productivity. It is therefore, extremely important to consider how the link between poor sanitation and hygiene most directly impacts women and children. Women, being the primary caregivers face significant insecurity due to the unavailability of toilets, among other reasons, which is a situational crisis that gives rise to a cyclical process affecting social economic development in India, and in countries where issues related to sanitation exist.
"If menstrual hygiene was something affecting men, we would have solved the issue 200 years ago, but because it affects women, we are still struggling with the issues of maintaining menstrual hygiene like making sanitary pads readily available to begin with", said Kevin Rudd, the Former Prime Minister of Australia, during the Mahatma Gandhi International Sanitation Convention, held in Delhi in September 2018. As mentioned by Mr. Osbert during the presentation, India has the largest adolescent population in the world at 25.3 crore, representing almost 20% of the world's adolescent population, out of which 12 crore are adolescent girls. According to the findings of the National Family Health Survey (NFHS-4) conducted in 2015, about 54% of adolescent girls in India were unaware of menstruation before they had their first period, 77% did not know the uterus was the source of the bleeding, only a mere 45% believed menstruation to be normal, a vast majority observed socio-cultural, religious or food taboos during menstruation, and only 57.6% of women used hygienic methods for menstrual protection.
A systematic review of menstrual hygiene management (MHM) in India, undertaken jointly by UNICEF and The London School of Hygiene and Tropical Medicine (LSTMH) in 2015 observed that 24% of adolescent girls did not attend school during menstruation, and only 37% changed their absorbents in school. These figures underscore the importance of responsive WASH infrastructure in schools to enable girls to manage their periods safely. Moreover, the review shed light on the fact that the provision of improved, gender segregated toilets led to increased retention of female teachers, as well as an increase in the number of girls appearing for exams, with higher pass rates.
Given the statistics above, it is imperative for the government to invest in a menstrual hygiene management (MHM) system that educates and empowers the common female populace, to take ownership of the process of menstruation, and adopt practices that provide them with a safeguard against diseases caused due to unhygienic menstrual protection methods. Relentless advocacy of menstrual hygiene as a governance objective by UNICEF led to the development and launch of the National Menstrual Hygiene Management Guidelines in 2015, to start operationalizing menstrual hygiene schemes in urban and rural areas alike. On the larger issue of sanitation, a recent World Bank report shows how the Swachh Bharat Campaign has contributed to women empowerment, not only in terms of providing a clear environment to live in, but also an opportunity to secure economic gains. As per the report, women comprise roughly 30-40% of all Swachhagrahis or sanitation foot soldiers, who have led the process of 'triggering a behaviour change' vis-à-vis better sanitation and hygiene.
Following the first session, was the presentation on Maternal and Child Health, by representatives from the Ministry of Health and Family Welfare (MoHFW). It began with highlighting the progress made by India so far, in reducing maternal and child mortality rates, and surpassing the Millennium Development Goals oriented target for Maternal Mortality Rate reduction. It brought to attention the renewed focus of the Indian government apparatus, on sectors like nutrition, early childhood development, adolescent health, and how all these are being address through inter-sectoral linkages. The recently launched program called Anaemia Mukt Bharat for instance, has been built by developing linkages with other governmental departments such as that for Women and Child Development, and organizations such as UNICEF, that are working in concert to eliminate unhygienic practices leading to anaemia. Another significant intervention by the Ministry of Health and Family Welfare has been in the form of Universal Health Coverage, or the Pradhan Mantri Jan Arogya Yojna (National Health Protection Mission), which emphasizes the fact that primary healthcare is not only about providing basic healthcare, especially in rural areas, but also about preventing diseases, helping people make lifestyle changes by improving their surroundings, where WASH has a big role to play. Therefore, it is imperative to foster partnerships if one wants to accelerate the positive reductions made on the various health parameters mentioned above.
In keeping with the sense of partnership in formulating and implementing strategies for better sanitation and hygiene, the Government of India is hosting the Partner's Forum in collaboration with the Partnership for Maternal, Newborn and Child Health (PMNCH), in December 2018, in New Delhi. The Partner's Forum is a multi-country, multi-stakeholder event, for sustaining the global momentum generated for issues related to women's, children's and adolescents' health worldwide. The Forum is expected to achieve the three key objectives of securing greater consensus and alignment among PMNCH's 1000+ partners and constituencies on strategies driving the Universal Health Coverage (UHC), and the 2030 Sustainable Development Goals; promoting the sharing of ideas and best practices to support action and accountability, and inter-sectoral collaboration across health related departments; and solidifying political commitment for the 'Every Woman Every Child Movement' (EWEC).
Bhasha Singh, senior journalist and author, spoke to the journalists about possible media perspectives in reporting gender and sanitation. She highlighted the plight of the manual scavengers. Not a single city in India is 100 percent connected to a sewerage system. Hence manual scavenging is still a necessity. Ongoing government survey has already found 58 thousand manual scavengers. Though manual scavenging was outlawed in 2013, and their rehabilitation made mandatory, very few benefits actually reach the community.
The participants shared their own experience of reporting on sanitation and/or gender stories. Issues like the ban on menstruating women from entering the Sabarimala temple, to toilets for tribal women in forest areas, all came up. Swati Bhattacharjee, General Secretary, SAWM India, told the participants about the deadlines and the logistics of the Media Initiative. It was consensually agreed upon that the private sector ought to play a bigger role to sustain sanitation gains, to continue the process of scaling up development on WASH related issues, and to integrate women in the operationalization of sanitation schemes.
Henceforth, the delegates were encouraged to conduct research at the grassroots level, in an effort to try and incorporate the voice of the most deprived and vulnerable sections of the population, into mainstream ideas on the most viable sanitation mechanisms to be adopted. On the whole, the conference provided the participants with an opportunity to interact with experts in the field of WASH, and collectively take stock of the status of sanitation in India, brainstorm ideas on how to increase accountability and monitoring of the implementation of government programs, and aggregation of data on gender inclusion in sanitation programming. The linkages between sanitation, hygiene and gender therefore, must be explored and more importantly studied in extensive detail, to be able to understand, and adequately respond to the challenges they present to the health and wellbeing of children and women in particular.
List of participants:
1. Anwesha Banerjee – Assistant Editor – Ei Somoy (West Bengal)
2. Pooja Singh – Senior Reporter – Prabhat Khabar (Jharkhand)
3. Sharmistha Bhonsale – freelancer (Maharashtra)
4. Archana Satpathy, Reporter – OTV (Orissa)
5. Mumeninaz Zaman freelancer (Assam)
6. Durba Ghosh – Senior Journalist – PTI (Assam)
7. Rashmi Drolia – Principal Correspondent – Times of India (Chhattisgarh)
8. Lavanya Natarajan – Reporter – News7 (Tamil nadu)
9. Rakhi Roy Talukdar – independent journalist (Rajasthan)
10. Soma Ghosh – Independent journalist (West Bengal)
11. Divya Goyal – Principal Correspondent – The Indian Express (Punjab)
12. Priyanka Tupe – Reporter – eSakal (Maharashtra)
13. Aishwarya Paliwal – Correspondent – Mirror Now (Delhi)
14. Priscilla Jebaraj – Deputy Editor – The Hindu (Delhi)