SAWM seeks immediate reopening of Kashmir Times office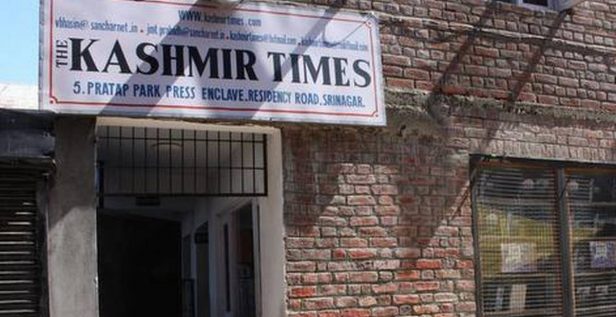 South Asian Women in Media (SAWM) is concerned that the J&K administration has locked out Kashmir Times from its Srinagar office. The Kashmir Times, edited by SAWM member Anuradha Bhasin, was functioning – like all other regional and national newspapers in J&K — from a government accommodation allotted to it in 1993-94 in Srinagar's Press Enclave.
Kashmir Times was locked out without following due process. All the office infrastructure, including computers, printers, generators etc remain locked inside. The newspaper's staff are unable to access these items essential to their work and this will delay the resumption of its print edition in Srinagar, which has been suspended since the outbreak of the Covid-19 pandemic.

Kashmir Times is the oldest English newspaper in the region and has shaped the finest traditions of journalism, apart from being a learning institution for many budding journalists.
Despite contacting the officers of Estates department, Kashmir Times has received no response as to why such action has been taken. The newspaper has petitioned the Deputy Commissioner's court where a hearing has taken place, but an order is pending.
The suppression of the media in J&K is an old story, but since the revocation of Article 370 on August 5, 2019, criminal charges, regular summons, harassment and even beating up media persons have become far more common.
Notably, Ms Bhasin had petitioned the Supreme Court against the suspension of the internet and other restrictions after the revocation of Article 370 and that case remains to be heard in Court. She has also been a vocal critic of the government's moves on various media.
SAWM condemns efforts to silence the media or put pressure on it in one or another manner. It notes that freedom of speech and expression is a fundamental right in the Constitution, but that, ironically, a clampdown on the media is far more visible since August 5 when the Constitution of the country began to apply to J&K as well.
SAWM emphasises its own determination to abide by the Constitution in upholding this right. It urges the authorities to follow suit.