SAWM India-Unicef India Media Initiative, 2018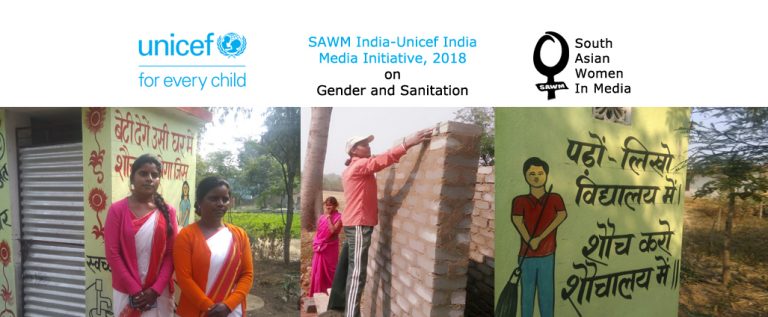 The South Asian Women in Media (SAWM) is a network of women journalists based in each country of the region — that is, Afghanistan, Bangladesh, Bhutan, India, Maldives, Nepal, Pakistan, Sri Lanka. WE STAND FOR freedom of speech and expression, the fair and equal representation of women in the media, as well as equal opportunity for women in the media. Our aim is two-fold: We want to deepen our network inside our countries so as expose each other to the wide variety of stories around us as well as promote best practices in journalism; We also want to create a digital platform that will showcase our work as well as our interests and ideas across all the countries of South Asia. We believe that the right to speak freely goes hand-in-hand with the responsibility to dissent, and yet across our region, censorship and crackdowns and plain fear are being used by powerful governments to prevent the story from coming out. In these circumstances, a network of journalists — of women journalists — who demonstrate the power of cross-border networking in standing up to these values of a free and responsible media, is increasingly important.
Among these efforts to promote both national and cross-border journalism — which includes the provision of grants to women journalists to pursue their stories and arrange field visit — is a highly valued collaboration with UNICEF, which was launched in 2017. The theme of the inaugural SAWM India-UNICEF India Media Initiative was "Voices of Adolescents." Eleven women journalists from English and regional media across the country wrote and reported untold stories of adolescent girls and boys and presented them to over 25 million readers and viewers in their respective publications.
For the second edition in 2018, SAWM India collaborated with UNICEF's Water, Sanitation & Hygiene Initiative (WASH), on the theme "Gender and Sanitation." This year, our funders supported 14 journalists. SAWM India makes it a point to make the selection of these journalists diverse and inclusive. Which means that journalists from big media organisations like Times of India, Indian Express, The Hindu, Prabhat Khabar, PTI, Mirror Now, along with journalists from smaller regional language newspapers and TV, as well as independent journalists participated in this exercise.
The program enabled the reporters to travel to other states to report their stories, an opportunity often not offered by media organisations. They visited villages and towns where sanitation projects were making an impact on the lives of young girls and women. The participants were also encouraged to travel on their own.
Providing resource and other support for quality journalism is important to SAWM. As in the first year, this year too we held a pre-departure briefing. It was attended by experts in sanitation, from UNICEF as well as those seconded to the government, as well as veteran journalists who have written on gender and sanitation issues. A report on the pre-departure briefing features in this report.
The program greatly values social media posts from the field, sent by participant journalists. These capture the interface of women journalists with women in villages or slums and the impressions they make on each other. In a sense, these are "stories behind the stories," and need to be recorded as such.