Satisfied with GoI Handling of Kashmir: Maldives Foreign Minister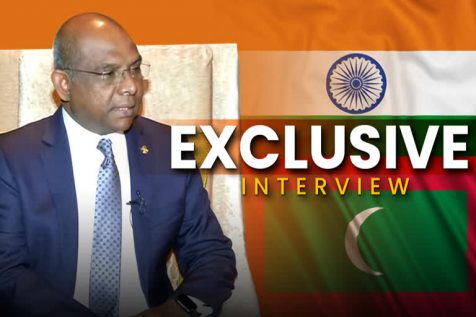 This story first appeared in etvbharat.com
In an exclusive interview with Maldives' Foreign Minister Abdulla Sahid senior journalist and  SAWM member Smita Sharma finds out that Maldives consider the CAA and abrogation of 370 in Kashmir as India's internal matter and the ambassador from Maldives felt most satisfied with the ground situation of Kashmir during the recent visit there. Read the full interview to know what this neighbouring country feels about some of the most important political issues of present time.
New Delhi: Maldives supports the Indian government's moves on Kashmir and the Citizenship Amendment Act as 'internal action', and it is not for neighbouring countries to comment on them, said Foreign Minister Abdulla Shahid.
In an exclusive conversation with Senior Journalist Smita Sharma, Shahid argued that Maldives also would not welcome interference by other countries if the island nation were to amend its own Constitution or Laws. Abdullah underlined that people supporting or protesting against CAA proves the vibrancy of Indian democracy and the Maldivian Ambassador who along with select envoys visited Jammu and Kashmir recently felt satisfied with GoI's handling of the ground situation.
Shahid who was in New Delhi to address the Ministry Of External Affair's global think tank event The Raisina Dialogue, met with Dr S Jaishankar to discuss further Indian role in development and connectivity projects in the small nation strategically located on the Indian Ocean. The Maldives' Foreign Minister said that the Free Trade Agreement and 'unfair deals' signed by the previous Yameen regime with China are being reviewed. He also hoped that once the cricket stadium being built by Indian assistance in Maldives is complete, in days to come the island nations' cricket team will defeat the Men In Blue from India.
Q – What were the key issues in your meeting with EAM Jaishankar?
Abdulla Shahid – It was mainly to touch base and take stock of how the development projects are going on. I was in Delhi just about a month back for the Joint Commission and we have been following closely how things are moving ahead. On my return to Maldives I will be signing another six projects with regards to development of some of the southern islands including Addu Atoll with the assistance of India.
Q – What kind of specific Indian role are you looking at?
Abdulla Shahid – India has been very generous. During President Solih's visit India pledged 1.4 billion USD aid package which included the 800 million USD LOC (Line of Credit), 250 million USD on the Grants side and also currency swap between the two central banks. We are working on that package. One of the main projects India will be coming in will be the Greater Male connectivity project that is connecting the capital Male to an urban centre next to it and an area that will be reclaimed. We are also going to use the LOC to develop the international airport in the north which will pave the way for more Indian tourists to come to Maldives. That will also take some pressure off the Male international airport.
Q – Maldives has been focusing on the Indian Ocean Region (IOR) stability and terrorism. Maldives has said it is shocked post the Easter Sunday terror bombings in Sri Lanka. Did these subjects come up for discussions in current meetings with your Indian counterpart? How are you tackling the issue of radicalisation and terrorism?
Abdulla Shahid – Indian Ocean security and stability if of utmost importance not only for Maldives but also for India. For Maldives it is important because we lie in the middle of the Indian Ocean. For us if there is instability in the Indian Ocean it will have a detrimental impact on the Maldives. It is also essential that we have stability in Maldivian democratic processes as the only way to contribute to a stable Indian Ocean which is essential for India's security too. We are on the same page and our interests converge at this point. Which is why both of our countries are able to work together closely.
Q – How big is the IS threat in the region specially in wake of Sri Lankan bombings? There have been cases of dozens Maldivians joining ranks and files of IS in the past.
Abdulla Shahid – We would not want to understate the threats posed by Islamic State or Daesh to any one country. Especially it is important for us to be vigilant, actively involved in international cooperation against Daesh because we have a very large tourism industry. We have to make sure that our tourism industry is safe and we are committed. What happened in Sri Lankan Easter Bombings shocked all of us. People who were involved in blowing themselves up causing huge damage were not in the margins of society. They were educated people. It brought into focus all kinds of new concerns which our intelligence agencies across the region including India, Sri Lanka, Maldives and others are working on. I am sure that the only way of tackling these issues is through cooperation at the level of states. On our own, independently, we will not be able to completely succeed.
Q – On the issue of people like Zakir Naik wanted in India, said to have inspired the Bangladesh hostage crisis terrorists through his radical preachings, but has been given refuge by Malaysia. Maldives reportedly returned him back last time he tried entering your island nation. Has Maldives had any official conversation with another Islamic country Malaysia about Zakir Naik radicalising the youth?
Abdulla Shahid – We have not had a conversation. It is up to Malaysia to decide who they allow to go into their country. But on our part we will not entertain any person who would come into Maldives, radicalise our people, who would disrupt our society, it will be against our law.
Q – But does Zakir Naik does bring a bad name to Islam if he is connected to these kind of radicalisation attempts?
Abdulla Shahid – Anyone who hides behind the veil of Islam and spreads hatred is doing a disservice to Islam.
Q – The Speaker of your Parliament and Former President Nasheed during his India visit used very strong words comparing Chinese land grabs in Maldives to the East India Company. He seemed to express disappointment that despite the Solih government being in office for past few months, no steps have been taken for revocation of certain controversial Chinese agreements done by Yameen government or signalling to China to re-look at them to ensure deals done are not debt traps. Your thoughts.
Abdulla Shahid – I will not try to explain what President Nasheed, our Speaker has said. The current government appreciates the generous assistance of China. The irresponsible borrowings that have taken place under the previous regime are being looked into by an independent Presidential Commission. The assets recovery commission was established through legislation and it will be done through legal processes. What we do not want to get bogged down by is heavy debts. The current government is determined to continue with its commitment to social development and make sure that things work out. On the unfair agreements that may have been signed, we will have to look into it. As an elected democratic government till our due processes are over we will not be able to comment on the issues. It will not help any of our people.
Q – But is there any project previously signed by Maldives that your government is looking to revoke? Where does the FTA (Free Trade Agreement) with China, which was bulldozed through the Majlis in absence of opposition, stand?
Abdulla Shahid – The social development projects are ongoing. Last week China opened an eye clinic in Hulumale speciality hospital. These things are appreciated by the people. These are requirements that people need. The housing projects are ongoing. I was in Beijing last September. I found Beijing to be receptive to accommodate social housing projects and other projects related to social sectors including sports. I was a member of Parliament along with President Solih and the current defence minister, when the FTA was bulldozed by the then government. We as members challenged it. It is on record. We cannot go back on it because it was done in such a manner. It is a legal responsibility to make sure these (democratic) processes take place. So the current government is reviewing it and before we have a comprehensive review it will be unfair to say either way if we will revoke it or not.
Q – Have shades of differences emerged between offices of President Solih and Speaker Nasheed?
Abdulla Shahid – Not at all. It is just how we put words in it. But we are very clear that as a responsible government we should make comments only after a comprehensive review (of projects).
Q – Maldives has supported the Indian government on CAA (Citizenship Amendment Act) and Kashmir citing it as internal issues. But is Maldives worried about how it really impacts the minorities here?
Abdulla Shahid – Maldives was the first country to publicly come out and say that revocation of Article 370 of the Indian constitution is an internal matter. I was in Delhi when CAA was adopted by the Lok Sabha. What we maintain and our position remains that one has to look at whether legislative processes have taken place through democratic means prescribed in the Constitution of your country. India is one of the most dynamic democratic places in the world. If there are people who oppose or support legislations passed in your parliament, it shows the vibrancy of your democracy. But fact remains that it should not be for neighbouring countries to comment on these issues. For example I would not want India or any other country to come and tell me when Maldivian parliament amends its Constitution or its own laws. The only thing important would be to check if democratic processes have taken place. If the Indian public is making sure the issue of CAA needs to be revisited, then I am sure Indian Parliament and government will have to revisit. That is the beauty of having a democracy.
Q – Given India is the world's largest democracy, the legislation by itself could be an internal process, but the human rights situation or communication restrictions in Kashmir, or use of excess force to handle students' protests, does it raise concerns for democratic principles of India that other countries look up to?
Abdulla Shahid – Our Ambassador visited Kashmir with a number of ambassadors earlier. She was most satisfied that the situation under the present circumstances is the best that can be done. I am sure the Indian government is aware of what needs to be done quickly in order to return the situation to Kashmir to normal.
Q – Is there a difference between Maldives and the OIC (Organisation of Islamic Countries) of which you are a member on these issues related to India?
Abdulla Shahid – We have made our positions very clear in public.
Q – Are you hopeful of any movement forward on SAARC given India and Pakistan continue to work together under SCO and even be a part of joint military exercises under the umbrella? Would SAARC member countries like India and Pakistan to set aside their differences and work together in SAARC as well if they can work under SCO?
Abdulla Shahid – SAARC has been around since 1985. We have made lot of progress on many fronts. This long period of existence, what it has revealed is we need to address the core issues and differences in the region. Now SAARC has moved to a level where we need to visit the core issues. The countries have to decide on them. The initial agreement of SAARC is that we will avoid discussion of any issues that are disagreeable. We need to move to a level where we can start discussing these issues.
Q – Is it disappointing that India Pakistan can set aside differences under SCO but SAARC is not taking off? Are you hopeful of a revival of the summit meet soon or is it as good as dead?
Abdulla Shahid – I would be optimistic but I do not see substantial movement as far as summit meeting is concerned. But as far as the other levels like ministerial level meetings are taking place. We hosted the education ministers meeting last year in Maldives. Technical meetings and cooperation is ongoing. But at political and summit level, I think one has to be optimistic but with bit of reality.
Q – But summit meeting is important to give political push to the forum. Can the forum just operate without it?
Abdulla Shahid – For a while it has been operating that way.
Q – How is the cricket stadium being built by India shaping up?
Abdulla Shahid – I have seen the drawings, it is beautiful. It is almost ready. The ground-breaking ceremony will take place soon. The training side has already begun. Our youngsters are being assisted by coaches in India. Soon we will defeat you!
Q – Are you a Fan of cricket like President Solih?
Abdulla Shahid – President Solih is a huge fan of cricket and plays the game. I am a fan of cricket and I watch it. Last year President Solih and I had an opportunity to travel to Bengaluru to watch a match. It was a brilliant one. We really enjoyed it.