Reclaiming the Republic! Does J&K figure in that imagination of India?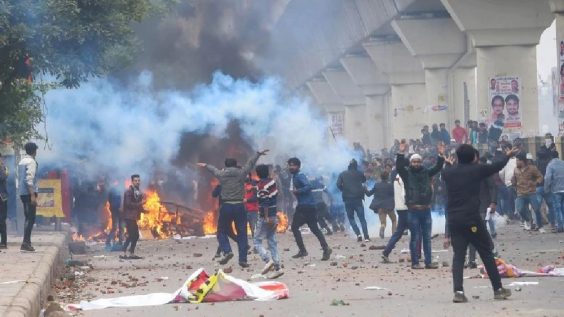 This story first appeared in Kashmir Times
India is experiencing mass protest across the country against the BJP led central government. Editor of Kashmir Times and SAWM member Anuradha Bhasin Jamwal writes where exactly Kashmir stands and why the slogans and the resistance will ring hollow without Kashmir.
India's moment of Arab spring is here. After some years of rejoicing over hollow promises and even some parochial themes, followed by denial and silence, there is now a sudden awakening – the country's common citizens have woken up to the dark reality of the divisive, communal and authoritarian politics and policies of the rulers. They have spoken and have outrightly rejected the vision of a communal and fascist India. The final prompter was the discriminatory Citizen Amendment Act and related extension of National Register of Citizens that puts the onus on the individual to prove that he/she is a citizen of the country. The sea of humanity that is pouring out on the streets in various parts of the country comprises people from all religions, castes and all walks of life walking shoulder to shoulder – Hindus, Muslims, Sikhs, Buddhists, Christians, Bollywood stars, politicians, academics, students, clerks, housewives and the petty workers – all together. One nation, united by their diversities and a common cause – to protect the Indian constitution which deems all citizens as equals, guarantees them the right to free speech and the right to protest. The lead has been taken by the youth of the country – the brave-hearts who dared to speak when very few were and faced the brutality showered on them by the state with courage and dignity.
Before the students decided to come out of their comfort zone, few murmurs of protest were being voiced by some liberals of the country. What may have gone unnoticed or ended in a whimper took the country by storm last week when in response to protests police ran amok in the campuses of two prestigious universities – Jamia Millia Islamia in Delhi and Aligarh Muslim University. Whether the police action provoked a violent protest in the two places or vice versa remains a chicken and egg story. But the brutal action was disproportionate enough to spark a nation-wide outrage. Barring some protestors metamorphosing into mobs and resorting to violence, the protests have been exemplary and a display of courage, determination and discipline. With anxieties of minorities and secular liberals already brewing, the country has been caught by a storm, unnerving the rulers whose only response is to crush the rising dissent brutally, leading to deaths, torture, molestations, maiming, arrests and communication curbs. The loyalist media comes in hand to give every story a spin, dwarf the peaceful marchers and superimpose the violent mob frenzy, demonise the protests and conveniently ignore police brutality. Also, ignored are the questions of whether the police was using disproportionate force, vandalizing public property, tear-gassing and firing point blank instead of firing warning shots in the air. There is also silence as some reports point out that BJP activists wearing skullcaps were arrested for mixing with the protestors and giving them a violent turn or sundry such allegations.
Familiar? For many, today India resembles the streets of Kashmir. In some ways, that is true. Kashmir has become the epitome of peoples' anger, repression and restrictions. Kashmir has been treated with contempt and the resistance of its people has been demonized and branded "anti-national". Peace-loving Indian citizens with unflinching faith in the constitution and the values of equality, liberty and secularism it embodies are getting a taste of the same bitter pill. Only, that the tyranny being witnessed in many parts of India today, particularly in BJP ruled states and those where BJP is in control of the police, is only a microscopic fraction of what Kashmir has been going through, not since August 5 but for decades. The BJP only enhanced the scale of tyranny much more, post 2014, even more post-August 5 this year. All this while, the vast teeming majority of liberal and secular Indians have either viewed this repression with denial or indifference, even endorsement. Their silence has legitimised the brutality that has been perpetuated on the people of Kashmir. The same brutal methods from the rule book of the tyrants has now come home to haunt.
But undaunted, they are resisting the challenge. Two things, however, are crucial to strengthen their arsenal of courage and determination. One is the sustenance of this movement as a peaceful and non-violent one. Faced with brutality, sabotage and even some trouble-makers within their own ranks, this may not be an easy challenge. They would need to remain calm, determined, well connected, organize this moment of spontaneity and be smart enough to pre-empt a hundred ways in which the government would try to undermine the resistance: the most obvious is to beat the war drums or amplify the terror anxieties.
Secondly, the liberal and secular Indians resisting the mighty authoritarian regime and fighting to reclaim the republic also need to grapple with their own guilt of silence on Kashmir so far. Had they spoken for Kashmiris, who have faced multiple times the tyranny that is now being unleashed on students, in atleast some universities, and other public of the country, they might not have seen this day. Their silence continued to give legitimacy to tyranny. It is important to recognize that. As they march with a fire in their belly to reclaim their republic, it is also important to recall Kashmir and talk also about the continuing oppression there. It is important to appreciate that while they march on, even that privilege is denied in Kashmir. In October, a group of Kashmiri women, mostly retired academics, who gathered in Srinagar to organize a silent protest with placards were not only disallowed but also jailed and released a day later only after signing bonds that forbid them to protest.
Talking about the atrocities, gags and lockdown in Jammu & Kashmir is not only important for rekindling hope in the Valley and building new foundations of trust between the Indian mainstream and Kashmiris, the very remaining residue of which has been destroyed since August 5. It is also important because exclusion of Kashmir from the discourse of equality, liberty and secularism and from vehement opposition to brutality would turn their vision of liberal and secular values a farce. Their slogans and their resistance, without Kashmir, would ring hollow.