Rani mistris score Swachh goal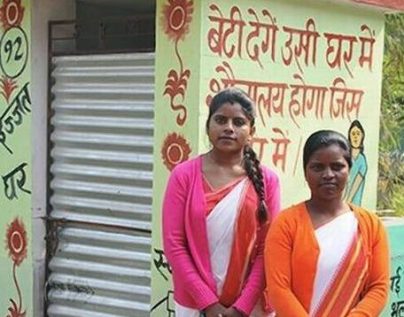 Jharkhand's trained women masons have built over 15 lakh toilets in one year
When Seema Khujur's husband died in 2010, leaving her with three young children to raise, the young woman had little choice but to take on daily wage labour that offered little money and less satisfaction.
Eight years later, the 32-year old is a proud "rani mistri"— a skilled woman mason — with budding business skills and a leadership position in her village of Dubaliya, 30 minutes from Jharkhand's capital Ranchi.
Preethi Kumari's journey had a very different starting point. The 24-year-old city girl was a college graduate when she married for love and followed her husband to his village of Dubaliya. Bored without a job of her own, she experimented with several options before she also trained as a rani mistry, learning to build toilets and bathrooms, before using it as a stepping stone to a salaried job in the government's livelihoods initiative.
She is among 55,000 women masons who have been trained by the Jharkhand government over the last year, and become a crucial part of the State's achievement of Open Defecation Free status under the Swachh Bharat Mission last month. The rani mistris had helped construct more than 15 lakh toilets in less than a year.
On November 15, its statehood day, Jharkhand declared itself open defecation free.
Not a man's job
The rani mistri training drive was meant to solve a problem slowing the State's progress in the Swachh Bharat Mission, a nationwide sanitation campaign that aims to give toilet access to every household and eliminate open defecation by October 2019.
"One year ago, Jharkhand had only achieved about 50% of our target under the Swachh Bharat-Gramin, when the [State] government decided to advance our deadline to December 2018," recalled secretary for water and sanitation Aradhana Patnaik.
With the conventional strategy of routing work and funds through the local administrations to village panchayats and pradhans not yielding results quickly enough, Ms. Patnaik changed tack to capitalise on the potential of the State's 1.5 lakh women's self-help groups. "By January and February 2017, we were getting reports from all over the State that there were not enough masons."
Though Jharkhand had approximately 50,000 skilled masons or raj mistris then, including those imported from neighbouring States, many of them were not interested in constructing toilets. "Maybe around 500 of the masons were women, trained through earlier programmes," Ms Patnaik said. It was a request from one such woman in Gumla district which triggered the mass training of women through the SHGs.
"We were given about ten days of training..The hardest parts were fitting the pan, getting the [twin leach] pits in the correct shape and size and learning to use the sahul [or plumb line]. In the first toilets we built, the door was often crooked. Now, we have learned to get it straight," says Seema Devi, another of Dubaliya's 10 rani mistris. Together, they supervised the construction of 230 toilets in their village.
Leadership role
The challenge went beyond the technicalities of construction. "To buy the bricks, we travelled out of the village and visited several kilns, compared the prices and then made our purchases," says another mason Reena Devi. "We went as a group of women, with no men. In the beginning, we were nervous, but this really gave us confidence," says Ms. Khajur.
The men of the village, including their family members were initially sceptical. "When we started bringing in the ₹400 per day, like any raj mistry, they became more convinced," laughs Ms. Kumari. "Also, everyone now sees that the quality and finish on our toilets is better than those made by the men."
Now that the toilet construction mission is complete, however, many of these women are hoping they can break traditional taboos and overcome a scarcity of opportunities in the construction sector to make room for their skills.
Santosh Karmali, a 45-year old raj mistriin the village, admits that the women have done a good job so far. However, he is sceptical of their ability to graduate from toilets to houses, or other constructions.
"I have 25 years of experience as a mistri. They need more experience before they can compete," he says. He adds that local tradition and custom forbids women from laying the tiled roof of a house, even if they take part in other construction activity, just as it forbids them from ploughing the fields, even when they engage in other parts of farm work.
The women nod; they know the taboo. "Putting the roof on the toilets, that was the most difficult," says Reena Devi.
Several rani mistrysare content to invest their newfound confidence and small earnings in starting small cottage industries. Others want to continue to build, if they have the chance.
The government hopes that those women who remain keen can graduate to home construction under its Pradhan Mantri Awas Yojana scheme. "There are several sarkari[PMAY] constructions going on in our village, but the men are doing that," says Ms. Khujur.
In a village meeting, she says the biggest challenge ahead is the community's water shortage. Only 15 to 20 families have easy access to water.
At a wider level, state secretary Ms. Patnaik is also focussing on water. "I have just sanctioned ₹4700 crore worth of surface-based, piped water projects. We hope we can use some of the rani mistris to help build them in the villages," she says. A new opportunity beckons.
(The reporting for this story was supported by a SAWM India-UNICEF initiative)
Source: The Hindu