Not A Racquet To Call His Own, Roshan Singh Rules Badminton Courts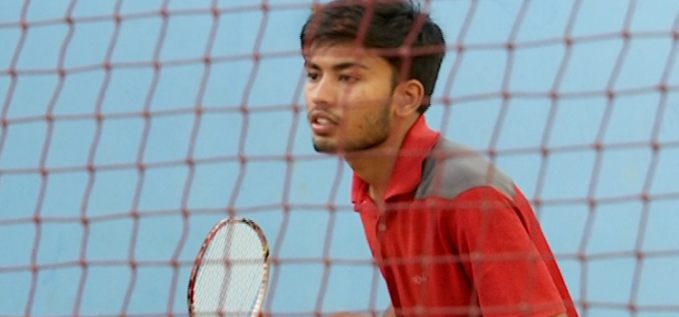 Early in the morning, when most adolescents his age are in deep slumber, 16-year-old Roshan Singh starts pedalling to a nearby field. A tee and shorts and a pair of worn out shoes is all that he carries to warm up and begin his 'untrained' fitness regime. He jogs, skips, runs and stretches during a rigorous one-hour schedule.
Aware that a fitness regime alone doesn't give him stamina to pursue the game and that he needs good food and training to excel in the game, he has no option, neither does he have complaints. He has made truce with destiny – to live life the way it comes to him since he cannot change the circumstances back home at this tender age. Meet Roshan Singh, from district headquarters town Bolangir, who was the 2015 sub-junior state champion in badminton. A magic to watch out for in the courts, his technique of playing – not many his age can beat, he attributes to have learnt from Youtube channels.
Born to a family of six that sustains by selling Gupchup (a street snack), Roshan Singh has, for the time being, left his dreams remain dreams only. For someone, who doesn't have a glass of milk, let alone nutritious sports drink required for an emerging sportsperson, thinking about anything else does not hold any meaning. He doesn't have a racquet to play the game but one of his friends has been kind enough to lend one for his daily practice.
"I had bought a racquet saving from my pocket money before my championships in 2015 but the gut strings have been damaged and now only the frame head remains. Neither can I get it repaired nor do I have the money to buy another one. Championships are ahead but I'm not worried because there is little I can do at this age,'' says Roshan while practicing at the Rajendra Indoor stadium in the town.
The stadium is shabby to say the least, with hardly any cleanliness carried out since ages, has lighting issues with just one court, and doesn't have an accredited trainer to coach the talents plus floors are in dilapidated condition. And all this despite the fact that Bolangir is known as the badminton cradle of Odisha that has produced some of the best talents in the game. ''I have mostly learnt the game by watching my seniors play. There are no coaches nor anyone to give us the tricks of the trade,'' says Roshan who looks up to Chinese Malaysian player Lee Chong Wei as his role model besides naming one or two seniors he practices with.
Roshan is equally good at academics and is presently pursuing Plus Two first year commerce in Rajendra College, Bolangir. He had secured 9.4 CGPA in his 10th CBSE board exams. However, studies have never fascinated him as much as sports.
But his talent in all kinds of sports, particularly badminton, was also a surprise for his family. ''It was only after he won the sub-junior state championships that we got to know from friends and relatives that he got a rousing reception at Bolangir railway station when he returned to town after winning. We always knew he played the game as he used to play chess and other games. But we never knew he would become a state champion. Because he is mostly silent at home and doesn't talk much,'' says Roshan's sister.
After morning practice, he leaves for college but is soon back at home to lend a helping hand to his father and others in family, all of whom get busy in preparing for the evening eatery stall. Earning Rs 500 every day, the family of six, faces hardships each passing day. ''Roshan's achievement has made us all proud but we feel bad that we have not been able to provide him basic requirements of the game as it's very expensive. We stay in rented house and pay Rs 5000 as rent, the rest is all spent in managing food and basic necessities. We hope he gets some support from somewhere to go farther in the game and makes the nation proud,'' say his parents with a heavy heart.
Soon after helping the family, Roshan leaves for his practice to the stadium that has still not been taken over by the sports department even after years of its completion. Despite issues bogging the place, none of the officials has paid any attention to improve things for players of the place. Managing sufficient shuttlecock for the players is also a problem, sources said.
But Roshan reaches there sharp at 2 pm, warms up and soon wears his torn shoes and holds his 'borrowed' racquet to begin the game. It's nothing less than magic to see the finesse with which the young player, who has never been formally trained in the game, sways to every kind of shot – plays forehand, backhand and leaves no opportunity to smash.
"As long as my friend supports me in just providing a racquet to practice, I have no problem. But I would also like to have proper shoes and at least one racquet to practice,'' says Roshan with a feeling of remorse in his voice.
"He would be the star to look out for in 2019 but he needs to prepare for that. Right now he has been a little laid back with not much vigour and stamina. Neither is food being taken care of, nor does he have proper sports discipline to follow. Infrastructure is too poor with only one court to practice for all players,'' says the district badminton association secretary Suru Matari.
As soon as the clock strikes 6 pm, Roshan cycles back to daily market to help his father serve Gupchup to all customers in the same gear that he practiced in. Equally deft at serving different varieties of Gupchup to customers, Roshan helps his father till the rush reduces.
"I have many things at heart, but my family's financial condition doesn't allow me to even think or share. Because I know no one can share my problems or solve them. So I have left everything on destiny. I will take a day at a time and not think about future,'' he signs off while cycling back home.
Given the situation, Roshan lives in and constraints that hit him, unless some help pours in, the emerging sports talent will cease to be a face in the crowd.
Source: odishatv.in