'No two countries share this sort of a relationship'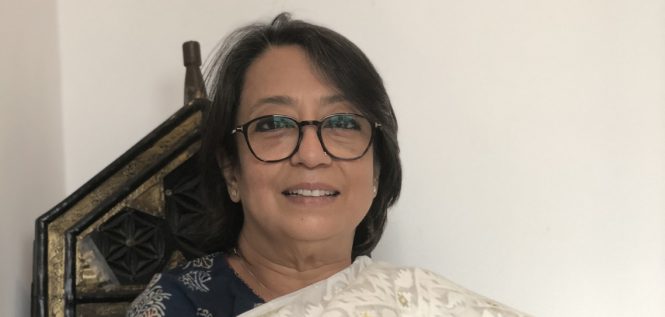 This story first appeared in Prothom Alo
Indian high commissioner Riva Ganguly Das had come to Dhaka almost two decades ago on diplomatic posting. In March last year she returned, this time as the High Commissioner of India to Bangladesh. She is quite impressed by the changes that have taken place over the past 17 years.
Many meeting and trips that had been scheduled between India and Bangladesh have been held up over the past four months due to the COVID-19. Have these stalled interactions had any effect on relations between the two countries?
On the contrary, I feel that interactions between our two countries have remained steady. Of course due to the constraints of not having flight connectivity, actual physical meetings have not taken place. But that has not prevented us from moving ahead to deal with issues that require attention. I have myself attended more than 25 webinars. Chambers of Commerce from both sides have interacted intensively to ensure that supply chain disruptions are minimised. In fact, you would have seen from press reports that we have seized an opportunity out of the challenges posed by COVID-19 pandemic and have been using the rail connectivity between India and Bangladesh to the optimum.
Immediately after the start of pandemic, we took a number of initiatives to engage Bangladesh ministries of commerce, railway, foreign affairs and the National Board of Revenue as well as stakeholders like ASSOCHAM, FICCI, CII, FBCCI, IBCCI, Chittagong Chamber of Commerce & Industry, etc. It was soon clear that out-of-the-box thinking was required to tackle the supply chain disruptions that had taken place because of COVID and confidence of the business community had to be restored. Within a matter of days, Bangladesh Railway and Indian Railways were able to start smooth movement of railways all the way from various points in India to Petrapole-Benapole and the first priority was of course to ensure that there would be no shortage of essential commodities in Bangladesh through the month of Ramadan and subsequently during the festival of Eid.
We recently even had mini trucks come in by train. Seeing the success of the movement of rakes and mini rakes, the two railways quickly upgraded this cooperation to start container and parcel train services between our two countries. This has been of immense benefit to small importers who are otherwise totally dependent on the land ports and have been facing several challenges due to health concerns related to COVID.
The existing four railway links at Petrapole-Benapole, Radhikapur-Birol, Gede-Darshana and Rohanpur-Singhabad have emerged as critical infrastructure for hassle free operations across the border. Starting from 9 May around 242 freight trains loaded with essential commodities like onions, chillies, ginger, sugar, rice seeds, turmeric, spices, paper, bleaching powder, de-oiled cake, maize, cotton bale, duplex papers, stone and fly ash, etc have been transported to Bangladesh. Recently railways from both the countries have introduced Parcel Train Service and agreed to operate side door container trains for value added goods in addition to the BCN wagons which are running at present. The inaugural container train service arrived in Bangladesh on 26 July 2020. It is a great opportunity for traders importing/exporting smaller quantities as well as value added goods. The new initiatives taken by both the railways are going to boost the trade and business between India and Bangladesh substantially.
Once it was realised that COVID was here to stay for much longer than we had perhaps thought initially, intense consultation and discussions took place with the FMCG sector and those who bring in material in bulk from India as inputs for the extremely important RMG sector of Bangladesh. Our hard work paid off and on 27 July, the first container service with 40 containers of FMCG cargo from Proctor and Gamble and 10 containers from Arvind and Vardhman mills reached Bangladesh. In addition, 11 Tata mini trucks have also arrived in Bangladesh by train. In short, one can say that trains are slowly changing the way we do business with each other. Not only is this saving costs, it is good for health and hygiene, reasons which we have to be careful about through the pandemic. Trains also have much lower carbon footprint.
Likewise, the success in the rail sector was replicated in the shipping sector. The 2nd Addendum to Protocol on Inland Waterways Trade and Transit (PIWTT) was signed on 20 May. With this, two additional routes between Sonamura-Daudhkandi and Rajshahi-Godagir-Dhulian with extension up to Aricha and five additional Ports of Calls have been included. This makes the total Ports of Calls 11, extended ports of calls 2 and PIWTT routes, 10. Recently 45 container consignment carrying 1,100 tonnes of sponge iron equal to 55 trucks had sailed on PIWTT route 1-2 from Garden Reach Kolkata for its destination to Pangaon Container terminal and had reached successfully in a span of 7 days. Clearly COVID has opened opportunities while also posing huge challenge to us.
The first trial movement of transit cargo under the agreement on the use of Chattogram and Mongla ports, was successfully conducted between 16-23 July 2020. This reinvigoration of the historical waterway connections between India and Bangladesh is a mutual win-win for both the economies.