No need for PM Modi to engage with Pakistan at UNGA: Ex Indian HC to Pak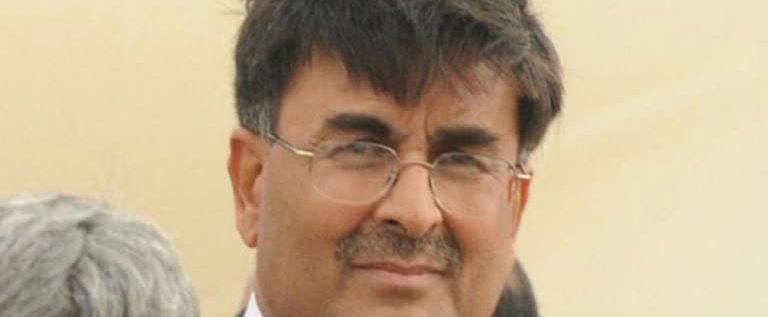 Former Indian High Commissioner to Islamabad Sharat Sabharwal thinks India's Prime Minister Narendra Modi's focus should not be on Pakistan in his address to the UNGA. He wants to keep a close watch on America's President Donald Trump's actions and statements on Kashmir issue. He talks to journalist and SAWM member Smita Sharma.
New Delhi: It is not desirable for Narendra Modi to engage in a face off with Pakistan when he addresses the United Nations General Assembly for the second time as Indian Prime Minister on Friday, former Indian High Commissioner to Islamabad Sharat Sabharwal said.
PM Modi will focus on larger international issues, the former seasoned diplomat, an advocate of dialogue even in the most difficult of relationships, opined.
Sabharwal also cautioned that there is at the moment no possibility of dialogue with Pakistan as the popular perception is supportive of the Modi government's 'No Talks With Terror' position.
In an exclusive freewheeling conversation with senior journalist Smita Sharma, Sabharwal underlined that Trump's offer of mediation on Kashmir is not the worry, but his guarded statements on terrorism emanating from Pakistan is what New Delhi needs to watch closely and what happens at the FATF meeting in October will be crucial. He also said that the Kartarpur Corridor opening should not be linked to bilateral ties opening up.
How do you expect India will respond to the Pakistani rhetoric on Kashmir when PM Modi addresses the UNGA on Friday?
Sharat Sabharwal: This is not the first time that Pakistan will bring up Kashmir and India at the UN in a big way. They have done it time and again. This time, they may make it even more strident but we seem to have taken a different attitude. Foreign Secretary Vijay Gokhale, before he left for the visit, in a press meet said that PM Modi would not be talking about the 370 move as it is an internal matter. Instead, his speech would focus on development and other major international issues. He also said that although we will be talking about terrorism, it will not be the big focus of the speech. That is how it should be because there is no need for our leaders, especially our Prime Minister to engage with Pakistan at the UNGA. Pakistan is a country which is left far behind us in a certain sense.
For us to engage at that level is not desirable. Whatever the Pakistani PM says, there would be an answer by India at the level of a junior diplomat of the Indian mission. That is enough for the record. PM of India represents a big country which has major interests and is looked upon by the international committee to play its due role and which is not confined only to dealing with Pakistan. It is only befitting that the Prime Minister speaks of larger issues. Of course, he will bring up terrorism that has been bothering us and he will then talk about development, climate change and other issues of larger Indo-Pacific, the environment and security architecture there.
Is Pakistan isolated on the international stage on the Kashmir issue?
Sharat Sabharwal: Pakistan's attempt was to raise the issue in the UN Security Council. With Chinese help, they were able to organise an informal meeting for informal consultations to which there was no outcome. That attempt completely failed. Second opportunity for them was at the UN Human Rights Council where they said their piece but did not have any support to move a resolution or push for a separate discussion on Jammu and Kashmir. In the General Assembly, I don't think more than making a statement they can do anything to which there would be an Indian response. They will continue to raise this issue wherever they get an opportunity. There will be some international reaction but it has been by and large muted, whether from Americans or other countries. It has been muted and balanced – not much on Article 370, but more on restrictions placed in Kashmir and calling for them to be lifted, referring to human rights.
UN Secretary-General went a little further and talked of UNSC resolutions. The item is still inscribed on the India-Pakistan question on the UN Security Council agenda. He made a reference to these resolutions, but it does not amount to anything beyond that. We have so far been able to deal effectively with those reactions. Bottom line is, it will not result in something earth-shaking against us or someone imposing some solution on us or passing a resolution. But how this reaction develops, would depend upon how the situation on ground unfolds. So far, people are talking about restrictions. Let us hope it does not go to a situation where the international reaction becomes sharper.
Is there any window of dialogue you see between India and Pakistan?
Sharat Sabharwal: I have been of the view that dialogue has a place even in the most difficult of relationships. This is a relationship which you have to manage by combining certainly deterrence, punitive measures when necessary such as Balakot, with dialogue. This helps in managing ties better and keeping down levels of violence. But the government has a position that terror and talks cannot go together which I must acknowledge is a very popular position in the public perception. That position remains, and of late Pakistan also has been setting conditions to dialogue, saying you must lift restrictions. Sometimes, they even ask for reversing the 370 move, which is a bit nebulous. Dialogue at this moment does not seem to be a possibility, though I would not rule out messaging behind scenes through third countries like US, Saudi Arabia, UAE, especially to bring down tensions that mounted following the Indian move.
Has New Delhi handed too much leverage to Pakistan by indicating that situation in Kashmir cannot normalise till Pakistan becomes a normal neighbour?
Sharat Sabharwal: This is an indication that this move has made no difference to the external dimensions of our Kashmir problem. The external dimension of this problem is Pakistan. Pakistan security establishment which has a stranglehold of its polity, has to maintain that to sustain a posture of hostility towards India. Therefore, we have a prime position in the polity. Also for them, terrorism has been an instrument to destabilise the valley and tie down a large number of Indian forces there. That had nothing to do with the special status of Kashmir or with Article 370. That posture is determined by a different set of dynamics and has a different set of solutions. There is no silver bullet to solve that problem. There is a set of steps we must continue to take. We must not expect that Pakistan will pull its hands back from terror and posture of hostility.
Even after the mega Houston rally, following his meeting with Imran Khan, Donald Trump has again said he could be an arbitrator and used the word 'aggressive' for PM Modi. How do you see Trump on Kashmir?
Sharat Sabharwal: It is a tightrope walk for Americans. They have a rapidly-growing relationship with India despite problems of trade. It is a strategic relationship. On the other hand, they need Pakistan in the context of Afghanistan. They are also trying, they might not succeed, to wean Pakistan a little away from China. Pakistani press has reported about its government slowing down on China a bit. There have been indications that this is because of developing a dialogue with Americans. It is a very deep nexus with China that will not go away. Trump started off by saying that PM Modi asked him to mediate. We pushed back forcefully, saying we never asked. Of late, he has been careful in making it conditional upon both parties accepting it, which makes it a non-offer because India will not accept an open mediation.
Behind-the-scenes things can happen at times. We also have to note that he has been persistent with his talk of mediation and the two countries working something out on Kashmir. There are two reasons for this – One is his need to do this tightrope walk. The other is while international community stands firmly with us on terrorism, on what Pakistan has been trying to do in Kashmir, but it has very little appetite for escalation of tensions between two nuclear-armed neighbours. There is a distinction between how far people stand with us. There are worries that make Trump repeat his offer time and again. He also talks of there being a solution. Is he talking in the air? Does he have something more definite in mind? We don't know. But what is not worrying for me is him saying that he is willing to mediate. We should look more carefully at the fact that he has been a little guarded in his comments on terrorism from Pakistan. He has been talking about Iran being the bigger threat. He tries to divert that issue. Also in American statements, there is a tendency to balance between India and Pakistan. Good indication about how far the Americans are willing to go now with their interests in Pakistan on terrorism will be in terms of the stand that they take in FATF (Financial Action Task Force) next month between grey list and blank list.
Today, UNSC committee allowed some partial release of funds to Hafiz Saeed saying there was no objection to it. Why would India or US, which has a bounty on Saeed not object to such a request from Pakistan? How can it play out in FATF?
Sharat Sabharwal: I do not know whether this is something exceptional done only for Hafiz Saeed or for other proscribed individuals also. Why was no objection raised, I am not aware of the circumstances under which it happened. Is it something that did not come to our notice, was there no mobilisation of support, I am not in a position to comment on. In FATF, we have to see how things play out. Pakistan has been far short of the fulfilment of its promises. Time and again they have been found wanting be it at the APG (Asia Pacific Group) or another FATF group. The main body will meet in October. Rightly speaking, they should go to the blacklist. But I think they will be able to avoid blacklist as they need only three countries to support them which they got last time from China, Turkey, and Malaysia. This is exactly where I would like to see what step is the USA taking. Blacklist is a far more serious thing that cuts out all sources of financing and will put Pakistani IMF bailout program in jeopardy. We should be satisfied if they stay on the grey list because that keeps the sword of FATF hanging over their head and some restraint in place. But other countries will take a stand on Pakistani terror based on their own interests.
Will Kartarpur corridor opening allow any easing of larger bilateral ties?
Sharat Sabharwal: I see it as a very separate issue. I would not link it to larger issues or question of dialogue getting resumed. Pakistanis made an offer with certain calculations. They have had this gross misperception that they can cause divisions in India by offering certain facilities to some and not offering to them all. On our side also, it was a question of religious sentiments of a large community. How do you deny that very significant opportunity to many people with deep faith to go to that Gurudwara which carries a lot of importance? It will be good for people with deep religious sentiments, but I do not see it as a significant driving factor like cricket matches in the good old days. Those cricket matches came about when a certain degree of thaw had taken place and was used as a curtain-raiser for things to move forward. This is quite different. This is not part of a thaw.
After the ICJ ruling and consular access granted to Kulbhushan Jadhav, do you see any change possible in the case?
Sharat Sabharwal: Even when ICJ gave its decision, biggest relief for us was they had put a stay over his execution which remains. So if Pakistan decides to take the most irrational step of carrying out the death sentence, they will have to go back to ICJ. ICJ asked to carry out effective review if required by adopting a new legislation, hinting at the trial being moved from military to civil courts. That leaves things open for us to challenge to go back to court saying consular access or review was not effective. The stay was quite independent and to my mind, it is not a unilateral process for Pakistan. They will have to go back to court if they decide to go ahead with the execution. But this does not change the fact of his incarceration. The solution to that may only come about as part of a thaw in relationships, not before that.