Neither Israel nor Hamas in Palestine is even thinking of peace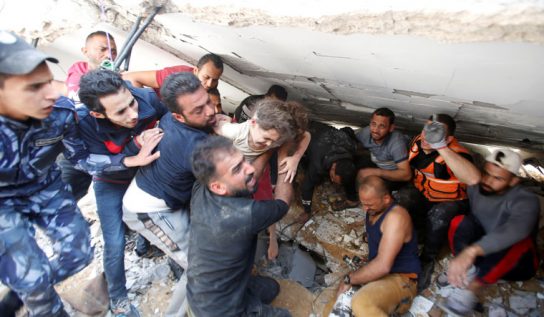 This story first appeared in The Week
Parul Rathee, a 25-year-old Indian student at Tel Aviv University, will never forget May 11. She and her friends had a plan for the evening—dance classes—and she casually asked them whether it would be safe, given the rockets Hamas was sending. They laughed and said: "This is Tel Aviv, we are far from the border."
However, later that evening, one of her friends got an alert on a smartphone app that there could be rockets coming their way within minutes. It all happened so fast, she said. Suddenly, the night sky was lit up with rockets. Her friends dragged her to the nearest house and the owners hustled the whole group of strangers into their underground bomb shelter, no questions asked.
"We stayed like that for the next two hours, and we could hear booms outside," said Rathee, who was terribly shaken by the experience. Then, the noises dimmed, and they stepped out. The rockets had been deflected and there was no damage done. Her friend—an Arab Israeli—coolly headed to her car and dropped the others home.
In the days hence, Rathee's fear of living under siege has fast disappeared. She may not follow the routine as matter-of-factly as Israelis, but she is getting there. "Living here is not as scary as it seems from the outside," she said. Almost 60 per cent of Israeli homes have bomb shelters, there are also several in public areas. These are either underground or, if above ground, made of reinforced metal. The app which alerted Rathee's friend is courtesy of the Israeli Home Front Command. It is GPS-enabled and provides real-time alerts. It may not always give enough reaction time, but sometimes even a two-minute warning is enough to evade death.
Overhead is the invisible protection of Israel's famed Iron Dome, which deflects missiles from targets. However, even the Iron Dome is not impenetrable, as is evident from the recent deaths. Israelis say that Hamas ammunition has got sophisticated, too. The Israelis make it a point to announce that their dead include Muslims, foreigners (recently, the Indian caregiver Soumya Santhosh) and even children. In retaliation, they are sending their own fire, bringing down entire buildings in business and residential districts of Palestinian towns, especially in Gaza.
The Palestinians have neither the protection of an anti-missile umbrella, nor enough reinforced spaces to take shelter in. In Palestine, therefore, people are being killed in much higher numbers, the civilian casualties increasing by the day. After a building which housed several international media houses was pulverised by Israeli fire, Associated Press CEO Gary Pruitt said the "world will know less about what is happening in Gaza because of what happened today". No one was killed in the blast, as Israel had given an hour's notice before bombing.
Israel says that its bombings are precise, targeting only Hamas infrastructure or cadre. But, it accepts that there will be civilian casualties. "I am not belittling civilian deaths, but we have hit dozens of senior and mid ranking people in Hamas. This is what the Gazan media announces," said senior Israeli diplomat, Paul Hirschon. "We are in no mood to apply Band-Aid over our wounds right now; we will continue to hit them."
The anger between Israel and Hamas in Palestine is so red hot that neither side is even thinking of a cessation to the hostilities anytime soon. The Palestinians say there is no point having talks with a country that has not heeded to any past agreement; Israel says that talks can happen only after they have ensured Hamas does not fire at them again. The world is looking at this conflict with unease, even as both sides openly ask nations to support their cause.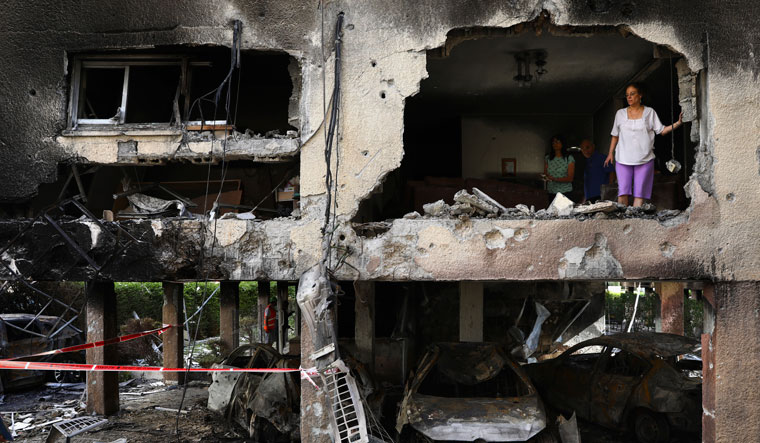 Unpleasant view: Damage done by Hamas rockets in Israel | AP
Israeli Prime Minister Benjamin Netanyahu thanked the 25 countries which have supported them; India was not one of those. Iran has called on Muslim countries to defend Palestine; Indonesia and Malaysia have condemned Israeli attacks. Many others, however, are wary of immediate responses. Four Islamic countries—the UAE, Morocco, Sudan and Bahrain—normalised ties with Israel last year. The development was seen as a move towards underscoring economic development and peace over communal hostilities. There was hope that more Arab countries would join the Abraham Accord, brokered by the Donald Trump administration with the UAE last year. Jordan and Egypt already have ties with Israel.
India, which made a bold move under Prime Minister Narendra Modi a few years ago to de-hyphenate its ties with Israel and Palestine, has made guarded utterances. T.S. Tirumurti, India's permanent representative to the United Nations, called for immediate de-escalation and appealed to the two sides to "refrain from changing the status quo". He condemned "all acts of violence, specially rocket attacks from Gaza" and noted and mourned the death of Santhosh to one such hit at Ashkelon.
While Israel and Palestine have had an uneasy relationship at the best of times, there was a recent slowdown in open hostilities. The last long-drawn instance was in 2014, which lasted around 50 days. "Let us hope it does not drag on for so long again," said Reena Pushkarna, an Indian-origin Israeli restaurateur. Life was just returning to normal after Israel's intensive vaccination drive. "The schools have shut again, the restaurants, too," she said.
What worries her more is that this time the communal fabric of Israel is under stress. "We have a good number of Arab Israelis; many are part of the intelligentsia, they are doctors and professors," she said. "But, the atmosphere is changing, spurred largely by social media and TikTok videos. The communal riots are scarier than the rockets. The other day, Arab rioters torched the famous Uri Buri fish restaurant in Acre, which was so popular with the Arabs. Once the rockets stop, will our leaders be able to bring back communal harmony?" That, however, seems like a problem for another day. For now, the rockets continue to bring death and destruction.