Lockdown, Paatal Lok & Migrant Workers Tell Us Why Villages Exist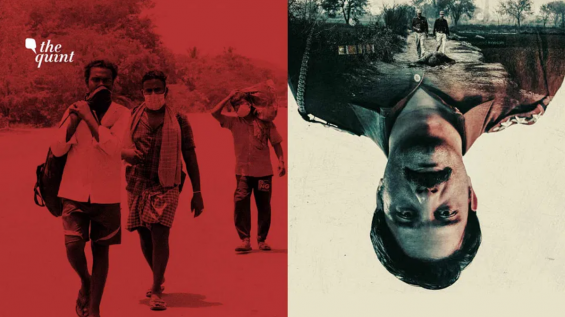 This story first appeared in The Quint
Paatal Lok could not have streamed at a better time. What better time for a narrative about how urban India makes everything about itself than today when our screens are plastered with the visuals of "migrant workers" in our cities? It also helps that the series also operates at a 'meta' level.
The reader must be warned at this point that this is not a review of the series, though a lot could be said about how impressive the cinematography by Avinash Arun and Saurabh Goswami is, how Jaideep Ahlawat's elephant performance will be remembered in years to come, and what a delight it is to hear Padma Shri Prahlad Singh Tipaniya singing a Kabir bhajan as the final credits roll.
So why discuss Paatal Lok when "our migrants" are dying, getting brutalised, putting themselves (and others) at risk?
Because, Immanuel Kant—the giant of the Enlightenment—thinks examples make those concepts and codes visible to people that were hitherto languishing in darkness or made invisible.
Just like the migrants.
Why Do Villages and Villagers Exist, After All?
For generations, urban elites have seen villagers as lesser human beings. Who wants to revisit the genesis and outcome of the Etawah Project, a symbol of Nehruvian optimism in the 1950s? Definitely a much lesser number of people than those who have already watched Paatal Lok. Therefore, let's come straight to the point. Since Independence (and even before) to the present day, almost everything has been about cities and not villages. Even the existence of the villages has been about the cities. What happens when villages 'fail' the cities?
When the Etawah Project, a pet rural development project of Nehru and noted planner Albert Mayer failed in Uttar Pradesh, it was hastily concluded that the villagers did not deserve anything better than their lot since they were not making progress fast enough towards the new style of life. India's villages and villagers were supposed to adapt as fast as possible to "modernity" that came in the form of "radios, bicycles, sewing machines, and apparel" which could be acquired through a self-repeating cycle of increased production and consumption.
To put it simply, borrowing Partha Chatterjee's argument, even back in the 1950s, India's villages and their people were meant to serve the country's cities by becoming enmeshed in the process of large-scale industrialisation. Like the characters in Paatal Lok's villages a.k.a. 'Badlands' exist only to be exploited by shiny studios of the cities. As if the cities do not have caste and class faultlines, as if violent crime and gore are only part of the rural landscape.
The State's Failure to Reform Villages Has Many Excuses
Anthropologist Oscar Lewis, who travelled in India in the 1950s to assist the Planning Commission coined the phrase "the culture of poverty" which was lapped up by legislators and economists to deny what the villages needed to flourish. Because villages are inefficient, backward, and lazy, let's not funnel our resources and energies to transform them, just keep them going with subsidies.
It has been an urban refrain for many years that agriculture pulls India's economy down; that manufacturing is the way forward; that villages need to become an extension of cities. And for what? To sustain cities because that's where the future of India is. It's beyond ironical that future, in the aftermath of the coronavirus pandemic, can only be saved by agriculture. The Indian economy is getting bailed out, in whatever limited measure, by villages through agriculture.
The agriculture sector is likely to achieve 3% growth in the current fiscal year despite the coronavirus lockdown. Let us also remember that it employs almost half of our workforce. If it was about villages, agriculture reforms would have taken precedence over ego-boosting projects in the cities. The agriculture workforce would have contributed a lot higher than the current tally of 16% in GDP. Packages and schemes for agriculture sector would not be frowned upon as doles when manufacturing subsidies are hailed as reforms. Agriculture would be remunerative with village people not wanting to escape for chasing mirages—yes, 'a good life in the city' is a mirage as millions of workers have learnt today.
How Ill-Planned Cities Deceive Villages
Harvard economist Edward Glaeser emphasises in his path-breaking book Triumph of the City (2011) that cities attract poor people. Perhaps, but it is only half the truth. The full story is what is unravelling in front of our eyes every day during the coronavirus pandemic: cities deceive poor people, cities deceive villages.
Cities lure villages with a promise of modernity which they can neither afford nor sustain. Let's go back, again, to Paatal Lok and talk about the Gujjar community whose biggest messiah, a dacoit, acts as a pivot to the plot even though his real name and face are never known to the viewer. What we have is a mythologised version of this quasi-god quasi-king half-mystery man as 'Donullia'—a reference to the 12 bore double barrel gun only the 'bad' people carry in the boondocks. The way urban political landscape makes use of Donullia and his influence over the Gujjar community is nothing surprising.
And why should it be? After all, even in real life a highway that allows Delhi to connect to its satellite settlements—in Pataal Lok's "Outer Jamuna Paar" area—is also built on land acquired from Gujjars, a traditionally agriculturist pastoralist community, who are supposed to be happy because the highway is named after another mythologised figure: Gurjar Samrat Mihir Bhoj Marg. And of course there's the compensation cash that's meant to assuage the worries of a community's loss of their known ways of livelihood. Land acquisition reforms have taken too long to come.
Finally, let's look at the streams of migrant workers again. Their villages can't feed so many mouths and cities want only their hands. In the Paatal Lok parlance, they are only to be treated as the most dispensable and replaceable parts of a "well-oiled machinery".
"Our migrants" are living, breathing, crawling, starving, defecating people that have been shorn of their history. They are seen as an amorphous anonymous lump that has suddenly exploded on the city roads.
"Our migrants" are people who came to cities only to be deceived and conned. Worse off than Renu Chaudhary (Gul Panag), who is left with a blingy monstrosity dispensing inedible 'Crazy Cranberry' in the name of modernity.