Life, uncertain and precarious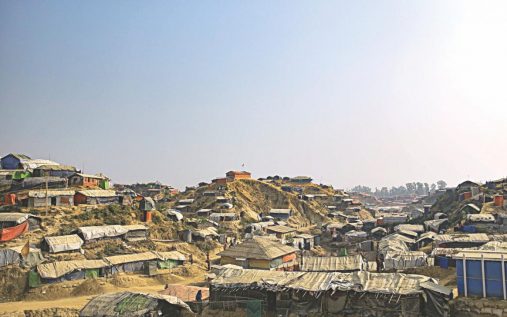 As you enter Balukhali refugee camp for the first time all you will notice is the amount of dust that clouds your vision, settling on your hair, clothes, seeping into your shoes and even finding its way into your mouth. Through the haze an unbelievable scene is unravelled. It is a humungous labyrinth of little shacks—blue, green, orange, creating a pattern on the crudely cut reddish hills, a pattern that is not aesthetically unpleasing. But these are grossly superficial impressions and incredibly deceptive as you will soon find out.
The dustiness is actually a blessing in disguise, it means the weather is dry—dry enough for the makeshift shanties to stay in place and offer shelter to close to seven hundred thousand human beings described as the most persecuted people in the world. In a few months the rains will come; the possibility of mudslides is frighteningly high and has aid workers and government officials equally worried—an estimated 103,000 people are at immediate risk. Dust, is the least of their problems.
And those rows and rows of colourful huts—the stories they each hold are not pretty. They are stories of indescribable brutality, humiliation, hunger and hopelessness. You see men, of all ages, loitering everywhere, staring, gaping—their faces expressionless—as if everything, even the tiniest bit of emotion, has been drained out from them. You see little children scampering around and trying to play as is their nature no matter how harsh the circumstances, their thin, stunted bodies coated in thick dust, negotiating uneven roads crowded with grownups—people of their own community, local NGO staff, foreign aid workers and those big, shiny cars bringing temporary hope.
Then you see the women—all covered in veils, some even with gloves and socks—the preferred formal garb for women of this community, if they dare venture out that is. Which ironically they have to—to collect the heavy bags of relief, take their sick babies to the makeshift hospital, take part in small income generating initiatives like learning how to use the sewing machine.
Intermittently constructed near clusters of huts are smaller ones which are the latrines. They are far from adequate and many are unusable and overflowing adding to the general lack of hygiene that threatens outbreaks of epidemics. Already diarrhoea and measles have taken their toll. And now diphtheria, a menace we thought had been eradicated for good, has made a shocking comeback infecting babies, children and adults—refugees and locals.
But there also things you don't see. The thousands of adolescent girls, for example, especially the unmarried ones—they are not allowed outside their homes—the draconian rules of a community left in the dark ages for decades ensures that no young girl comes out to "dishonour" herself or her family just by appearing in public. They do not have enough clothes to wear, no proper sanitary pads during menstruation, not enough functioning latrines or enough areas to bathe. They also feel insecure with threats of trafficking or harassment looming too close to their miniscule makeshift homes. Privacy is nonexistent.
All this we gather as we trudge through the sandy path that may go uphill and downhill making the trek quite unnerving. We are a group of women of different professions accompanying the UN Women Executive Director and UN Under-Secretary-General Phumzile Mlambo-Ngcuka who is visiting the camps to assess the situation. At one of the "women friendly spaces"—a project by Action Aid, UN Women and a local NGO—IPSHA, we meet a few Rohingya women who are learning how to use the sewing machine that will help them earn some money. It is also a kind of refuge for women of the camps—a place they feel safe, comfortable, away from the intrusive male gaze and a sanctuary where they can block out the memories of murder, gang rape, dead babies and burning homes.
It is here we meet Romida, 30, a sewing instructor. Tall, attractive and quite friendly, she says she used to be a seamstress back in Burma. Her face is an open book, the grief harshly imprinted on her face. I talk to her through our interpreter Achia Islam Sabah and learn how she ended up in the camps. She came with her husband and two children: a ten-year-old daughter and a one-year-old son. Even before the military crackdown in Myanmar, her community, she says, had to live under extreme restrictions. The men of her village often bribed the military to go out to seek work. Often they would be arrested just for stepping out. Her husband managed to be a driver and eventually saved enough to own a car. "I used to live in a big house—my house was bigger than any house here. But they burnt down everything, even the car, my savings, I have nothing left." The tears flow freely now and she keeps wiping them away angrily. So does she want to go back I ask. "Yes I do but only if our rights and safety are ensured", she says mechanically. The other women, a few of them just teenagers watch wide-eyed. Two of the teenagers are already married. They all want to learn how to sew, so that they can earn something. They clearly look up to Romida who has skills that gives her some semblance of confidence.
My curiosity is not satisfied and I ask Romida: "Was it always like this in Burma? Did you never live in peace?" She relates a macabre story—around 13–14 years ago when she was already married, some Muslim holy men had come from Rangoon to their local mosque to help set up madrasas for the children of the village. It was a special majlish and everyone wanted to go there to listen to their sermon. But after the majlish when the preachers and the preached were about to leave, the "Moghs" (Burmese) swooped on them, mercilessly slaying them all. That's when it all started says Romida.
***
Back in the car we go further up towards Modhur Sura in Kutapalong Camp giving us a view of the sheer enormity of the crisis. I realise with dismay that the thousands of huts in these camps have been built by cutting the trees of the reserve forests. It used to be the home of elephants. But when it is a question of saving human lives, what else could Bangladesh do but open its doors, cut down its green hills and give refuge to these people who have somehow lived through the most horrific persecution imaginable?
Our next stop is to meet with three camp in charges (CICs) appointed by the government. They are Shamimul Huq Pavel who looks after Camp 3 and 4; Md Talut oversees Camp 8, 17 and 18; and ASM Obaidullah has taken on Camps 5 and 6. There are around 30 camps in total with 20 CICs and more being recruited according to Abul Kalam, Commissioner of Refugee Relief and Repatriation Commission. These three CICs and a head Majhi (head of the community) have been identified by UN Women because of their reputation of being the most proactive, especially in helping to protect the rights of the women. The visiting ED of UN Women pins on "He for She" badges to recognise the efforts of these men. Pavel is certainly an impressive CIC. He looks more like a commando than a BCS cadre whose previous post was in the land ministry. Perhaps that is what is needed in this bizarre scenario—a makeshift village full of displaced, traumatised, hungry and exhausted people who have no idea what fate holds for them tomorrow. Despite his flamboyance, Pavel displays a rare sensitivity towards the refugees he is responsible for and believes that the most important thing these people need is to be treated with respect. In response to the special needs of the women and girls he, with the help of his colleagues have formed an army of around 60 female volunteers, all recruited from the Rohingya community. They go from hut to hut to see how the women and girls are faring, what their needs are, how they are being treated by the male members of the family and then report back to the CIC. When cases of domestic violence or other offences are reported, the CICs intervene and call the men threatening punishment if they don't treat their women better. The community in return, fear and trust the CICs and listen to them. Pavel admits that the task of controlling such a huge population who have lost everything in their lives and who have been "dumped into the dark ages for decades" is not easy. "In the early days all I saw was hopelessness in their eyes," he says. "They had stopped believing in themselves…now at least they know that they are not in danger of being shot or attacked. Of course these are refugee conditions but we are doing the best we can to help." The ultra-conservatism of the community, which tenaciously holds on to an orthodox interpretation of religion for solace, makes it all the more challenging for aid workers and government officials alike. Many of the refugees have never heard of basic things like immunisation, birth control, or even seen a doctor in their lives. According to Save the Children, more than 48,000 babies are expected to be delivered this year. Early marriages continue and stringent rules regarding chastity imposed by religious clerics make lives for the women and girls, even harder. While we are talking to people there is an announcement on loud speaker from one of the blocks uphill. Someone has announced that women who are not in full niqab which includes wearing gloves and socks will not be allowed back in the camp. The CIC is livid and has summoned the culprit. We hear a few minutes later, the self appointed moral policeman has bolted.
We manage to interview another interesting personality who has played a significant role in helping the women and girls in the camps. Jahida Begum, who looks much older than 27, is the head of all 60 female volunteers. She is from the registered camp and says she was born there. Confident and quite candid she recalls the early days after the August 25 crackdown, when almost every household had a survivor of sexual violence. "They were in a terrible state, bleeding profusely, physically and mentally weak. We took many of them to the hospital to get treated. Now things are much better." What about the survivors of rape and gang rape who became pregnant? Most of them got abortions done at the makeshift hospitals set up by NGOs or international agencies says Jahida. "There was one woman however who had been raped once by the Burmese military—she had been married for only three months. They then killed her husband in front of her and gang raped her. She was pregnant when she came here but it was too late for an abortion. I asked her if she wanted to keep the baby or give it up. She said she wanted to keep it—'the baby has no fault, neither do I' she said."
Meanwhile there are still refugees coming, even if they are in smaller groups, they add to the already growing burden. There are over 7,000 orphans who have lost both parents, according to Abul Kalam, the RRR Commissioner. He is trying to get them adopted by foster parents within the Rohingya community so that they can be with people they can relate to. He and his ministry are also planning to relocate those families who are at greatest risk of falling victim to landslides which are inevitable if the rains are as heavy as last June in CHT that left over 160 people dead. Although families are being registered to facilitate the repatriation process, even the Commissioner is uncertain regarding the timeframe. Myanmar has done nothing to reassure the world that it is creating conducive conditions for a dignified, voluntary repatriation. The recent agreement lacks conviction especially with the refusal of the Myanmar government to give access to international aid agencies to monitor the situation. Mass graves are being uncovered. The latest Reuters report confirms the extent of the brutality committed by the army.
With more influx and Myanmar's continuous intransigence regarding admission of the human rights violence committed by its army and civilians, repatriation does not seem to be happening any time soon. Meanwhile despite the laudable efforts and genuine sincerity to help, resources of the government, NGOs and aid agencies are overstretched, patience among locals, many of whom are also deprived of basic needs, is wearing thin. This is Bangladesh's worst catastrophe—mainly because there seems to be no concrete solution—and the longer it continues the more cataclysmic it threatens to be.
Aasha Mehreen Amin is Deputy Editor, Editorial and Opinion, The Daily Star.
source: http://www.thedailystar.net