Indians in UAE need not fear any backlash, India's secularism important: Princess Hend Al Qassemi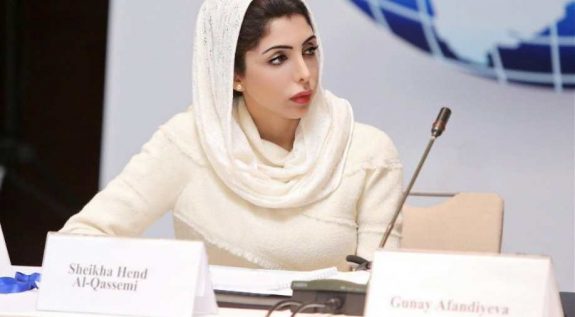 This story first appeared in ETV Bharat
Princess Hend Al Qassemi based in the UAE spoke to Senior Journalist, Smita Sharma, on how inspired she is by India as a country. She raised the issue about the incidences of hate speech against Muslims increasing in India, but said that Indian expatriates in UAE need not worry about any political backlash.
New Delhi: With communal posts vilifying Muslims and stigmatising Islam following the Tablighi Jamat related spike in Corona Virus cases in India, the Arab world has raised its eyebrows. Religious scholars to some royal family members in the past few days have asked for hate speech to be reigned in by the Indian government. Following Prime Minister Modi's tweet underlining that COVID-19 does not see race, religion, caste, creed language or borders before striking, Indian Ambassador to UAE Pavan Kapoor also had to step in to douse the communal flames.
One of the vocal critics Princess Hend Al Qassemi, a member of the Royal Family of UAE says that hate has grown louder in India and it is important that PM Modi's message is adopted by his followers. Princess Qassemi says she has a copy of the Bhagwad Gita, is inspired by Mahatma Gandhi and has attended Yoga camps during her last visit to India.
In an exclusive conversation with Senior Journalist Smita Sharma, she said that hate speech is a major crime in UAE and those found guilty will not be spared by the law. But she assured that the majority of the 9 million Indians in Gulf including 3.3 million Indian migrants in UAE are hard-working, honest, get visas easily and must not worry about any political backlash.
She argued that when India does not call 'Corona Virus as Chinese Virus' despite the epicentre being in Wuhan, when the world has seen epidemics over the centuries for different reasons, or when lakhs of Americans are still living in denial about social distancing or safety practices why must the entire Muslim world be stereotyped and stigmatised for the actions of some who do not follow the Hadith.
Speaking to Smita Sharma from Dubai, Princess Qassemi said that Islamophobia is real today and so is hate against Muslims be it Uighurs in China to Rohingyas in Myanmar. She appealed to Muslims across the world to stay at home and pray at home during the holy month of Ramadan. She also hoped that India which millions of Indian Muslims chose as their home during Partition, will uphold the pluralistic, secular values that she has always identified with India from her growing up days. She called for openness and inclusiveness across societies during this time of crisis.