Indian Migrants in Gulf: Uncertainties Amid Corona Curfew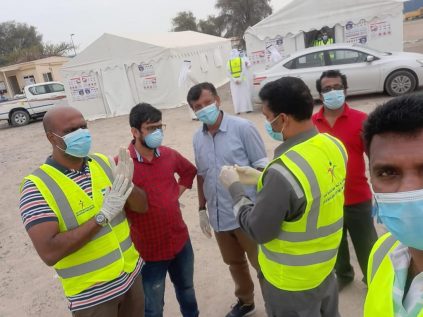 This story first appeared in Hardnews
Indian migrants are hoping that communal and political tensions will not play out and they can battle the Corona curfew to retain their jobs or return home and find a new one eventually if uncertainty continues to loom
A photograph posted by Hisham Fageeh on twitter in March of a foreign migrant worker dressed in a sterilisation outfit in Saudi Arabia's largest State-owned oil firm Aramco led to allegations of racism, forcing an official clarification condemning the incident. Cramped lodgings, limited access to healthcare, abusive employers, small box rooms, bunk beds, 10 to 12 men sharing a common room, and a common washroom. The plight of foreign migrant workers in the Gulf region particularly has always been a subject of criticism. Amid a Corona virus pandemic, the situation has become complicated with economic costs imposed by lockdowns. More so for the more than 8 million Indian workers in the six countries (Bahrain, Kuwait, Qatar, Oman, Saudi Arabia, and the United Arab Emirates -UAE) of the GCC, or, Gulf Cooperation Council.
Of these 8 million Indians, more than half are unskilled or blue collar workers, while around 30 per cent are semi- skilled. Aslam, an engineer from Kannur in Kerala, shares a three room lodge with 13 other migrant workers in Abu Dhabi, the capital of UAE. His building has now been quarantined by the health authorities after five people tested positive. He depends on local community networks for meals in charity.
From congested labour camps to densely populated commercial districts where many expatriates share housing to save on rent, Indian migrants pray for safety as the number of cases continue to rise. Many Indians in the construction and cleaning jobs with pre-existing respiratory health problems due to heat and pollution, stand at a higher risk of contracting the virus. Of the 3,336 Indians overseas tested positive in 53 countries, as per officials, around 2,061 cases or nearly 70 per cent are in Gulf Arab states alone.
A 65-year-old man from Telangana's Nizamabad town became the fifth Indian to succumb to Covid 19 in Saudi Arabia in the last few days. The deceased, who was working with a Saudi firm for more than three decades, was admitted to a hospital last week in Makkah with a fever; only after his death on Thursday was he diagnosed with Covid 19. Survived by his wife and four children, he is the fifth Indian to die of COVID-19 in Saudi Arabia; victims include those from Kerala, Maharashtra and Uttar Pradesh.
Kunhammed, PRO for a trading firm and a social activist, has been living in the UAE for the last 15 years. Speaking from Dubai he says that while the Emirati government is building new centres and hospitals, the situation in the labour camps remains a concern. "There are no jobs, there is a strict lockdown with some concessions in some areas, which is making it difficult for us. Communication is another major problem with people running out of money to recharge phones."
Santosh, who moved to Dubai to work just three months ago with his family, including two small children, has been appealing for help. "I have two small sons for whom I got a stockpile of medicines from India which has finished off. We cannot go anywhere out of the building. My visa is about to expire. My work has stopped. I am hoping that the government will do something for us," he says.
In a relief for expatriates, including nearly 3.3 million Indians like Sunil living in the UAE, expired residency visas or entry permits (including visit visas and tourist visas) will stay valid until the end of the year with no penalties, the government has announced. This happened after reports emerged of the UAE asking countries to take back their citizens who have tested negative.
Last year, the Indian workers in the Gulf Arab States sent almost $50 billion foreign remittance home, which is nearly 40 per cent of the overall foreign remittance that India receives annually. They also form the backbone of the Gulf economies, working in sectors like construction, hospitality, retail, transport and services, which stand disrupted by the Covid 19 outbreak.
So far remittances remain unaffected mostly but employment uncertainties cloud their minds — from leave without pays to layoffs. Caught in a flux, but unable to return home as the nationwide lockdown continues in India till May 3, some of them have been tweeting for help. The Narendra Modi government says it is working to facilitate all expatriates and alleviate their problems through Indian embassies and consulates, but as if now there will be no repatriation.
The Supreme Court too has adjourned for a month all petitions seeking evacuations of Indians stranded overseas, including in the Gulf. Sunil, an Indian living in Qatar for the last 13 years and president of the Sanskriti Malayali Association says that paying rents has become difficult. He adds that the Qatar government and Indian mission, through community organisations like the Indian Community Benevolent Forum and Norka Roots, are supplying food and medicines to stranded Indians, many of whom have pre-existing medical conditions like diabetes. His wife, who is a nurse, came to India with her son on March 8, and has been unable to return because of airport restrictions, even though her hospital wants her to resume services.
Most of the GCC members have taken measures to curb the spread by suspending passenger flights, closing most public venues, imposing curfews, suspending religious congregations, including Umrah, carrying out disinfection drives in labour camps, to using schools and empty buildings in Bahrain and UAE to separate out workers.
According to Zubair, who has his own cargo business in Bahrain, random testing by the government has proved effective and while many Indians do want to go back subject to the lifting of flight restrictions, for now expats and community organisations are coordinating well on the ground towards relief support. Cases have steadily increased to nearly 17,000, with the highest number in Saudi Arabia where almost 4,500 positive cases have been reported.
Saudi Minister of Health, Dr Tawfiq Al-Rabiah, last week, admitted that Corona virus cases are on the rise, especially among workers, labourers and crowded neighbourhoods, and that is a serious challenge. According to Indian Ambassador in Riyadh, Ausaf Sayeed, more than 180 Indians have tested positive so far in the kingdom.
More than 300 Indians have also tested positive, mainly in Qom and Tehran in Iran. Add to this the political tension and the fear of backlash brewing over communal remarks posted by a Hindu Indian living in UAE targeting Muslims over the Tablighi Jamaat Markaz in New Delhi, the situation has turned delicate. He allegedly called Tablighis "radical Islamist terrorists" which did not go down well with religious scholars in Saudi Arabia to Princess Hend Al Qassimi, a member of the royal family of the UAE. The princess tweeted to say, "Anyone that is openly racist and discriminatory in the UAE will be fined and made to leave. An example," (https://twitter.com/ladyvelvet_hfq/ status/1250502022228566016?s=21 ).
For now, the Indian migrants hope that communal and political tensions will not play out and they can battle the Corona curfew to retain their jobs or return home and find a new one eventually if uncertainty continues to loom.