"I am afraid Coronavirus will kill us later, we will die of hunger first."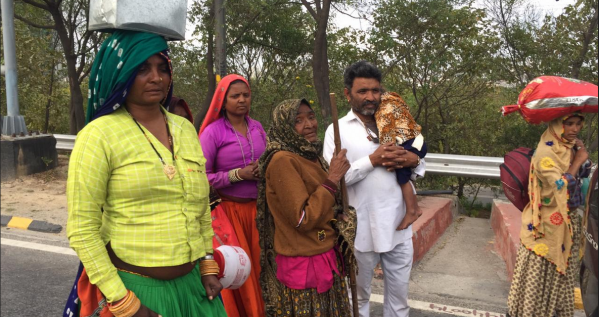 This story first appeared in Hardnews
Forced by a sudden countrywide lockdown to control the Coronavirus pandemic, 22 or more migrants have died while undertaking the heart-breaking journey into uncertainty. Driven by anxiety, panic, misinformation, administrative and government policy flaws, and fatigue, hunger and thirst, with no official or social support system or health care mechanisms on the way, these point to a tragedy far bigger than it has been imagined.
Three middle aged women dressed in myriad shades of lehenga-choli -pink, green, yellow and red dupattas, dressed with junk trinkets, glass bangles, necklaces and nose rings. One of them with a gunny bag on her head, and some other bags slung on her arms. Another, balancing a tin box on her head. A toddler dressed in leopard prints asleep on the shoulders of the man dressed in white pyjama kurta and sporting his beard and moustache. Two old 'dadis' (grandmothers) trudged along with the help of wooden sticks — one claimed to be 110 years old.
Two days after Prime Minister Narendra Modi announced a 21-day lockdown across India to collectively fight the Coronavirus pandemic, this family of seven just could not be missed as the bright sun shone on the fast racing Noida-Greater Noida Expressway leading to the Yamuna Expressway in Uttar Pradesh. The expressway was visibly quiet compared to the heavy traffic movement on any given day before COVID 19 became a stark reality for Indians as well.
This tribal nomadic family had moved to Noida only recently. They were selling some toys and children's accessories to make a living till the policemen asked them to 'Bhag Lo' (run away) to their native village in Rajasthan that afternoon. Evicted from the roadside corner they called home, they set out for Agra, some 180 kilometres away, on foot, with their meager belongings and Aadhar cards bundled in a few bags. The journey to Agra was only the initial leg in the hope that some vehicle would then be available to take them further to their village in Kota.
They were not alone in this seemingly endless journey promising only uncertainties and challenges ahead. Within two days of the lockdown announcement, gated societies, offices, educational institutions, homes, locked themselves up in the hope to keep Covid 19 out. But the streets, devoid of traffic snares, snarls and millions of vehicles plying around, witnessed waves of migrant exodus. Alone, with families, with strangers, with friends, the crowds moved on the roads, in the heat and sun, at night in the dark and also amid erratic rains and hail, for hours and hours in the hope of reaching their villages to find food and shelter. Some were lucky to reach a shelter home, many roughed up by police.
Deep tired lines on their faces, lost expressions, some covered with towels, some managed to get masks, but all had similar anxieties. They knew there was a virus that had cursed the poor and helpless with misery in a sudden new way. Most of them could hardly pronounce its name or knew how it was transmitting. Amid the panic and fear, all that worried them was the struggle to find two meals a day.
"I have heard of the illness, but I do not know the name," muttered Sangeeta, a married, middle-aged woman, through her shimmery saree wrapped as a face mask. It was way past midnight as the family sat in a desolate dark bus stop along the expressway to catch their breath and hopefully a bus or truck, if lucky enough, to take them to Agra, and, then, Madhya Pradesh. She showed the blisters on her and her mother in law's feet — an old woman with a knee problem that made her writhe in pain after walking for many hours. Her husband, Sher Singh, was earlier earning Rs 500 to 600 daily as a construction worker until the contractor halted the project and asked them to leave. His small farming plot would help his family sustain in his village in these harsh times, he hoped.
AGRICULTURE CONTRIBUTES TO 16 per cent of India's GDP with more than half of the country's workforce engaged in farming even as they themselves struggle with food security. The country-wide lockdown ahead of peak farming activity in the months of April to June has only added to their gloom. Serious questions continue to be asked of the sudden dramatic announcement of the lockdown without adequate thought given to the consequences for internal migrants (accounting for inter and intrastate movement) constituting one-third of the country's population, as per the 2011 Census. It is unknown if and when the government's announcement of $23bn relief package to provide food security and cash transfers to the poor can trickle down to the intended target audience.
Uttar Pradesh, Rajasthan, Bihar, Madhya Pradesh, Andhra Pradesh, Chhattisgarh and Odisha are today among the key sources for migration with Delhi, Maharashtra, Gujarat, Haryana, Punjab and Karnataka as the prominent destinations for these daily wagers and workforce. The migrants are dominantly engaged in the construction sector, domestic work, textile, brick kilns, transportation, mines, quarries, local transport and agriculture. As per Census 2011, 45 million Indians moved outside their district of birth for economic opportunities (be it employment or business) with internal migration fuelled by rapid urbanisation and rural-urban wage difference.
India's urban population is expected to grow from 410 million in 2014 to 814 million by 2050. (When a person is enumerated in the census at a different place than his/her place of birth, she/he is considered a migrant. (https://in.one.un.org/page/decent-work-formigrant-workers-in-india/ ) Like Sher Singh, tens and thousands of exhausted faces — cooks, drivers, mechanics, painters, plumbers, daily-wagers, maids, labourers, roadside vendors, child labourers, rickshaw-pullers, among others in the vast informal sector with no basic rights or job security,  emerged on the streets of Delhi-NCR overnight in search of roads to take them home. Triple-pillion riding on rickety scooters, to negotiating with truck drivers to give them an illegal ride, to simply walking without any sense of time, food or water to drink, let alone clean water access to frequently wash their hands to keep Corona away.
Reportedly, nearly two dozen or more migrants died while undertaking the heart-breaking journey into uncertainty. Driven by anxiety, panic, misinformation, administrative and government policy flaws, and fatigue, hunger and thirst, with no official or social support system or health care mechanisms on the way, divided by their destinations, united in their fear of hunger.
Most of them hoped this would be only a temporary setback and seasonal migration back to the cities would happen in the near future. Heading to Allahabad, Rakesh resonated the darkest fear of the migrants on the move: "I am told this lockdown was very important. But, I am afraid Corona will kill us later, we will die of hunger first."