How welfare gaps and stigma trap a teen at home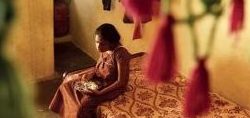 HYDERABAD: For six years, 17-year-old N Mamatha's world has been limited to the view from her bed: a kitchen nook and the TV set. Barring one-off visits to her physiotherapist or the church, she never leaves the tiny two bedroom flat in a Saroornagar slum. Mamatha is one of many persons with disabilities who have been confined to their homes due to gaps in services and want of a barrier-free environment.
Mamatha was an able-bodied child till the age of 12 when her neck spasmed. Her parents —N Mahender and Ramulamma—did not pay much heed. But her condition worsened, weakening her limbs. Mahender, who works as a daily wage labourer, says the family sold jewellery and spent at least Rs 2 lakh on her treatment at private hospitals, but in vain.
She continued to go to a private school until she had a fall. She gave up then, says her mother Ramulamma, who works for the Greater Hyderabad Municipal Corporation as a contract sanitary staff, earning Rs 12,000 a month. Since then, Mamatha has stayed at home, with her parents balancing work and caregiving.
"If both of us don't work we will starve. My wife cannot take a day off. Her salary helps us run the home. I get work on and off," says Mahender. Two years ago, the Telangana Disabled Welfare Department certified Mamatha with an 88 per cent locomotor/orthopedic disability under the Software for Assessment of Disabled for Access, Rehabilitation and Empowerment initiative. The family gets a monthly disability allowance of Rs 1,500 that pays for her medications.
Gaps in support
Experts working with children with disabilities (CWDs) stress the need for early intervention. In Mamatha's case, timely intervention could have prevented her condition from worsening, they say. The Rashtriya Bal Swasthya Karyakram, under National Health Mission was only initiated 2013 for early intervention to provide comprehensive care and screening of children with mobile health teams.
However, Anganwadi workers are not trained specifically to do this. With limited external support and awareness, the burden of caregiving on the family is high. "She cannot be left unattended for a moment… We cannot socialise or attend any family or colony gatherings. Mobility is a major issue and then we have to listen to people calling us incapable of providing her care," says Mahender.
Experts say the lack of awareness among parents of CWDs stems from self- isolation due to the stigma attached to disability. This puts stress family relations, as can be seen in Mamatha's home. Frustrated, her parents often lash out at her and Mamatha, herself, is moody and prone to hurling abuses. The only other support available is weekly physiotherapy sessions conducted by a not-for profit called Commitments.
The sessions also work as a platform for caregivers to interact but Mamatha's parents have stopped going. "We have started going to the church every Sunday. There could be hope there," said Ramulamma. "Most times, there is no cure. But caregivers often don't want to believe that. If there are support groups, they can share experiences and resources which will help guide them how to manage," observed Jayanti Sundar Rajan, consultant psychologist with Roshni Counselling Centre.
Persons with disabilities often end up trapped in a vicious cycle of illiteracy and poverty, mainly because schools are not inclusive and barrier-free. Under the Sarva Siksha Abhiyaan more than 15,000 schools in Telangana are reportedly barrier-free. Since the state's formation in 2014, all Kasturba Gandhi Balika Vidyalayas have been made inclusive, but only for hearing impaired and visually challenged. Mamatha has not been able to access even home-based services such as like the Home Based Education Programme (HBEP) under SSA.
Under this, special educators visit homes every Saturday and teach life skills. These skills are designed after a baseline assessment of the child. They also provide counselling and training to parents. The children are later mainstreamed. The same educators teach at special schools called Bhavitha Centres or in regular schools.
However, in Telangana, of the 1134 sanctioned posts for special educators, only 860 have been filled. Officials from the Education Department claim recruitment process has been initiated. They claim 70,000 CWDs have been identified, of which 40 per cent avail facilities directly. Others have access to camps set up in mandals.
Suresh Gutta, a certified special educator, says this approach is not up to the mark and CWDs are being denied of basic entitlements. "The finer aspects of detecting a disability are not considered. To analyse a child's condition, even the software needs an expert to review it. But these are often done in a minute."
Lack of training to identify CWDs under the Integrated Child Development Scheme is an added problem. Also, inclusive education is not implemented as it should be. "First, to bring a child to a school, it has to be barrier free. Then, it is important they be treated like any other child. Teachers often see them as a burden, rather than looking at ways to work with these children," he says.
A day in her life
Mamatha starts her day at 9am. She takes small, careful steps to the back door to brush her teeth while her father watches lest she fall. He serves her the breakfast her mother cooks before leaving for work. She manages to go to the bathroom herself and helps her father with small household chores. She watches TV till her mother returns from work in the afternoon and gives her a bath. She needs her mother's help to maintain menstrual hygiene.
Gutta feels that Mamatha's life could be improved, with some support. Attempts to equip her with livelihood skills which could also help her have her own family should be initiated, he suggested. This is something that weighs on Mamatha's parents. "I will be by her side for a few years, but what after? I insist she does small jobs on her own, but she is hesitant and gets abusive. It is only getting harder by the day," shares Ramulamma tearing up.
Mamatha's dependence on her parents and younger brother has made the atmosphere at home bitter. On several occasions they considered sending her to a hostel or getting her married off. Mamatha, who blushed at the talk of marriage, brushed it aside screaming, "I don't want to go anywhere." Once she attains marriageable age, she can avail Rs 50,000 if she marries another disabled person, an entitlement provided by the Disabled Welfare department. For now, it is the kitchen nook, and TV set for Mamatha and god and a miracle for her parents.
(This story is part of an initiative by the South Asian Women in Media and UNICEF to highlight the issues of adolescents.)
Source: The New Indian Express