For India, climate change not a burden, but an opportunity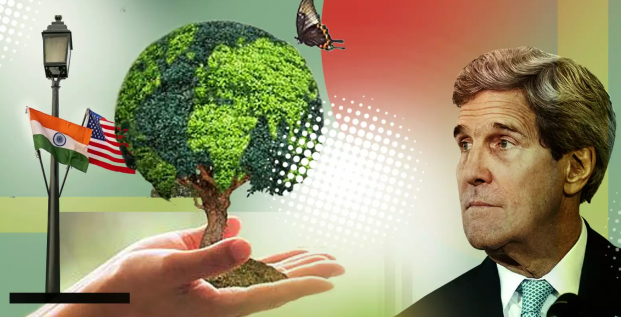 This story first appeared in The Times of India
The geopolitical-tech-economic future of climate change policies will be determined by a handful of nations – US, EU, India, China, Japan. Everyone else come afterwards
The Covid pandemic has put health, vaccines, supply chains and therapeutics into the world's foreign policy lexicon. With Joe Biden in the White House, climate change too is slowly getting top billing among foreign policy priorities.
Last week, US climate czar, John Kerry (former Secretary of State) spent three days in India prepping for a virtual climate summit of 40 countries, to be hosted by Biden on April 22. The idea is for the US to reclaim some of its lost leadership on the climate front, push nations to do more to cut emissions, change the energy mix to include more renewable energy, float ideas about carbon taxation or carbon markets and maybe push for a "net-zero" pledge by all countries.
The Biden summit will be followed by a G-7 summit in June, where India is a special invitee. But this year of climate politics will culminate in the COP 26 summit in Glasgow in November. India is not likely to pledge a "net-zero" like China has (it has promised to get to net-zero by 2060) but India will be under some pressure to declare a new bunch of climate goals.
Kerry's visit ended up being a refreshing reality check. Defying all climate analysts, who predicted a train wreck between the US and India over a "net-zero" demand, Kerry said, "That wasn't my message in my meetings with the Prime Minister. He understands the challenge. India understands the challenge. It would be great if India wanted to say that, but I don't think it's an absolute requirement in the sense that India is doing all the things that it needs to do to get us there, then that's better than a lot of nations."
The message Kerry took back from India, is this: India wants to go green; India wants financial and technological assistance for its green transformation; but India would resist any effort by the developed world that could have an adverse implication on its development.
Kerry understood. He emphasised the importance of India as a "red hot investment" for green tech and renewable energy. "I want to see India flourish as a clean tech hub of Asia, producing and deploying clean technologies and playing a critical role in global clean supply chains," he said. In March Kerry told an energy conference that he was putting together a consortium of countries and companies to finance India's renewable energy ambitions which could cost about $ 600 billion. "India has a plan to produce about 450 GW of renewable power by 2030, … but they need about $600 billion … finance is perhaps one of the biggest challenges with respect to India. I've put together a small consortia of a number of countries that are prepared to help India with some of the finance and transition. I've been working with major investment houses and asset managers in our country to try to determine how much private sector capital can be directed in the right place here so that we can make this transition faster."
Which countries? Kerry said UAE was one. "I've talked to other countries, but I can tell you there are some in Europe, there are some in our continent. The bottom line is that we need to do some working through the details with the Modi government, but we will continue to try to grow this out very, very quickly over the course of the next weeks."
Preventing Earth from growing warmer by by 2 degrees C might seem fantasy for many — after all, the world has been trying to battle this in various forms since 1992, through disastrous efforts like COP 15 in Copenhagen in 2009 to the mildly successful Paris Accord in 2016.
Since 2016, the US has been missing in action from the climate debate. Donald Trump, the celebrated climate change denier, walked out of the Paris Agreement in one of his first acts after becoming President. (The Paris pact was an outcome, in many ways, of unprecedented close collaboration between the US and India.) In the past four years, global efforts on climate change missed the US.
One of Biden's first acts was to take the US back into the fold of the Paris Accord. From his campaign to his initial actions, Biden has made climate change a big focus of his foreign policy. Among his first acts was to set up a climate czar, Kerry, who has a place in the National Security Council, which indicates that the Biden administration sees climate change not only as an environmental issue but a national security issue as well. That needs careful watching from India's point of view.
The first ever Quad summit of leaders of the US, India, Japan and Australia on March 12 set up a high-level working group on climate change and one on emerging and critical technologies. Both these issues are the matter of current geopolitics as well as about saving the planet.
India has moved a long distance in its approach to climate change – from being seen as obstructionist to seizing the tech and economic opportunities of climate change by becoming one of the leading developing nations with an active interest in combating climate change. In contrast to right-wing, conservative governments in the west (think Trump and Bolsonaro), the Modi government embraced the entire concept of climate change early on. India and France co-founded the International Solar Alliance during the COP 21 in Paris to bring together countries who could tap solar energy and develop technologies to harness renewable energy, while India and US worked to get acceptable INDC [Intended Nationally Determined Contributions] declarations.
The geopolitical-tech-economic future of climate change policies will be determined by a handful of nations – US, EU, India, China, Japan. Everyone else come afterwards. India therefore has a unique opportunity to leapfrog.
The winners of the 21 st century will be the countries who can stay on top of the technology race. India is a tech power, but its tech development has been very haphazard. While its initial growth was in the shadow of governmental ignorance, that model can no longer work.
The new world will be governed as much by technology as the source of that technology as well as the rules that govern the world of technology. For all these to move in tandem, the Indian government and the private sector, including the startup ecosystem, will have to work closely together.
China is now way ahead in developing green technologies as well as in manufacturing. For instance, it's the acknowledged global leader in photo-voltaic cells which is essential for solar power. India should ideally be pitching to manufacture the next generation of PV cells, ones that are more efficient, and use materials that don't require total dependence on China.
Even though India is resisting committing to a "net-zero" pledge, a recent study by TERI and Shell says India could transition to net zero by 2050 if it deploys much faster large-scale solar, wind and hydro power to enable electrification; move quickly to develop new fuels like liquid bio-fuels and the holy grail, hydrogen. But before getting there, India will have to improve its energy efficiency, and utilise carbon capture and storage technologies to remove carbon. But India is still on a steep development trajectory, and coal continues to play a big part in its energy mix.
For India to turn climate change into a geopolitical advantage, it will have to move on many fronts. What India has going for it is scale, and political will at least in the present government. If India goes green, the world's climate change indices automatically look better. That is for India to leverage for better access to finances and better technology.
India has pitched its geopolitical tent on the side of the western powers, as China has become the common strategic challenge for them all. If telecommunications and 5G determine the course of one part of the tech future, climate change is another. For both, India can be a consumer and a developer.
India made eight commitments under INDC at Paris. Three quantitative goals —Reductions in emissions intensity by 33-35 % over 2005 levels by 2030; 40 per cent cumulative electric power installed capacity from non-fossil fuel based energy resources; creating an additional carbon sink of 2.5 to 3 billion tons of carbon dioxide equivalent through forestation and increasing tree cover. In fact, according to the Climate Action Tracker, India is well on its way to meet its Paris goals, unlike either the US or China.
Next week will show the direction India intends to follow on climate change. It will have huge implications for India's development and global politics.