Film on iconic revolutionary Pritilata launched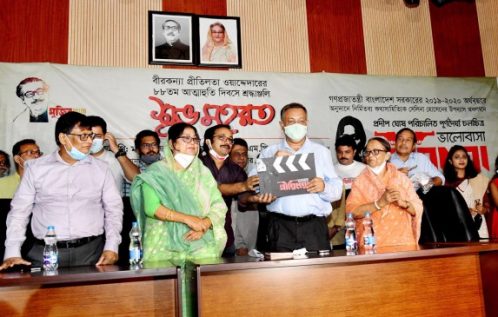 This story first appeared in The Daily Star
Pritilata Waddedar was one of the leading revolutionaries against the oppression of the British regime. She was the first woman martyr in the fight against the British rule. Today marks the 88th death anniversary of this courageous woman.
Commemorating the life and activities of this valiant fighter, a government-funded film titled Bhalobasha Pritilata, is in the works. Based on the novel by renowned novelist Selina Hossain, the film is directed and co-produced by Pradip Ghosh. It stars Nusrat Imrose Tisha and Manoj Kumar as the leads.
The mahurat of the film was arranged today at the auditorium of the Department of Film and Publications. Information Minister Hasan Mahmud was present as the chief guest, while Professor Dr Shireen Akhter, Vice-Chancellor of Chittagong University, was present as the special guest at the event. Selina Hossain presided over the event.
"The story of revolutionary nationalist Pritilata Waddedar is one that needs to be told and seen. I am thankful to the government for their support in getting this film off the ground," said Selina Hossain to The Daily Star.
 "I am extremely delighted to work as a music director for this film," said Bappa Mazumder. The gifted musician further mentioned that he was honoured to be involved in a film commemorating the legendary figure.
Bhalobashar Pritilata will revolve around Pritilata's life, her childhood, her evolving patriotism while studying at Bethune College, rise as a leader and death as a valiant fighter. The film will also honour Surjya Sen, and other revolutionaries in Chittagong.
At a time when women were not allowed to lead a free life, Pritilata Waddedar not only participated in armed attacks against the oppressors but also led them. After the failure of the raid at the Pahartali European Club in Chittagong, Waddedar consumed cyanide, preferring death over capture by the British, setting a fiery example of patriotism and bravery to inspire young girls and women throughout the sub-continent.