Diplomacy not military contacts key to resolve LAC face off: Gen Hooda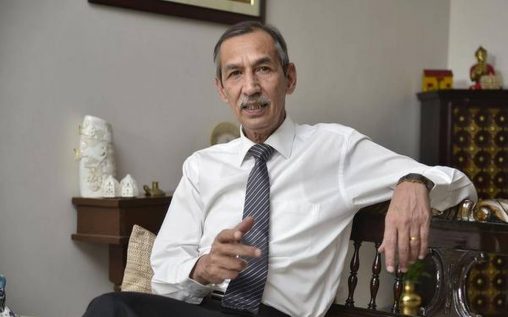 This story first appeared in ETV Bharat
In an exclusive interview with senior journalist Smita Sharma, retired Lt. Gen D S Hooda remarked that India's standoff with the Chinese Army is a manifestation of what is happening along the LAC. He further added that this standoff is linked with China's attempt to send the message that it has not gone weak despite the coronavirus pandemic.
The stand off between the Indian army and Chinese PLA across multiple sectors of Demchok, Galwan and Pangong in Ladakh and Naku La in north Sikkim is likely to not get resolved soon says former Chief of the Indian Army Northern Command. In an exclusive conversation with senior journalist Smita Sharma, Lt. Gen (Retd) D S Hooda says that the Chinese action across LAC this time are not isolated and local events like in the past but coordinated and pre-planned from a higher level in Beijing.
The former top army officer who led India's surgical strikes in response to the Uri terror attacks says that cornered by US, Europe on the origin of Corona Virus and developments in Hong Kong and Taiwan questioning political legitimacy of Chinese Communist Party is driving this 'aggressive pushback' by Beijing manifested in the LAC face off with India. China is messaging to the world that it is not weakened.
Gen Hooda also underlines that while surge of militancy in valley and firings on LoC are not disconnected from LAC situations, but the Indian army is prepared to meet challenges on multiple border fronts. He also dismissed off President Trump's controversial tweet saying that India and China will resolve their issues bilaterally without any third party mediation. Here is the exclusive conversation.
Retd Lt. Gen D S Hooda in conversation with ETV Bharat
Q. Why is this stand off so different from the past ones in Chumar to Doklam? How do you look at the timing of these transgressions, skirmishes and scuffles?
Ans. It is different from the past. To me it appears quite significantly different.If you look at the past stand offs like Chumar, Doklam, even one in Depsang in 2013, these were local incidents and the trigger was also a local action in some ways. In Doklam the Chinese were trying to construct a road, our people (Indian Army ) stepped across and went into Bhutanese territory and requested the Chinese not to make the road. The same thing happened in Chumar. They wanted to make a road, come in, our people stopped it. It remained localised in that area, Doklam did not spread beyond it. We were absolutely clear what the demands of the two sides were. This time it is completely different. Firstly it is spread out geographically over many years. In Many of these areas there has been no dispute about the alignment of the border. Galwan for example we have never had a problem. The number of troops involved are much more. It certainly is not a local trigger although the Chinese might want to say that this is because of infrastructure building and etcetera. It has been planned at a daily high level. They have come in in a coordinated fashion. Biggest question mark is what are their demands, what do they want. Clarity is not there. So this is a situation that we need to take fairly seriously.
Q. Yesterday Beijing said that the 'border situation is overall stable and controllable'. President Donald Trump also tweeted that he has 'informed India and China' that he is willing to 'arbitrate or mediate' in what he defined as 'raging dispute'. Are the border incidents linked to geopolitical developments of China being cornered by US and Europe about origin of Corona Virus to protests in Hongkong and developments in Taiwan?
Ans. There is obviously a geo-political link to whatever is happening. China is under tremendous pressure. You have the literal US-China Cold War going on in areas of technology and trade. This is leading to certain aggressive behaviour from Chinese side. You see that in South China Sea, you see new laws being passed in HongKong, You see revival of nationalistic feeling against Taiwan, pressure on Australia. It is all linked with China trying to send message that 'Do not think We have become weak' because of Corona Virus. The statement given by a Chinese diplomat we can take it as a positive step. But as long as situation on ground does not change statements like this we have to take with a pinch of salt. As far as Donald Trump is concerned am not sure anyone takes him seriously any more. This issue will not need a third party intervention. This will have to be solved by India and China themselves.
Q. India has opposed BRI in the past, is a part of Quadrilateral Security Dialogue with US, Australia and Japan and is also aligning with Americans on Indo-Pacific. How much are these factors playing on Beijing's mind?
Ans. All these factors would be playing. There was a commentary in Global Times that talks about how India should not get drawn into the US camp and start taking anti China stance. This is an area of concern to them. In the Indian Ocean, India has a fairly strong Navy. And if they feel that India and the US or Quadrilateral gets together, there is a vulnerability for the Chinese in the Indian Ocean. 80 percent of their trade is coming through the Indian Ocean. They are trying to send a message for sure and trying to pressurize India through this aggressive and belligerent behaviour along the Line of Actual Control (LAC).
Q. How strong is India today at the LAC on infrastructure development and resources deployment?
Ans. There is an infrastructure advantage that the Chinese have on their side and that should be accepted by everyone. But over the past few years there have also been rapid developments on the Indian side. Roads, bridges are coming up, our logistic infrastructure is coming up. India is in a fairly strong position on the LAC. If you look at past standoffs where China has attempted to apply military position on India, where has it succeeded? Starting from Nathu La in 1967 to recent incidents, they have not had any major success to apply pressure. So are they going to change their tactics this time, will they adapt a more aggressive attitude, that makes this situation a bit more risky.
Q. At a time when China faces so many challenges on the world stage, why would it choose to open up so many multiple sectors on the LAC? Why choose India to be the messenger?
Ans. China is a strong power. When you have your back to the wall or there is tremendous pressure, at that stage are you going to lose your reputation as a great power by calming down or are you going to push back? We are seeing an aggressive push back by China. That also is manifesting in what is happening on LAC. India and China are two powerful neighbours. The geo-political reality is two powerful neighbours can rarely stay in peace. So there is going to be some strategic rivalry between India and China and that is something we have to live with.
Q. In Kashmir militant commanders have been killed, today also in Pulwama army neutralised a reported car bombing attempt. Do you see the developments across LoC given the China-Pak friendship connected to developments across LAC or are these two different theaters?
Ans. We should always connect them. We know the close links that are there between China and Pakistan. We know for sure that China is using Pakistan as a proxy to keep our attention on the western borders, to keep our focus there so we do not become a big challenger to China. So we must always look actions in a coordinated and a comprehensive way. Not just China but even Pakistan will try and take advantage for our attention on the Northern border, to try and stoke up trouble in Kashmir. We need to look at both fronts carefully.
Q. With situation boiling across LoC and LAC, how hot is the situation to handle for the Indian Army?
Ans. In terms of capabilities, our ability to handle incidents in Ladakh and Kashmir is not directly linked up. So if one heats up we do not have to pull out capability of troops from other areas. There are sufficient resources available both in Ladakh and Jammu and Kashmir to be able to handle any crisis that builds up in these areas. One will not divert attention from the other. While we continue to handle situation across LAC in Ladakh, it will not dilute our operational preparedness control on LoC or counter terror operations ongoing in the valley.
Q. There are existing mechanisms and border protocols between India and China to maintain peace and stability on the boundary. Do these continued transgressions show that they have run out of utility?
Ans. Not completely. These protocols have helped. The fact that no shot has been fired on the LAC. It is a manifestation of existing protocols and mechanisms and so peace has remained. We are talking of 500 transgressions into Ladakh alone every year. All of them do not degenerate into these. But we need to continuously review our protocol. Some of them in these cases have not succeeded. For example protocols very clearly call for disengagements when patrols come face to face. There should be no violence, people should go back. Those kind of protocols are unfortunately are being flouted quite regularly by the Chinese. So there is a need to revisit some areas of our border cooperation agreement.
Q. Do you see this as a prolonged stand off situation or you see it as de-escalating? What do you see as the way forwards?
Ans. Diplomacy will have to take centre stage. Hoping for military to military contact of commanders at ground level to resolve this particular situation may not succeed. When you have a territorial contest between two groups of soldiers on both sides, they are not going to give in an inch of the ground. On ground positions are going to be locked. So military to military contact in this case is not going to help. It has to be diplomacy, try and invoke agreements that are there in the past to come to some kind of agreement. Is it going to be solved in a hurry? My personal assessment is it will not. It will drive on for some time. We are not even sure what Chinese want, are their demands acceptable to us or not. Those are many unanswered questions. Having taken the kind of steps that the Chinese have taken if they will immediately disengage people will ask them what was then purpose of it all. So I think it will require some tough hard negotiations at the diplomatic level.That could be protracted.