COVID-19 has no borders, international cooperation key: French envoy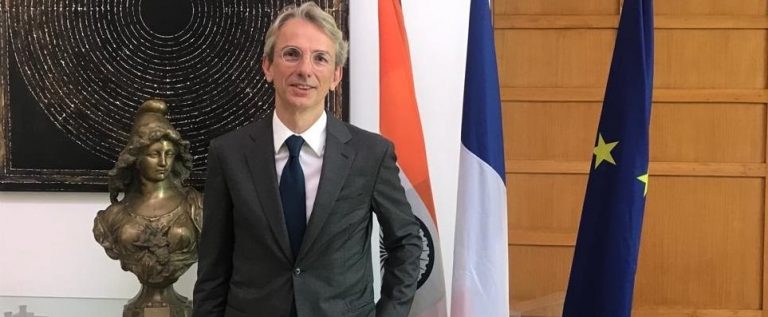 The story was first published in ETV Bharat
Emmanuel Lenain, the Ambassador of France in New Delhi has lauded India's initiatives for providing regional leadership to tackle the COVID-19 pandemic. Senior journalist Smita Sharma speaks to the French envoy on issues including international cooperation during the pandemic and the challenges to the global economy.
New Delhi: Emmanuel Lenain, the Ambassador of France in New Delhi has lauded India's initiatives for providing regional leadership to tackle the Coronavirus pandemic. Speaking to Senior Journalist Smita Sharma, the envoy stressed that shutting down borders to personal discipline is needed to deal with the pandemic.
But he added that governments will have to announce packages and take steps to help deal with the economic impact of the crisis, which can be realistically assessed only later.
French envoy on COVID-19, French response and international cooperation
Q: What is the current situation in France? With Europe going under a lockdown what do you see as the biggest challenges?
Envoy: France is at war. As my President said it is a sanitary war but it is a war, We are going to win it. But it requires discipline and solidarity. And that spirit that French population is living in this very exceptional situation for days and weeks.
Q: How do you see the G7 proposals having an impact in dealing with this pandemic? Will it be important to link up G7-G20-Saarc initiatives?
Envoy: International cooperation is key. It is key to fight the virus. The virus has no border. We have to join efforts and be coordinated under the auspices of WHO (World Health Organisation). Coordination is key also to mitigate the economic impact of this crisis which will be important. That is why we have to raise efforts in all international forums.
I am very pleased to see that India as a global player on all issues, health , economic issues, is taking numerous well timed initiatives. It is what we have been doing in G20. As a future presidency of G20 in 2022, India is also doing it within SAARC as a regional layer. It is very timely if India can help bridge all these initiatives.
Q: Do you see countries shutting down borders as the need of the hour for containment of this pandemic? Will herd immunity worked proposed by UK?
Envoy: The best response to a pandemic is to limit contact that has to be achieved through personal discipline, what we call social distancing, but also what we call by limiting international trips and travels and by shutting the borders. Scientists say that herd immunity may work, it is true.
But to achieve this immunity first we need to make sure that at no stage of the epidemic our health systems is overwhelmed. Which means the virus must not spread too fast. That is why we are taking these measures to isolate the individual.
Q: What are the challenges that the global economy needs to brace for? By when will a realistic assessment of the losses even be possible?
Envoy: A total assessment has to be made. But what we know as of now for sure is that the impact will be important, massive. All our governments are really committed to support all activities.
That is true in France where my government has already announced a package. I know that Indian authorities are working in the same spirit. International cooperation that we expect will also be helpful. Nobody can sustain growth and employment on its own. It needs common efforts.