Clear messaging and early health system key to New Zealand's COVID success: Indian envoy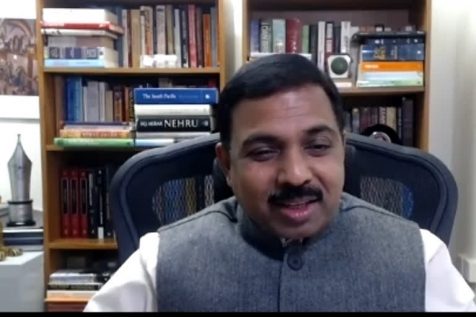 This story first appeared in ETV Bharat
In an exclusive interview with senior journalist Smita Sharma, Indian High Commissioner to New Zealand Muktesh Pardeshi shares his insight on the 'Kiwi model' on how to contain the spread of COVID-19.
New Delhi:
On 9th June New Zealand became one of the nine countries in the world to declared itself COVID free with no new cases of coronavirus reported in the country since 29th May. New Zealand's young Prime Minister Jacinda Ardern remarked that she 'did a dance' to celebrate the achievement.
Indian High Commissioner to New Zealand Muktesh Pardeshi says that an early health warning system, clear messaging and people's faith in a popular Prime Minister were key to the success story in tackling COVID-19.
Speaking to senior journalist Smita Sharma from Auckland, the envoy shared his observations of how New Zealand informed and educated its people on he virus and took early steps to deal with it. The country has now lifted all restrictions on domestic travel, large gatherings and the economic activities.
Only border restrictions remain, with possibilities of flight resumption's with Australia or some smaller pacific countries in near future. High Commissioner Pardeshi informed that NZ may be one of the few or only country where the International Yoga Day will be observed in the usual pre-COVID-19 manner.
Asked about the impact of COVID-19 and an aggressive Beijing on New Zealand's deep trading ties with China, the India envoy remarked that there is a growing realisation within the Kiwis of the disadvantages of over-reliance on one country and that may change in the post COVID-19 era.
Muktesh Pardeshi on India-New Zealand cooperation in fighting COVID-19
Q: India and New Zealand are very different in size and population, but a lot to learn from the latter's success on COVID-19?
A: I am very fortunate to be living in New Zealand (NZ) at this point in time. It has become a role model by declaring itself free of Coronavirus. On 9th June NZ became one of the nine countries in the world which are free of coronavirus. The other countries are Monte Negro in Europe, also a Pacific country like Samoa. NZ has caught the imagination because it is a developed, industrialised country and well connected with the western world. Since 29th May there has been no new cases here.
So the total number has been 1504 with 22 deaths. This has been very encouraging. They have been able to contain. And now NZ is trying to stamp out Coronavirus from its borders. Several things have been in its favour like size and also the population density.
It has 5 million people but in terms of geographical size it is quite spread out. So people are all over the country and segregation and self-isolation is much easier here than say for example in India.
Q: One of the strictest lockdowns across the globe was observed in India yet there is such a sharp spike in numbers. Share some practical lessons you observed from the NZ story.
A: One of the most practical thing they did was to develop in the very first week a 4 stage Health alarm system. Four being the highest level. Around 20th March they declared the 1st level, and within 3-4 days they went to Level 4 because they realised that this may spread here. Most of the transmission, in the beginning, came from abroad as students, or other travellers from Iran, China returned.
They closed the borders with those countries, brought into effect this 4-way health alarm system and constantly people were being educated as to what would happen at different stages. When they published stage 1, they had already informed people as to what would happen at stage 4. So when PM Jacinda Ardern took the country to a higher level of health alert system, people were geared up to the challenges.
So I would say that dissemination of health alarm system here is an excellent example of how the government can take people into confidence. PM Jacinda Arden has a high approval rating. So people cooperated with the government's caution system, people responded and they reposed enormous faith in what the government was doing. I would say that the clear messaging, consistent and early warning systems they developed has been in favour of NZ.
Indian High Commissioner to New Zealand shares the details of New Zealand model to contain COVID-19
Q: South Korea has also been hailed as a successful model in dealing with COVID. But it along with several others is gearing up for a second possible wave. So what precautions will NZ continue to take?
A: As of now from 9th June the country is at health alarm stage 1. So it is not completely normal. But social gatherings are there. No travel restrictions now. The economy is back to normal, I would say 95 per cent. The borders are closed. So during stage 1, no foreigners are being allowed. Only people coming in are in repatriation flights and they go into 14 days of government quarantine system.
Last week when Air India flew their passengers from India they were taken to government-supported quarantine centres. They have closed borders and their intention remains so. Unless they see there are no new cases say over another fortnight, or three weeks, then there is speculation that they may try with some pacific islands or Australia because there are close ties. Otherwise, they are not looking at opening their borders soon.
Q: Is there any possibility of resumption of travel with India with Aviation Minister Hardeep Puri signalling possible resumption of some scheduled but limited international flights by August?
A: As of now we are geared up for repatriation of our people. There are some 3000 Indians stuck here. Under Vance Bharat Mission (VBM) we have got 9 Air India flights throughout this month. Our first flight was only last week and this will continue up to 30th June.
So people stranded here are going to India and flights departing from India are also bringing Kiwis who are stranded in several parts of India.
So this has been a two-way process and by the end of this month we hope to have repatriated most of the stranded people.
Q: What is the kind of cooperation including HCQ supplies between India and New Zealand On COVID-19? And what has been your feedback to the MEA headquarters on what lessons can India learn from the NZ story?
A: We have been collaborating with each other. A few weeks back our EAM had a telephonic conversation with NZ Deputy PM. In fact, the Deputy PM visited India towards the end of February.
NZ was dependent on the supply of some pharmaceutical products. When they raised with us we took it up with Delhi and that supply continued. Select countries of the Indo-Pacific were also in touch for a month at the Foreign Secretary-level and NZ was part of that group under which they discussed several aspects of the supply chain, how countries can deal with the crisis, how countries can cooperate within the WHO framework.
We have been in touch and lately how to repatriate nationals of each other's country under VBM. We have been cooperating with each other as a friendly and reliable partner.
Q: One of the highlights of the bilateral ties is the passion for cricket. Are Kiwis missing their matches? What is a possible future for the sporting ties given COVID will be around for some time?
A: We just had the Indian cricket team visit her in January. Until 5th of March. They just left NZ a few days before they closed their borders. Here they love rugby and they are going to start their domestic series.
Q: Will it be similar to Indian announcement of allowing games in stadiums with no spectators?
A: There are no restrictions on gathering, domestic travel. In fact on 21st June we are going too have our International Day of Yoga (IDY) as we were doing in the previous years.
So perhaps NZ would be one of the first countries where we are going to celebrate IDY in the usual manner. So now you can have congregations of thousands of people, there are no restrictions. The only restriction is the border remains closed.
Q: Given China has threatened Australia, NZ with trade consequences for persisting for a probe into origin of COVID-19, what is the conversation like around China within the NZ government as well as the MNCs and corporate houses?
A: The fact remains that NZ has deep-rooted relations with China which has developed over a decade or so. They have FTA (free trade agreement). China is their largest trading partner. In the context of the global pandemic there is a growing realisation that over-reliance on one partner country may not be the next thing for the future, And not diversifying their market, these two things have been noted by CEOs and business community.
I see commentaries in newspapers that perhaps post COVID NZ will look at diversifying its sources of supply and new markets.
Q: India faced several issues related to faulty testing kits from China. Did NZ source its testing kits and PPEs from China or elsewhere?
A: They sourced from outside and also produced here, but I do not think that was a major issue here.