Clampdown is denial of democratic rights, says Kashmir Times editor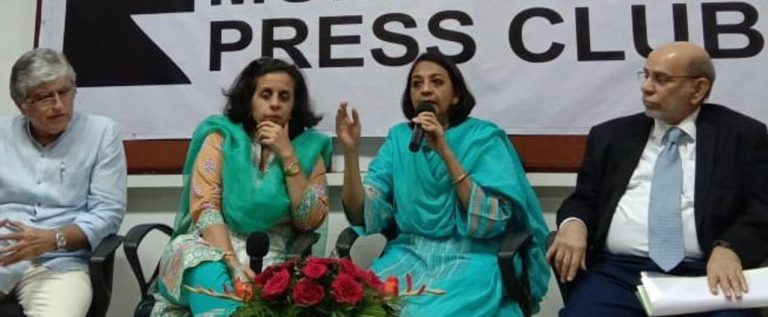 Recently the editor of Kashmir Times, Anuradha Bhasin, was at Mumbai Press Club to talk about the situation of Kashmir, which has been kept cleverly under wrap by the State. She talks about the Media, the local journalists who are facing huge trouble to report the reality. She was in conversation with Nirupama Subramanian, Resident Editor of  'Indian Express'.
Kashmir Times editor Anuradha Bhasin on Thursday described the clampdown that followed the Centre's abrogation of democratic rights to the people of the region. She had fi led a writ petition in the Supreme Court seeking its restoration of normal working conditions for the media in the affected region.
Bhasin made the statement during a discussion with constitutional lawyer Aspi Chinoy and Nirupama Subramanian, resident editor of The Indian Express, at an event organised by the Mumbai Press Club.
The Kashmir Times editor said members of the local press had to face many more challenges in comparison with their counterparts from national media organisations. "There are greater hostilities at the checkpoint if you are a local Kashmiri journalist," Bhasin said. "A sense of intimidation from the state is huge because you live there. Kashmiri journalists feel more vulnerable than their colleagues from outside the region. They are under surveillance."
Reporters have access to only one media centre, which has only four computers to file their reports from, she said.
The Centre, she said, has constantly changed its narrative about normalcy returning to the region. "We do not know when the clampdown will be withdrawn," Bhasin said. "But the initial picture created by the government with (images of National Security Advisor Ajit) Doval dining with locals is that everything is normal. They (the Centre) came up with certain documentary evidence that things are fine in Kashmir. Now, 46 days later, they say that normalcy is gradually returning to the state. So were theyw were lying before?"
Meanwhile, Chinoy compared the situation in Kashmir to the state of Emergency imposed by the Indira Gandhi-led government in 1975. "This (Kashmir clampdown) is an undeclared emergency," Chinoy said while adding that the clampdown did not have any legislative basis. "The situation in Kashmir is a complex issue. But the decision taken on August 5 has worsened the situation further," he said.
Subramanian, who had recently visited Kashmir to report about the clampdown, said the locals are angry with the media's coverage of the situation. "They are not happy with TV channels that are reporting normalcy in the valley when everything is shutdown," Subramanian said.
Independent journalist Kashif Khusro's video, highlighting the prevailing conditions in the Valley, was also screened at the event.
In August, the Parliament had done away with Article 370 which granted special rights to Jammu and Kashmir.
This story was originally published in Mumbai Mirror.