Choose your effi-ji: The A-Z of real-time Ravanas to be burned this Dussehra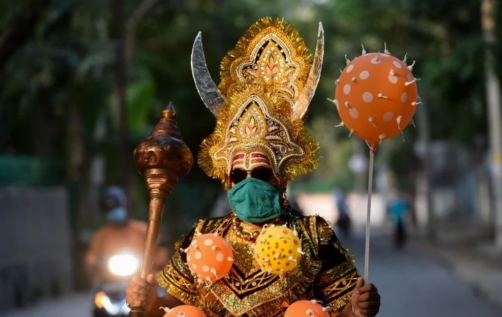 Good and Evil used to be a simple white and black. Both now have an identity crisis. Thanks to the 50 Shades of Bray heard every day, one man's meet is another man's superspreader. Stuff like secularism, free speech and polyunsaturated fat used to be praised in song and Sunday supplements; now they are the Asuras, Lucifers, Darth Vaders, fallen irredeemably into the dark side. Bollywood was once our hero, upholder of the Ram-Rahim rhetoric, arbiter of social stereotypes and body shape alike; now it has morphed into a den of dynastic despotism and drug-lords. Why, even the once-unambiguous Ramrajya seems scarily like Kaliyug for several sections.
The only unambiguous, unmitigated evil is Shri C-virus. So, if you are totally confused over which other demons deserve to be burned this Sunday, here's a list of handy effigies. Disclosure: some carry a shelve-by date. Hopefully sooner than next Dussehra.
Arbitrary arrests, atrocities, acai berries
Bollywood-bashing, bigotry, BARCs sans bite
Covidiots, conspiracy theories, caged parrots
Dissidents' denunciation, Deep State, dessert divas
Exclusions of all kinds, ED-terrorism
Fake news/charges/ Covid cures, (click) farms
Governor-meddling, GST-grabbing, GDP-shrinkers
Hathras shame, hate-crimes, hunger, helicopter moms
Immunity boosters, illusory revival packages
Jihad of the LeT, not  love, kind, Janmabhoomi replay
Kangaroo courts, Kanganitis, kale crusaders
Lockdown, LACdown, lynchers, leaks
Marijuana equated with Meow-Meow/ meth
Neta-betas in cricket too, NCB overreach, narcoanalysis
Old normal hazards, oxymeter obsession
Pandemic, politicking, post-truth, 'Ping me'
Quarantine, QAnon, quacks, quinoa upma
Rapists, Rhea culpa, 'religious sentiments' as politics
Sedition law, social media spies, spirulina shakes
Trolls, TRPs, Tablighi-thrashers, toxic everything
Urban-Naxal bogey, urban decay, unemployment
Vaccine inequality, video-blackmail, virtual garba
WFH, witch-hunts, Whatsapp wild fires, webinars
X-es who refuse to get ex-ed
YouTube as MeTube, yoga sham-ans, 'Yo!'
Zooming to zombie-dom
* * *
Alec Smart said: "Now brace for a pandalemic."
DISCLAIMER : This article is intended to bring a smile to your face. Any connection to events and characters in real life is coincidental.