China on their mind, India-Australia add muscle to defence cooperation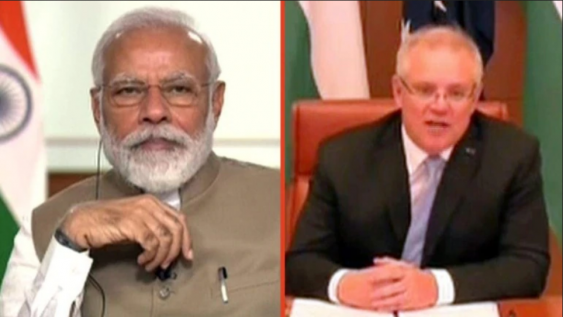 This story first appeared in ETV Bharat
In this article senior journalist, Smita Sharma outlines India-Australia defence cooperation and writes that the first Virtual summit between Prime Ministers Narendra Modi and Scott Morrison reiterates the 'commitment to promoting peace, security, stability, and prosperity in the Indo-Pacific region.'
New Delhi: A shared vision for Maritime Cooperation between India and Australia and a Mutual Logistics Support Arrangement underlines the focus on the Indo-Pacific strategy of the two Comprehensive Strategic Partners.
The document issued alongside a joint statement following the first Virtual summit between Prime Ministers Narendra Modi and Scott Morrison on Thursday reiterates the 'commitment to promoting peace, security, stability, and prosperity in the Indo-Pacific region.'
"As two key Indo-Pacific countries, India and Australia have an enduring interest in a free, open, inclusive and rules-based Indo-Pacific region. They have a shared interest in ensuring freedom of navigation and overflight in the Indo-Pacific region, and maintaining open, safe and efficient sea lanes for transportation and communication," said the Vision Document.
Significantly with an eye on Chinese aggression in the South China Sea and increasing footprints in the Indian Ocean Region and Pacific, the two sides were finally able to conclude a Logistics Sharing Arrangement which will allow both defence forces to deepen their cooperation.
New Delhi and Canberra have quadrupled the number of defence exercises in the past six years including the major bilateral maritime exercise AUSINDEX.
"Both sides agreed to increase military inter-operability through defence exercises through their Arrangement concerning Mutual Logistics Support (MLSA)," said the Joint Statement on a Comprehensive Strategic Partnership between India and Australia.
"Elevating ties to Comprehensive Strategic Partnership provides you with a special relationship. While the MLSA adds some muscle to the desire to strengthen the defence cooperation as well as to the Quad. We would then have these agreements with each of the Quad members (Japan, US, Australia). Also, the 2+2 Talks shave been elevated to the Foreign and Defence Ministers Level to take place every two years. This is also part of the desire to make India-Australia defence cooperation more meaningful," said Navdeep Suri, former Indian High Commissioner to Canberra.
It was during his term in Australia that the two countries first signed a White Shipping Agreement in 2016 towards greater maritime domain and awareness.
The MLSA would allow the two countries access to each other's military bases for logistics support including refuelling and refreshment for personnel with food and water.
The arrangement also seeks to further enhance interoperability and mutual cooperation between the Indian Navy and the Royal Australian Navy while conducting bilateral exercises.
"Australia and India are Indian Ocean neighbours, and this agreement strengthens the ability of our navies and coast guards to share intelligence and train and operate together. Between our countries, we can have a detailed surveillance picture of the Indian Ocean and share data on everything from illegal fishing to the movements of naval forces," says Rory Medcalf, Professor and Head of National Security College at the Australian National University and Author of 'Contest for the Indo-Pacific.'
Welcoming the outcome retired spokesperson of the Indian Navy Captain DK Sharma says that like-minded navies who believe in freedom of navigation, global commons of right to overflight share respect for sovereignty and international law, particularly the United Nations Convention on the Law of the Sea (UNCLOS) should come together. Captain Sharma hoped that Thursday's significant decisions would pave the way within six months for Australia to join the Malabar exercise conducted between the navies of India, Japan and America.
"This is a welcome and awaited step. Australia's centrality to Indo-Pacific and the region where the threat is emanating from China is crucial. For Indian Navy Operating in these waters it makes sense to have an arrangement with Australia," said Captain Sharma.
He reminded that India has crucial maritime cooperation today Japan in the North East, Australia to South East and the US to the Far East of the Indo- Pacific. And with China trying to make forays into the Indian Ocean Region and coercing smaller littoral steps, the India-Australia cooperation is logical next steps.
"The only thing which is missing is inviting Australia for the annual bilateral Malabar exercise and expanding it into a Quad formation, which is but obvious given the prevailing circumstances post-COVID," the retired Naval official further added.
Australia is a part of the Quad or the Quadrilateral Security Dialogue with India, Japan and US which last met at the level of Foreign Ministers. But its entry to the Malabar exercise despite its willingness to do so has been held up for some years now owing to shadow of past baggage of Canberra's proximity to Beijing.
This has now changed especially with an angry China threatening Australia and New Zealand with trade consequences for pushing for a probe into the origin of the Corona Virus.
"In the past, we were overly mindful of Chinese sensitivities. But in recent past Australia has been at receiving end of heavy-duty Chinese bullying and we are witnessing what is happening at the LAC. The Chinese have been flexing muscles in Hongkong, Taiwan, Vietnam among others and ironically they have become a catalyst to speed up reactions and enthuse new energy into partnerships of other countries," remarks Navdeep Suri.
"We're likely to see Australian and Indian naval, coast guard and air assets visit each other's bases, assisting each other with logistics and information. This will help our two democracies patrol the shared maritime commons and also manage the changing power balance as Chinese forces become more active in the region," added Rory Medcalf sharing his view from Canberra.
Today India has major logistics and information sharing agreements or understandings with nearly three dozen countries including the US, UK and France and all littoral states of the Indian Ocean Region.
The major navies that these arrangements have not been worked out with include China and Pakistan.
"Expanded Australia-India cooperation on maritime safety and security will be marked in particular by building stronger links between coastguard and civil maritime agencies, and by developing deeper navy-to-nave engagement," said a statement issued by the Australian Foreign Minister Marisa Payne.