'Can India Lead a Global Coalition of the Willing?'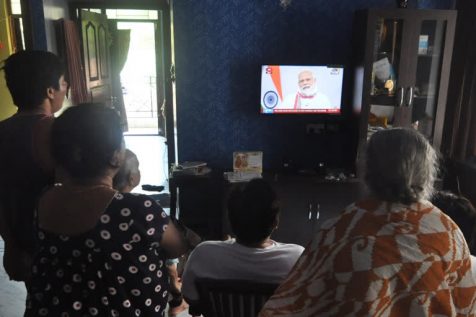 This story first appeared in ETV Bharat
The COVID-19 fallout is expected to create a vacuum for global leadership, but what remains to be seen is whether India will be able to provide leadership and rise to seize moments of opportunity that present itself through this enormous crisis, writes senior journalist Smita Sharma.
New Delhi: More than 18.48 lakh confirmed cases of coronavirus across the world as of April 15, 2020 noon. Approx 1.17 lakh dead and still counting. More than 21,970 deaths in the United States surpassing Italy with some 20,465 deaths so far. China, with the epicentre of COVID-19 in Wuhan, has so far witnessed 3351 deaths. A race against time to find a vaccine to cure coronavirus.
"Black Swan logic makes what you don't know far more relevant than what you do know. Consider that many Black Swans can be caused and exacerbated by their being unexpected." – Nassim Nicholas Taleb (The Black Swan)
The world is grappling with a Black Swan event and the pandemic has put to test globalisation models as well as efficacy and fairness of multilateral mechanisms and institutions which have been questioned for their acts of omission and commission. With borders closed, graded to stringent lockdowns across nations and most world leaders looking inward at the moment to protect the lives of their citizens, what is at stake for the regional and global coalitions ahead? Will the global order re-shape? Will multilateral institutions including the Security Council expand and reshape to become relevant and reflect emerging economies and voices of developing nations?
"There will be a bit of vacuum for Global leadership but space is opening up for middle-income countries or middle powers to provide global leadership. Countries like Japan, Germany, India, South Africa could form a coalition of the willing," says Gautam Bambawale, a retired career diplomat and former Indian Ambassador to China and Pakistan. Bambawale, who was deliberating on the world as it could shape up in the post-COVID-19 era through a recent Carnegie India webinar, further added that some sort of consortium which takes US and China along could provide an alternate global leadership in times ahead.
In 2008, as a mortgage crisis triggered the longest period of global financial recession since the Great Depression of the 1930s, new multilateral platforms emerged. G20 eclipsed G8 as the primary forum for global economic diplomacy. Countries like China pumped in huge money into alternate mechanisms of BRICS bank to AIIB (Asian Infrastructure Investment Bank) which have gained currency over the past decade. Today, COVID-19 has driven home further how interconnected and inter dependable the world is.
But the question is will India be able to provide leadership to such a coalition and can it rise to seize moments of opportunity that present itself through this enormous crisis? One of India's biggest challenges lies today in its manufacturing sectors where scale, quality aspects, adoption of advance technology continue to remain below potential. With the world, especially the western nations, wary of China's handling of the Coronavirus outbreak, the multinational companies will hold Beijing accountable in their board rooms.
Wall Street or Silicon Valley will not end their relationships with the world's factory for processed raw material in any knee jerk reaction. But experts do seem to agree that companies will look to expand operations and manufacturing bases to China plus one or two or more options including Vietnam, Malaysia, Philippines to Bangladesh or get some business back home. This is where if India can get its act together soon and step up, it can gain from the shifting sands. If relocation from or expansion beyond China is a compulsion, MNCs would prefer another country of comparable size and market like India. The capacity of the federal system to respond, the efficiency of state governments to ensure last-mile connectivity to welcome foreign investors will be a key litmus test for the Modi government in the months ahead.
Prime Minister Narendra Modi has made the right Diplomatic noises by an active response through groupings including SAARC to G20 to find coordinated regional and global strategies to fight the pandemic. Some may say he even chose to eat humble pie under pressure, particularly from President Donald Trump to lift the ban on certain key medical items prohibited for exports including Hydroxychloroquine. "We cannot blindly ban things as perception does matter. If few consignments are sent here and there to derive some mileage and global goodwill without making a fundamental difference to domestic availability, it should be alright. This a pragmatic government," says a senior retired diplomat.
In 2004 December as a deadly Tsunami lashed out killing thousands, India as one of the earliest responders in the neighbourhood, demonstrated its ability to lead in HADR (Humanitarian Assistance And Disaster Relief). Then-Prime Minister Manmohan Singh chose to say No to foreign financial assistance asking it to be diverted instead to more devastated and smaller nations in signalling to the world of India's self-sufficiency in crises. Through subsequent natural calamities to evacuations from conflict and war situations including in Yemen, India has over the years earned global goodwill and credibility as a friend in need. Prime Minister Modi's leadership along with France to forge an International Solar Alliance displayed the country's seriousness on Climate Change and Global Warming issues that transcend all borders today.
Yet, in a post-COVID-19 era where China's moral authority for an Asian or global leadership is under questioning, India will have to be realistic and determine if it can and wants to lead an alternate 'global willing coalition'. "China will continue to grow as economic and military power for the coming weeks and decades even if it slows down for some time. China will face credibility issues and reputation problems. US-China trade and technology war will become more intense going ahead. India and many others will be caught in the crossfire," remarked Bambawale at the Carnegie India virtual seminar.
It will be naive to believe that an expanded Security Council will have India on the permanent table with a veto in the post COVID era. Big players will not give up their privileges and powers easily unless there is a huge catastrophe with a prolonged pandemic unleashing all horror or a Third World War looming large. Americans themselves are ramping up innovations and production of medical devices like ventilators.
"The United States is not withdrawing itself but re-arranging its global burdens. If it vacates the Middle East it could do a lot in South East Asia," said prominent strategic thinker Dr C Rajamohan at the webinar arguing it would be too early to write off the US as a declining world power. But the US would need Japan, India, even more, to alienate China economically or contain its territorial aggressions. The Quadrilateral Security Dialogue with India, US, Japan and Australia will be an important grouping going ahead. But India's global destiny is linked to its domestic growth story.
India will have to invest in AI, digital technology, look at new bilateral and regional trading arrangements, work to become an innovation and trading partner in key sectors like biomedical and biotechnology. India's ability to lead from the front will also depend on how deep its pockets are and how much it can spend on the United Nations to smaller countries and friends and partners. Like post Tsunami, India could also lead the way in setting up prior early warning centres for information exchanges and emergency alternate mechanisms with committed doctors and resources on public health challenges. But can India put its money where its mouth is? "Good intentions do not lead to global leadership," reminds the former Indian diplomat.
In this 70th year of establishment of diplomatic ties between New Delhi and Beijing, the two Asian giants have continued to signal cooperation through the Corona Crisis. But the growing international conflicts in a post COVID situation will see the elephant and the dragon key to global political chess games. Robert. D. Kaplan wrote in his acclaimed book The Revenge of Geography, "As the United States and China become great power rivals, the direction in which India tilts could determine the course of geopolitics in Eurasia in the twenty-first century. India, in other words, looms as the ultimate pivot state."