Beijing does not respect 'One Country, Two Systems': Hong Kong lawmaker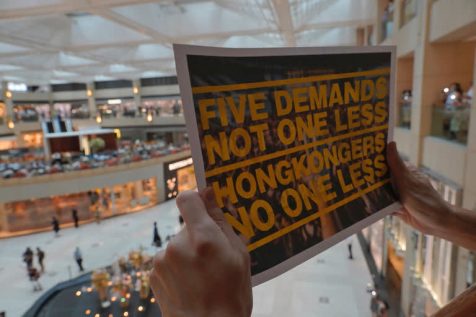 This story first appeared in ETV Bharat
As street protests continue in Hong Kong over a National Security Law proposed by China last month, Senior Journalist Smita Sharma spoke to the leader of the Civic Party and legislator Alvin Yeung in Hong Kong about the ground situation, demands on the table and international dynamics of the ongoing protests.
Street protests continue in Hong Kong over a National Security Law proposed by Beijing last month. Beijing says continued protests that sparked off last June are 'embodying acts of subversion with elements calling for secession', charges that activists and pro-democracy political leaders in Hong Kong deny.
A former British colony, Hong Kong was handed back to China in 1997 under the 'One Country, Two Systems' arrangement with special rights and autonomy. Hong Kong has its own judiciary and a legal system separate from mainland China that allows rights including freedom of assembly and speech.
Last June, unprecedented social unrest broke out with an estimated one million people taking to spontaneous protests against an Extradition Bill. The bill which was later withdrawn in September would have allowed the extradition of fugitives to mainland China. Critics feared this could undermine judicial independence and put lives of dissidents speaking out against Chinese authoritarianism at risk. Since then demonstrations have continued in Hong Kong with activists demanding full democracy and an inquiry into police excesses.
The New National Security Law proposed in May this year has now added fuel to the fire with experts believing that Xi Jinping's position in China has been questioned and weakened because of the demonstrations. Many Indian observers believe that Chinese aggression on the Line of Actual Control is also triggered by events in Hong Kong and Taiwan which have led to unprecedented criticism of President Xi and the Chinese Communist Party domestically.
Senior Journalist Smita Sharma spoke to the leader of the Civic Party and legislator Alvin Yeung in Hong Kong about the ground situation, demands on the table and international dynamics of the ongoing protests. In November last year, Hong Kong held local council elections that saw a landslide victory for the pro-democracy movement with 17 of the 18 councils now controlled by councillors fighting for full democracy. Alvin Yeung says that the people of Hong Kong are saying no to the National Security Law that infringes upon their rights and making reasonable demands promised under the Basic Law. He said that the demand for secession does not resonate among majority sections and that Beijing does not respect 'One Country, Two Systems' or promises of autonomy. Alvin added that people speaking out in Hong Kong faces fears of a crackdown and extreme challenges but these 'leaderless' protests will continue.
Here is the full text of the exclusive conversation.
Q- Beijing says this new law is needed to protect national security and 'curb terrorism'. How do you view this argument?
Alvin Eyung: Hong Kong under 'One Country, Two Systems' has its own set of rules. We are governed by the Basic Law that is like a mini Constitution of Hong Kong. Inside this Basic Law, there is one article that states so clearly about national security. That the Hong Kong government should legislate its own set of legislation in relation to national security. So that is part of a domestic issue and should be governed by people of Hong Kong. In 2003, the Hong Kong government tried to put forward a controversial national security bill and half a million people took to the street and said no to it. Since then no administration has dared to put forward something similar because we understand that it is so controversial you have to make sure that your rights are well-protected. Since Hong Kong still does not have full democracy we cannot choose our own Chief Executive, only half the legislature is elected by the people. So you can imagine people of Hong Kong are not well protected. So people are saying No to National Security Law because that is going to infringe our rights. Since last year there have been protests on the street because people have been fighting against the extradition bill. Since then we have met with police brutality and this government decided to turn a blind eye to police brutality and basically back the police force without considering any consequences. So Beijing right now is saying that I do no care about Basic Law, I do not care about the promises, I am going to impose this National Security Law without consulting the people of Hong Kong, without going through our legislature, without giving a chance to people to say No.
Q- China has insisted that "foreign forces" are to blame for the turmoil in Hong Kong, where pro-democracy protesters are being labelled as terrorists- described by Beijing as rioters.
Alvin Eyung: All authoritarian governments are the same. Basically blame everybody. Like the opposition, university students they called foreign forces. But they never put forward any evidence. They never really have the guts to have a self-reflection of what they have done. What this government fails to do is to look into the eyes of the people of Hong Kong and say I am wrong, yes there is something wrong in my governance and I am going to improve it. What they are doing is basically point the fingers at each and every one of us but for themselves. Last year they failed to push forward a controversial bill with all these consequences. This year they tried to fix the problem by introducing an even worse piece of legislation.
Q- What are the demands of the protesters? Is secession also a demand on the table?
Alvin Eyung: Some people are calling for that but that is not shared by the majority. Hong Kong people since last year have been calling for five demands. Universal suffrage that is a right to choose our own government. That is promised under the Basic Law. We are not asking for the Moon here. We need an independent enquiry to look into police brutality. This government still refuses to set up a committee to look into police brutalities. That is extremely disappointing. We want this government to stop prosecuting people on political charges, this is completely wrong. Do these demands sound extremely unreasonable to anybody? No. In an ordinary free world, the government would have done this without people demanding for that.
Q- America has been abdicating its global responsibilities, pulling out of multilateral organisations. In this situation are American statements helping your cause? Or does it complicate the situation?
Alvin Eyung: Hong Kong is an international city. A lot of countries including India have strong interests in Hong Kong. You have your investments here, you have a lot of Indian citizens living here and so does America and the rest of the world. Hong Kong over the past one and half centuries enjoys close connections and ties with different investors and countries. America is one of them. They granted Hong Kong a special status in 1992 under the Hong Kong Policy Act which is legislation in the US on the promise that if Hong Kong could stay unique then it would be treated uniquely from China. But since the hand over we have witnessed countless incidents that Beijing does not respect One Country, Two Systems. Beijing does not respect a high degree of autonomy. So the US is saying that we are going to take this gift away. If Beijing treasures and cares about Hong Kong and wishes to keep it unique and special then there are things that Beijing and Hong Kong governments could do. First of all, withdraw the National Security Law and demonstrate to the world that they do treat Hong Kong especially.
Q- There is unrest across several cities in the United States over racial inequality and police brutality following the George Floyd case in Minneapolis. The Chinese government spokespeople and official media have launched attacks against US authorities. Hu Xijin, editor-in-chief of nationalist Global Times, wrote on Saturday-"It was as if the radical rioters in Hong Kong somehow snuck into the US and created a mess like they did last year". How do you look at China telling the US that Hong Kong police are more restrained than their forces?
Alvin Eyung: You cannot expect anyone from an authoritarian state, someone who has never enjoyed the freedom of speech, someone who has never participated in a genuine protest to stay anything genuine or fair. Hu, the editor In Chief of Global Times, has he ever participated in any sort of protests, has he ever witnessed police brutality?
People like him have no standing to say anything. They are in no position to criticise anything that is happening in the free world.
Q- What are your darkest fears? Are you afraid of a severe crackdown for speaking out?
Alvin Eyung: I would be extremely naive or lying to you If I say I have absolutely no fear. But Hong Kong is what I call home. I am so proud to be serving the people over the past few years. If there is a chance that I could serve them probably I will continue to do so. People of Hong Kong have been so brave in the past year and have demonstrated the highest quality of fearlessness. Days ahead could be extremely challenging. This is an uphill battle but Hong Kong people will not easily give up.
Q- How are you ensuring that the protests remain peaceful and there are no arms involved?
Alvin Eyung: Right now in Hong Kong protests, there is no backstage. There is no leader. It is a leaderless movement here. It started very peacefully when over one to two million people took to the streets. But when this government started to ignore the people's demands, some were frustrated and police officials started firing tear gas, rubber bullets at ordinary citizens. Then people were angry. Over the past year, we saw countless incidents of police brutality and that really drove people mad. I wish we could stay peaceful but I understand why people are mad and angry on the street.
Q- Do you sense any sympathy or solidarity from ordinary citizens in mainland China, because these are also times of unprecedented criticism of President Xi happening domestically?
Alvin Eyung: It is not easy to have direct communications with people in China without any fear of censorship or monitoring. But I understand there are people across the border who support Hong Kong peoples' freedom movement. But their situation is even more critical compared to Hong Kong. We can still have free access to the internet. In China they have firewalls, they have to use VPNs and find different ways to climb over the firewall. This is something extremely difficult for them. We wish them the best of luck.
Q- There is an escalation of tensions between India and China at the LAC. Is the Chinese aggression on display because the Chinese dreams ambition of Xi Jinping is losing the steam and this is an attempt at reclaiming authority back home?
Alvin Eyung: In this world today all we are asking for from those who are in power, regardless of who they are, just have a genuine sense to have genuine communications with different parties. Especially in the internet age, people get access to things very quickly. So if the leaders fail to communicate with fellow leaders and citizens around the world, it is not going to bring peace to anybody and will not do anyone good.