Bangladesh PM to bat for investments in Delhi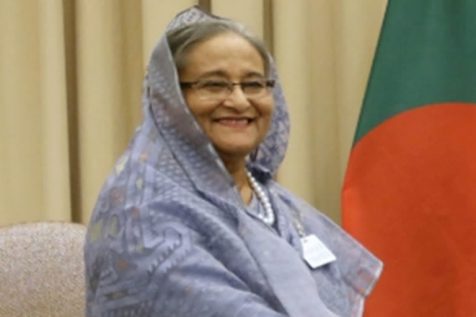 As Bangladesh's Prime Minister visited India last week, here is a piece by senior journalist and SAWM member Smita Sharma who discussed in length what could have been the high points of this visit including NRC, an important read.
Hyderabad: Bangladeshi Prime Minister Sheikh Hasina will be in India for the first time this week since her re-election for the third consecutive time in December 2018 and since PM Modi's resounding election victory in May. Hasina who will be addressing the Indian Economic Summit under the aegis of World Economic Forum in New Delhi on 3rd and 4th October will hold formal talks with Narendra Modi on a host of bilateral and regional issues.
The two leaders met last week in New York along sidelines of the 74th United Nations General Assembly where Hasina reportedly said that the NRC (National Register of Citizens) issue has become 'matter of great concern for Bangladesh'. According to her Foreign Minister Abdul Momen, she was assured by PM Modi that her country's concerns could be taken care of very easily given the friendly bilateral ties.
The NRC issue was however not mentioned in the formal Indian Ministry of External Affairs statement released after the meeting. Despite Delhi's assurances, with shrill domestic politics surrounding NRC and controversial comments made by top BJP and RSS leaders including Home Minister Amit Shah, Dhaka is worried. A Bangladeshi official on conditions of anonymity said that Amit Shah using word like 'termites' last year to describe Bangladeshi immigrants who face deportation is perceived as humiliating by his countrymen.
"On the NRC, people in Bangladesh expect an unequivocal statement of clarity from the Indian government. Positive assurances by PM Modi to PM Hasina on NRC and then on the contrary, negative remarks by the Home Minister Amit Shah is not helping the case of credibility and consistency on India's side," says Syed Munir Khasru, Chairman of the international think tank based in Dhaka, the Institute for Policy, Advocacy, and Governance (IPAG).
Nearly 1.9 million people in Assam stand to be rendered stateless and deported under the final NRC published on August 31 this year. Incidentally so far prior to the New York meeting, Bangladesh had maintained that NRC as in internal matter of India just like its stated position on abrogation of Article 370 from Jammu and Kashmir.
"NRC is a matter of concern because of uncertainty about population declared as non- citizens. Bangladesh fears that many will migrate to Bangladesh if livelihood opportunities are denied to them. This is, however, in the realm of speculation. NRC process is still incomplete with appeals going on. Political statements from RSS and BJP is adding to these fears," says former Indian envoy to Bangladesh Pinak Chakravarty.
But there is palpable public tension in Bangladesh on the issue along with existing negative sentiments for a long-pending settlement on sharing of water in 54 common rivers especially the Teesta. Modi and Hasina had hoped to resolve Teesta by the end of their last official terms…Former Prime Minister Manmohan Singh was all set to sign the Teesta deal during his visit to Bangladesh in September 2011, but the plan was torpedoed by West Bengal Chief Minister Mamata Banerjee who objected to it at the eleventh hour. Teesta water issue remains a politically charged emotional one with the potential to fuel anti-India sentiments.
"Given that PM Hasina has effectively uprooted all insurgency and militant outfits that used to operate against India from the Bangladesh soil and the resulting peace and stability in the Indo-Bangla border, Indian reciprocity on signing the long-overdue Teesta Water Treaty and not rocking the boat with contentious issues like NRC are matters of both political sagacity and consciousness," adds Munir Khasru.
Hasina who reaches Delhi on Thursday morning, will highlight the impressive growth of her country in the past decade under her leadership at the India Economic Summit which will be attended by Heng Swee Keat, Deputy Prime Minister and Minister of finance of Singapore as well as Sania Mirza, Tennis Star and and UN Women Goodwill Ambassador for South Asia, India among other key figures from government, private sectors and academia. Themed as 'Innovating for India: Strengthening South Asia, Impacting the World', the forum will have a special focus on 'promoting deeper collaboration between South Asia and ASEAN'.
Hasina will also address select Indian CEOs on 4th Morning and launch the India- Bangladesh Forum with an eye on wooing Indian investments which remain low compared to US, Japan and China in the neighbouring country. During their New York meet Modi had congratulated Hasina for the 'impressive economic growth' under her leadership.
'Improved land, riverine, sea and air connectivity, an intensified partnership in energy, and rapidly expanding trade and economic ties were recognised as important drivers of progress and stability in the region,' the MEA statement said. "Cumulative Indian FDI is a bit over USD 3 billion. This is likely to grow once the SEZs (Special Economic Zones) are fully operational. There are infrastructure deficits, bureaucratic red tape and corruption which continue to impede FDI. Legal and structural changes in SEZs are still in their infancy. Indian FDI will increase after Indian SEZs in Mirsari and Mongla become operational," remarks Pinak Chakravarty.
On the morning of 5th October, External Affairs Minister Dr Jaishankar is expected to call on Hasina before her formal meeting with Narendra Modi at Hyderabad House which will be followed by lunch. The two leaders are expected to jointly inaugurate some projects through video conferencing and exchange agreements which are being worked upon. Indian role to leverage pressure on Myanmar in the repatriation of Rohingya from Bangladesh and counter-terrorism and radicalisation will also figure prominently in official talks. Hasina will later call on President Kovind.
On 6th of October Congress President Sonia Gandhi will call on Hasina. Prior to her departure for Dhaka Hasina will also discuss with eminent filmmaker Shyam Benegal, the Indo-Bangla biopic in the making on her father Bangabandhu Sheikh Mujibur Rehman. 17th March 2020 marks birth centenary of Bangladesh's Father of the Nation that will also kick start 'Mujib Barsha' – a year long celebration to commemorate the occasion. Hasina is keen that the biopic is ready for release to correspond with the historic event.