Ambassador Taranjit Sandhu on concerns of Indians stranded in the US amid COVID-19 lockdown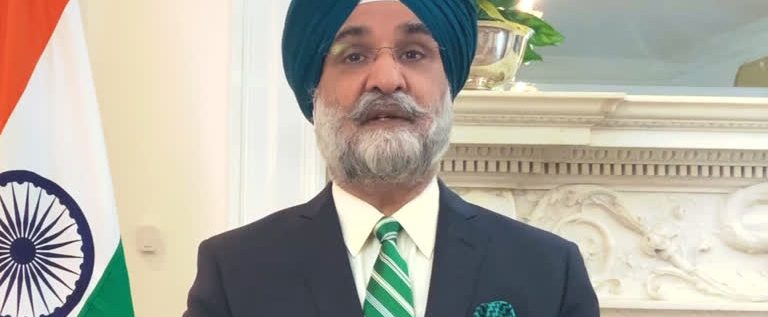 This story first appeared in ETV Bharat
Indian envoy to the United States, Taranjit Singh Sandhu talks to Senior Journalist Smita Sharma on how India and U.S are cooperating in containing the coronavirus outbreak. The Indian Ambassador also spoke about measures taken to help stranded Indian and U.S citizens.
New Delhi: With more than 7,34,000 positive cases as of Saturday evening, Unites States has now surpassed all nations in the number of coronavirus cases as well as related deaths.
Nearly 38,800 fatalities have now been reported in the US with almost 1,900 deaths in 24 hours. A vast majority of Americans are under extended lockdown orders which has led to protests in some lesser affected states now by people reeling under the enormous economic costs of the pandemic.
During this crisis, the Indian-American community and diaspora networks have joined hands with the Indian Embassy and Consulates to reach out to stranded Indians, specially the nearly 2,00,000 students with relief measures and support. Many have opened up their hotels to accommodate Indians while others are helping with food, medicine supplies.
Taranjit Singh Sandhu talks about the concerns of Indians stranded in the US.
Senior Journalist Smita Sharma spoke to India's Ambassador to the US Taranjit Singh Sandhu about concerns surrounding the community. In this exclusive conversation, Ambassador Sandhu underlined that India and the US are collaborating closely on the medical front too, and India as a top producer is able to supply Hydroxychloroquine (HCQ) to the US to help it fight against COVID-19. India is supplying the anti-malarial drug HCQ to more than 50 countries including US, Germnay, Afghanistan, on commercial basis and also as humanitarian grants.
Ambassador Sandhu also assured that concerns related to visas of Indians are being looked into and under discussion with concerned authorities.
Here is the exclusive interview:
Q1. Give us a sense of the ground situation in the US and the size of the Indian community you and the mission are reaching out to under the current lockdown?
Amb Taranjit Sandhu: As far as situation in United States is concerned there are a total number of 6.32 lakh cases in all the 50 states. 33 per cent of these cases are in New York. At the moment, more than 90 per cent of the population is under lockdown or staying at home.
As far as Indians are concerned, there are a total of 2,00,000 students. About 1,25,000 H1B visa holders and 6,00,000 Green card holders. In addition there are always short term visitors and lots of tourists. Our Embassies and consulates have been functional right from day one. Till today, we are in direct touch with most of the Indian nationals in the country.
Q2. How are you connected to the Indians stranded across America specially students?
Amb Taranjit Sandhu: As far as the outreach to the students and the community is concerned, we have played a very pro-active role on all different platforms of social media- Twitter, Facebook, Instagram, and also through our website. On 11th March, the day WHO (World Health Organisation) declared it a pandemic, we established 24/7 helplines in all the five consulates across the United States and also in our embassy (Washington DC).
For the students, we established a special peer support line which functions everyday from 11am-5pm and through it we have been able to do an outreach to almost 50,000 students through some 8,000 links. In addition, we also did an Instagram live interaction on 11th April through which we were able to connect with more than 25,000 students. We have also issued around twenty detailed advisories. These are very specific advisories especially for students. We are also in touch with different community associations and thereby we are connecting with most of the Indian community in the US.
Q3. Many stranded Indians are appealing for help to to return home. What kind of emergency requests have you been catering to specially from the Indian students and what is your advice to them? What is the kind of support extended by the community networks during this crisis?
Amb Taranjit Sandhu: In terms of specific assistance to students, we have provided direct assistance. Firstly, access to medical facilities. We, through the community doctors, whenever an emergency was brought to our attention, for example in Colorado where a student and his family faced an emergency situation, immediately got in touch with local authorities and doctors and were able to assist.
Similarly, where there has been a problem with accommodation, we were able to persuade most of the universities to continue to house the Indian students, in fact, in specific individual rooms. In addition, we were able to get in touch with the Indian-American hotel owners who were also very kind and have accommodated the Indian community, especially the students. Some requested for food assistance. Even those, through community support, we have been able to provide. We have been getting queries regarding emergencies, checking up on their family members. All the consulates and the embassy are undertaking that. Many Indian-American community members have come forward to help us on that.
Q4. There are serious concerns related to visas, in particular the fate of the H1B Visa card holders. Your comments?
Amb Taranjit Sandhu: There has a been lot of representation regarding visa related issues, specially H1B, J1, F1 visas. We are in close contact with US authorities. It is an evolving situation. As the situation stabilises, these will be attended to. But I would request you to please look at our advisories. They are very clear. They will tell you the contacts you need to establish on the US side, thereby bringing it to their attention about what problems you are facing on the visa front.
Q5. As close strategic partners, how are India and the US today coordinating the fight against coronavirus?
Amb Taranjit Sandhu: With respect to coronavirus, there is a huge potential for cooperation and collaboration between the United States and India. Both the countries, the private actors as well as public enterprises, need to work together in the long term in order to fight this pandemic which is threatening both our countries.
There is also close contact between the pharmaceutical and medical companies of both the countries. There is a huge demand of Hydroxychloroquine in the US. India is one of its major producers in the world. We are proud to be a part of the supply chain and as a reliable partner, we will continue to cooperate. In addition, a number of Indian companies are in touch with US for testing kits, ventilators, PPE kits.