Aishwarya: Dreams Of Flying High Defies Pull Of Poverty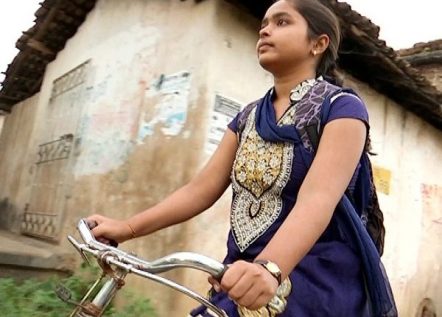 Abject poverty has disturbed her childhood true, but never deterred her spirit to excel. She chose to soar in academics and she did. Something, she as a 16-year-old, understands can get back dignity to her family and give them a decent livelihood, maybe few years from now.
Aiming to be a doctor, Aishwarya Mishra, has her eyes set on a goal. Preparing for the flight, she became the topper in State Board of Secondary Education's Class 10 examinations in eight districts and also secured third rank in the state in 2017. She braved all odds – from an ailing father to ageing grandparents, a brother who studies in class 9, and adverse circumstances including financial hardship. The only ray of hope for her has been her mother, home maker, who she looks up to as an inspiration.
''For me studying hard was important. I knew I had performed well but never knew I would top in eight districts,'' says Aishwarya who appeared her 10th from Harihar Uccha Vidyalaya, Jogsarada, 27 kms from Bolangir.
It was one of her teachers who could see the spark in Aishwarya and knew her socio-economic condition. He put a word to the director of one of the private Plus Two colleges in Bolangir town for getting her a seat in a crash course that prepares students to choose a career. This was even before she appeared her board exams. She cleared the exam with 97.6 percent marks. She is presently a student of the same Plus Two College – JITM under the flagship Centurion University, all her expenses borne by the college.
''I have done the job of a teacher. I wanted a good talent to be nurtured. So when I took my daughter for admission to the institute, I spoke to the director about Aishwarya and he immediately obliged,'' says Ashok Kumar Tripathy, her school teacher who has been seeing the girl perform exceptionally since she took admission in the school in Standard 8. Similar sentiments were echoed by another teacher, who had spent a lot of time with the girl to tutor her privately along with a group of students. ''She has been exceptional and I knew she would make us all proud. I too come from a difficult background and I could feel her difficulties. So I offered her all possible help in clearing her doubts,'' says her tutor in class X.
Born and brought up in Jogsarada village, Aishwarya has seen the worst when even fending four square meals a day was difficult for her family. Lost in her own world most of times, she leads a cocooned existence. Or maybe circumstances have made her silent. However, she opens up after a little prodding.
"I want to become a doctor and help all the poor like me in remote areas. These days we rarely find a doctor who is ready to work in remote areas. I want to change that opinion,'' says a confident Aishwarya.
She stays in hostel these days and meets her parents once a week on Sundays. But she also feels a little depressed at times. ''I wanted to study in BJB college in Bhubaneswar or Ravenshaw in Cuttack because I have grown up hearing that these colleges produce good students. But I had to be satisfied as my circumstances did not permit me to go far and study,'' says she, adding, ''I have grown up amidst financial constraints but all have helped me tide over my difficulties. Like they say, where there is a will, there is a way.''
Agreeing no less, her mother also gets teary eyed when she speaks about the earning of the family that barely meets their needs. ''With hardly Rs 5000 to Rs 6000 from our land which is again handed over to sharecroppers, we have no option left. Aishwarya's father does puja at many homes as we are Brahmins and also cooks at community gatherings to add to the family income. It's a hardship that has been breaking us from within,'' she says.
Her school teachers were overwhelmed to see her back in the school. The school children too were upbeat to meet the petite girl who had created a record for the school. ''She is an example for all the students and we always noticed a spark in her though she was always morose for her family's financial stress. But in classes she has been the best and in debates none can beat her,'' says the headmaster of higher secondary school Krushna Chandra Nath. She will be specially felicitated by the school during the golden jubilee celebrations this year.
At the Plus Two College, she is looked after with lot of care and gets the best of training. Regular science classes apart, she also attends special coaching classes that make her ready for all kinds of entrances. ''I also speak to her at regular intervals. She is very keen on securing full marks always and has been very hard working. In the first term exams she has secured good marks. She has not been able to mingle much with her peer group and I would not blame her. She needs a lot of care and also exposure which we will try to give her,'' says Pradeep Kumar Sarangi, Director of JITM.
A day in her life begins with getting ready in the college hostel early in the morning to attend special coaching classes. She attends her regular classes and eats in her college canteen before going for her classes in the afternoon sessions. Though she concentrates mostly on studies, she also loves reading autobiographies – Abdul Kalam's Wings of Fire being her favourite besides Swami Vivekananda's life.
Dreaming of a bright future Aishwarya fondly recollects her memories of school days when she used to cycle her way to classes. ''She has been a silver lining in our cloudy life. If need be, I will borrow money to help her get through the toughest of all exams and any course she wants to pursue,'' says her father.
However, for Aishwarya, her dilapidated mud and tiled house in Jogasarda seems to be the best place, which she revisits at intervals to meet her family, brother and mother. The house that reminds her that she has to go a long way to transform it into a castle of her dreams.
Click the following link to read complete article
http://odishatv.in/odisha/body-slider/aishwarya-dreams-of-flying-high-defies-pull-of-poverty-254065
Source: www.odishatv.in